It's no secret that employee retention is closely linked to employee experience. And though many companies associate employee experience with what comes after a new team member has joined them, it actually starts with recruitment and onboarding.
At a time of severe talent shortages especially, making a good impression from your very first interaction with a jobseeker is more vital than ever. This means carefully considering your employer brand (how your organization appears to potential candidates, that is), communicating with jobseekers effectively, and preserving their interest as they move along your talent acquisition process.
Luckily, all this can be made easier with the help of technology and, as of late, AI. In this article, we'll be discussing the importance of recruitment tools and guiding you through a curated list of the 25 best tools for hiring managers out there. (See our methodology)
What are recruitment tools?
When we talk about recruitment tools, we're referring to a range of different computer programs and platforms designed to make recruiters' lives easier. These systems increase efficiency, save time and streamline talent acquisition tasks from start to finish.
Recruitment tools can be divided into multiple categories, including applicant tracking systems, candidate relationship managers, interview tools, and chatbots. Having one integrated recruitment software or a combination of tools in your arsenal is, therefore, a lifesaver when it comes to sourcing the best talent for your team — and retaining them.
The benefits of recruitment tools
When you make the most of your recruitment software, it can set your organization apart from the competition and help establish you as a great employer. At the same time, recruitment software can improve the quality of your hires and help your new team members ease into their new role seamlessly.
In more detail, recruitment tools can help you:
Develop your employer brand. The more targeted your ads and the more polished your communication, the higher the number of talented professionals you'll attract.
Write attention-grabbing job descriptions. Specialized, AI-powered tools will ensure you use inclusive language and present your job opening as an enticing opportunity.
Keep data in one place. All your candidate data, like contact information, résumés and any interview feedback you've given them, will be organized and accessible.
Assess candidates' skills and personality. Recruiting software allows you to evaluate talent using customizable questionnaires and tests to make the selection process easier.
Eliminate recruitment bias. Sometimes, hiring managers make prejudiced decisions without realizing. This becomes less likely with standardized assessment questions and inclusive job descriptions.
Reduce your time-to-hire ratio. When all necessary information is in one place, you save time and money moving candidates along your recruitment funnel.
The best recruitment tools
With so much choice out there, it can be hard to find the best tools for your needs. That's why we've put together a selection of the latest, top recruitment management tools for managers and HR professionals!
25. Textio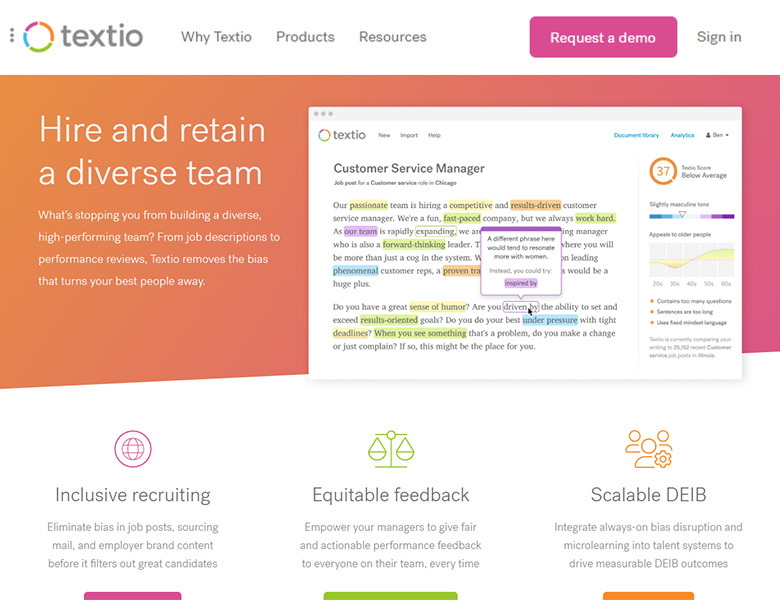 Textio
CareerAddict rating: 3.8
The language you use in your job advertisements alone can be enough to shrink your candidate pool. All it takes is a few buzzwords and errors to paint a negative picture! That's why a tool like Textio can go a long way.
Textio enables inclusive recruiting and provides a way to boost and measure your company's diversity, equity, inclusion and belonging initiatives. It offers data-driven, research-backed language guidance and real-time detection of bias in your writing. Over time, through feedback and analytics, it teaches everyone on your team to write more mindfully, improving your organization's reputation and giving you access to a more diverse talent pool.
24. Workday
Workday
CareerAddict rating: 3.8
From candidate pool creation through to candidate assessment comparisons, Workday helps you manage all your tasks across the talent acquisition lifecycle.
The recruiting hub will help you and your team organize your to-do lists, utilize automated campaigns to locate and nurture talent, and make the application process smooth for candidates. Workday allows applicants to import details from their social profiles, gives them real-life updates, and matches them up with suitable roles based on their skills. All this, of course, allows your team to make a great first impression.
23. Jobvite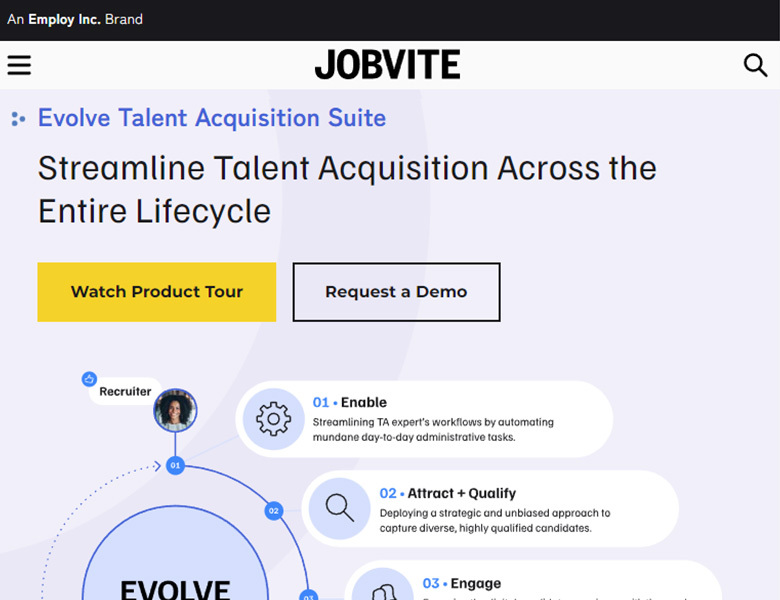 Jobvite
CareerAddict rating: 3.8
Jobvite's Evolve Talent Acquisition Suite allows you to perfect your recruiting strategies with data-backed insights. It also allows your team to increase its recruiting capacity with AI-backed automation which matches high-quality candidates to your job openings with just one click.
The suite has everything you need to optimize results all along the talent acquisition lifecycle: from employer branding to talent engagement, applicant tracking and management, onboarding, internal mobility, and referrals. Having it all in one place will save you time and make your efforts easier and more efficient!
22. Recruit Rooster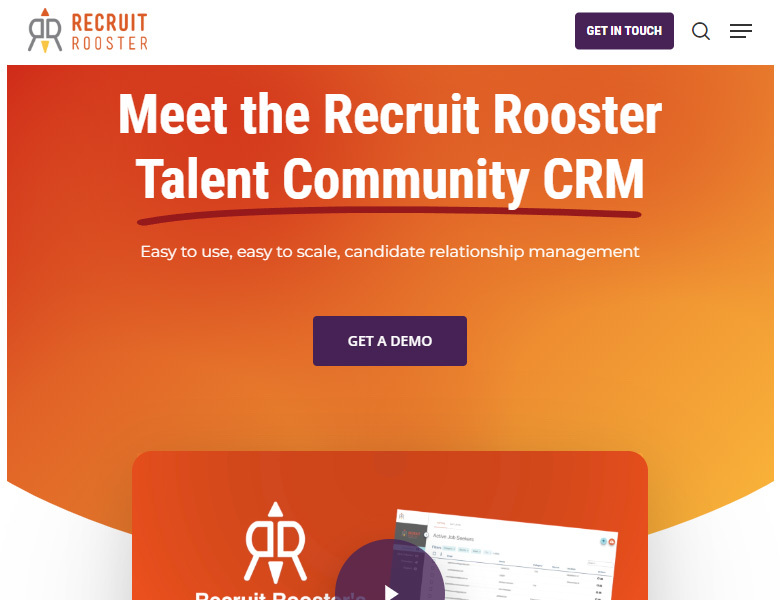 Recruit Rooster
CareerAddict rating: 3.8
Recruit Rooster's Talent Community CRM allows you to utilize custom forms and SMS and email campaigns to capture top candidates and nurture your leads. List segmentations — for candidate experience level, skill set, location and more — allows for personalized, targeted efforts. This lets you build relationships and move people along your recruitment funnel at scale.
On your dashboard, you'll be able to access reports and at-a-glance takeaways of candidate engagement and touchpoints so you can assess the health of your recruiting pipeline at any moment.
21. Ideal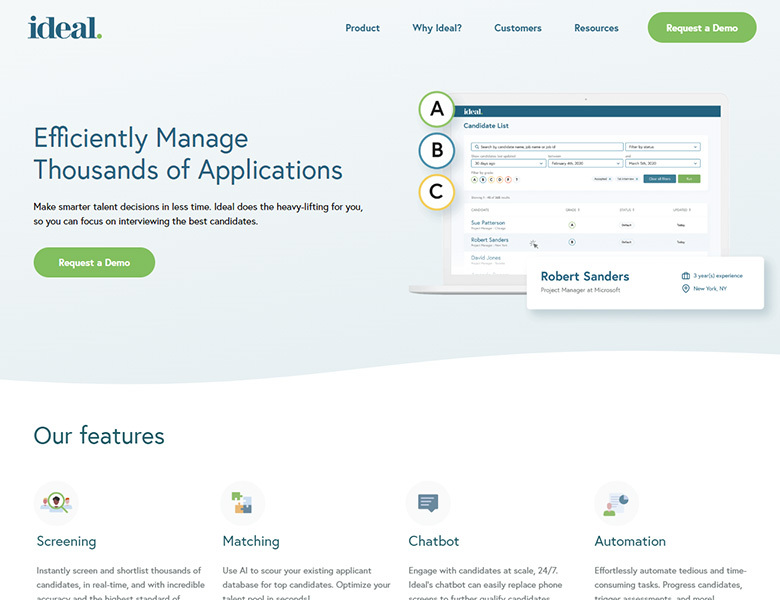 Ideal
CareerAddict rating: 4.0
Ideal increases your talent acquisition intelligence and improves the quality of your hires. How? It harnesses the abilities of AI to help companies instantly screen and shortlist hundreds (or even thousands) of applicants with accuracy. More specifically, the software can offer applicant screening with the highest standard of fairness, search your database for the ideal candidates, automate time-consuming tasks, and engage with candidates at scale through a chatbot.
Conveniently, Ideal integrates with other HR systems such as Workday and Greenhouse, requiring no separate login, data imports or additional training.
20. Sense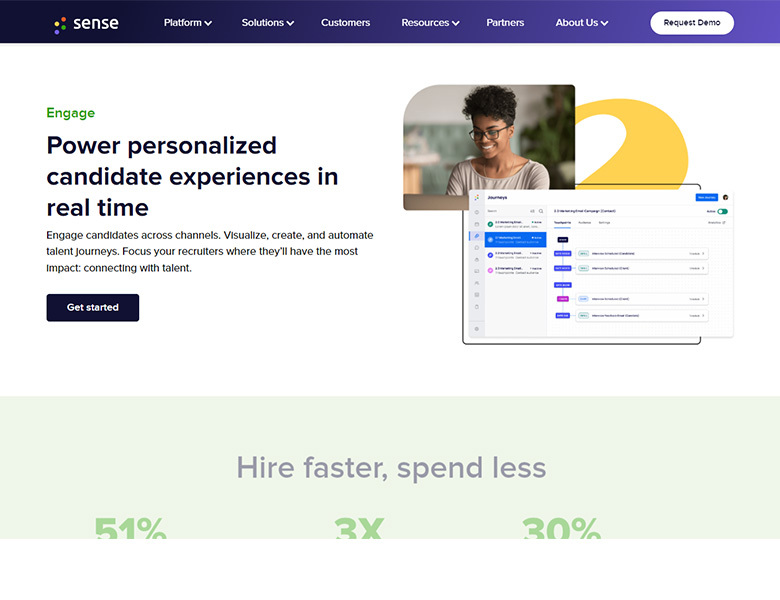 Sense
CareerAddict rating: 4.0
Sense Engage lets you visualize, create and automate your candidates' recruitment journeys. It can lead to faster replies from applicants (even for hard-to-fill roles) and increase your team's productivity by 30%.
Its powerful engagement tools get the right message out at exactly the right time, delivering unique content to each candidate with automated segmentation. Personalization at scale is also not an issue, since Sense can target candidates based on their interactions with your emails, surveys and more.
Integrating Sense with your ATS will also allow you to uncover hidden roadblocks with analytics and insights.
19. VidCruiter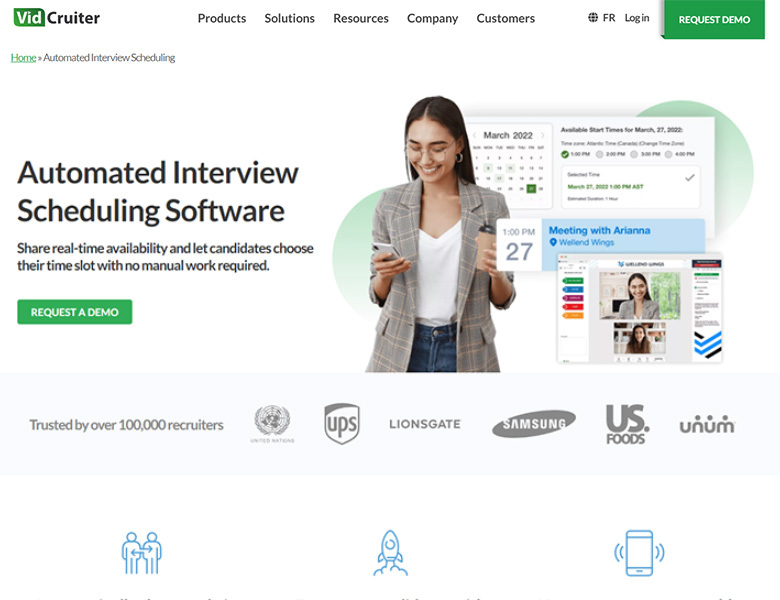 VidCruiter
CareerAddict rating: 4.2
Scheduling interviews is one of the most time-consuming parts of the entire recruitment process. According to statistics by Yello, the vast majority of hiring managers needs between 30 minutes and 2 hours to plan a single interview with a candidate.
VidCruiter, which is currently used by more than 100,000 recruiters, offers a solution to that by showing availability in real time and allowing candidates to choose whatever time slot works for them. VidCruiter lets you integrate multiple calendars, add options like phone and virtual interviews for remote candidates to choose from, and send SMS and email reminders.
18. Recruitee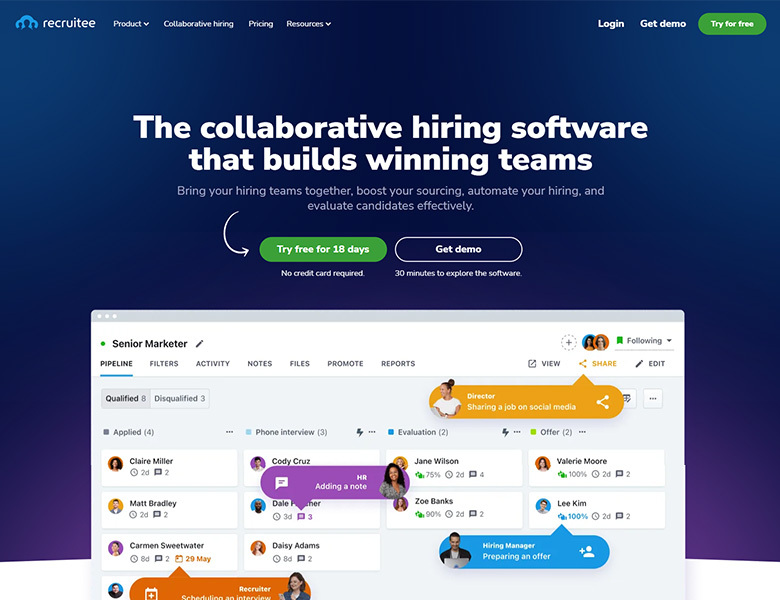 Recruitee
CareerAddict rating: 4.4
Recruitee automates manual tasks in your recruitment process, saving your team precious time. An easy-to-use career site editor enables you to catch the attention of top talent and increase the number of returning visitors. A scheduler organizes your upcoming interviews and allows you to keep notes for each candidate to increase efficiency. Smart campaigns let you post to multiple job boards in one go.
All in all, this collaborative, customizable hiring software does a great job at eliminating tedious tasks so you can focus on the important stuff. Recruitee's customer support team is also there to assist you should you get stuck, with an average response time of just seven minutes.
17. Greenhouse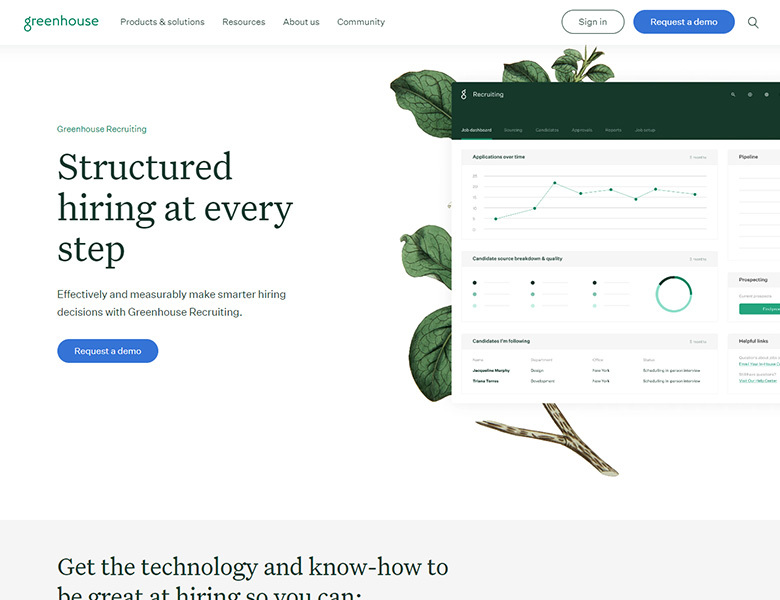 Greenhouse
CareerAddict rating: 4.4
Hiring mistakes aren't just common; they are also costly. Not only do unsuitable, underperforming employees cause employers to lose money, but they also force managers to spend more of their time explaining things and giving feedback (to no avail).
Greenhouse helps you minimize the chances of onboarding the wrong person by providing you with the tools and insights you need to create a robust candidate pipeline. With it, you can optimize job listings, automate your personalized outreach, easily capture candidates' information, and monitor candidate relationships over time.
16. SmartPal
SmartPal
CareerAddict rating: 4.4
Trusted by giant corporations like McDonald's and Airbus, SmartPal is an advanced recruitment chatbot you can add to your hiring platform to convert quality candidates. Harnessing the power of artificial intelligence, it provides support to jobseekers in several languages all around the clock, saving your hiring managers precious time.
With SmartPal, you can automate your responses to frequently asked questions and give candidates a personalized job search experience. The chatbot can assess the suitability of jobseekers, coordinate availability, and schedule interviews with prospects that pass its screening.
15. JazzHR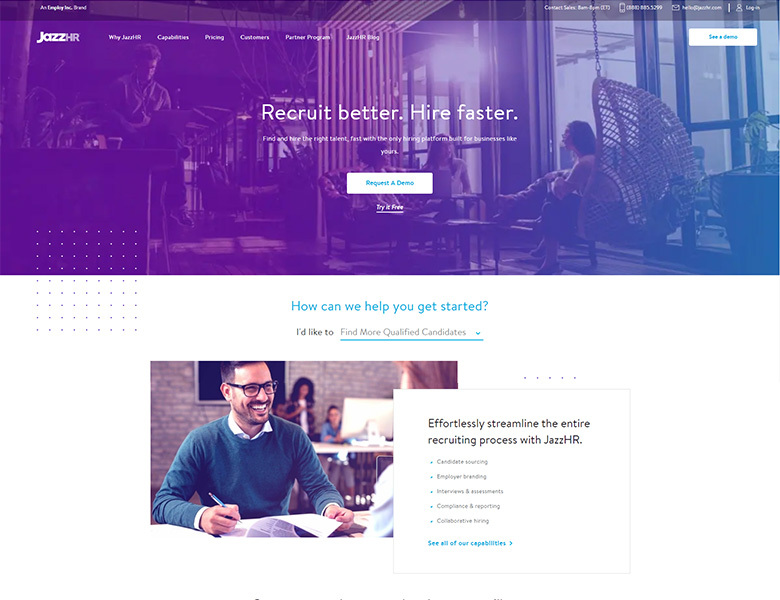 JazzHR
CareerAddict rating: 4.4
JazzHR allows teams to attract quality talent with custom branding assets and keep candidates engaged through a consistent, personable experience. It has custom career page capabilities, lets users share and track open roles on their social channels, and customize their communication with candidates.
More broadly, the software's features span from employer branding and applicant tracking to candidate sourcing, collaborative hiring, interviews and assessments, and compliance and reporting. Automation, integrations and mobile device optimization all work in unison to make hiring managers' lives easier and propel their recruitment efforts forward.
14. Crystal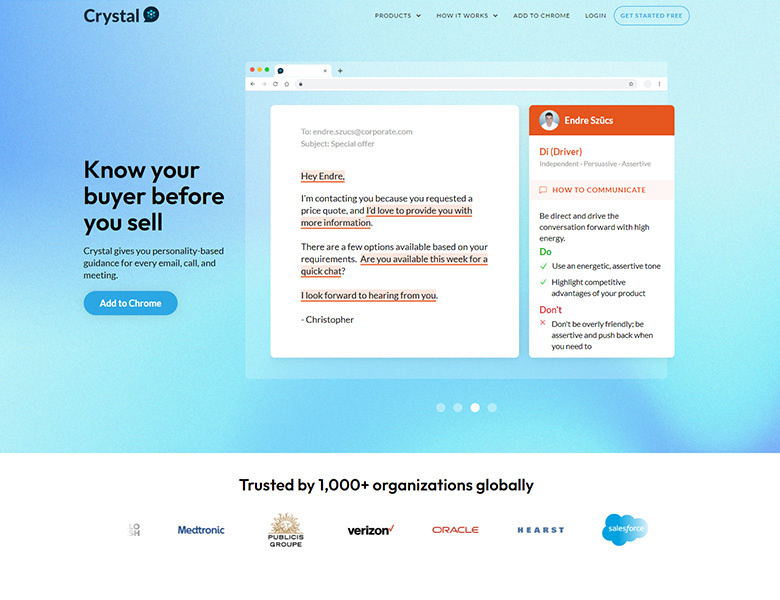 Crystal
CareerAddict rating: 4.4
Many hiring managers don't have the time to type out unique replies to every message they get or every potential employee they reach out to. Cookie-cutter emails and texts, however (especially ones that haven't been well thought out), can leave a bad taste in a jobseeker's mouth. After all, jobseekers tend to spend lots of time perfecting their emails and tailoring their résumés and cover letters when reaching out to companies. Why shouldn't they receive a similar level of care?
That's where Crystal comes in. Crystal runs a personality check on your recipients, analyzing the language they use. Then, it makes suggestions for words and phrases you can include to match the person's natural style. This creates a bond with them faster, mirrors the effort or thoughtfulness they've put in, and results in getting more positive responses back.
13. Hireology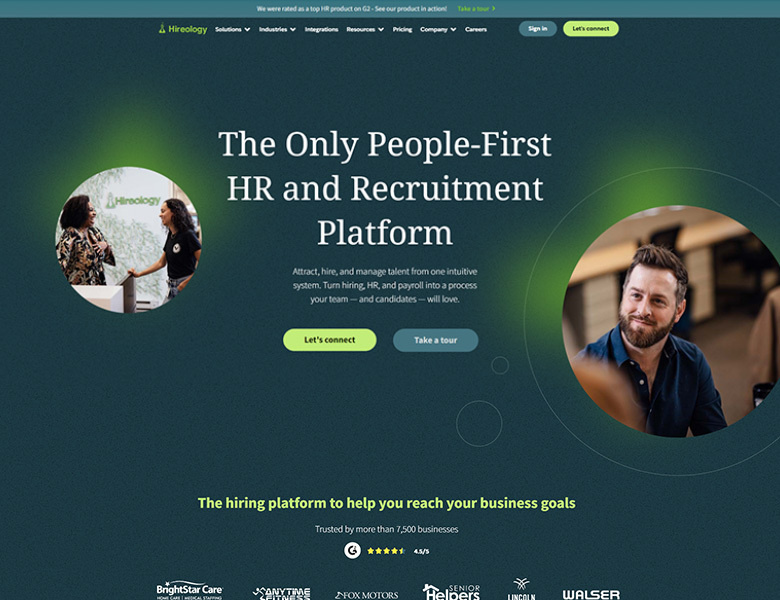 Hireology
CareerAddict rating: 4.4
Hireology is a people-first HR and recruitment platform for attracting, hiring and managing talent. The platform allows for diverse candidate sourcing, employee referrals, applicant tracking, and digital onboarding. It also offers insights and analytics and lets you manage payroll all in one place. Through automated screenings, background checks and interview guides, Hireology helps you hire top performers, and then manage them with post-hire features.
The recruitment platform offers three different plans to choose from based on your needs.
12. Zoho Recruit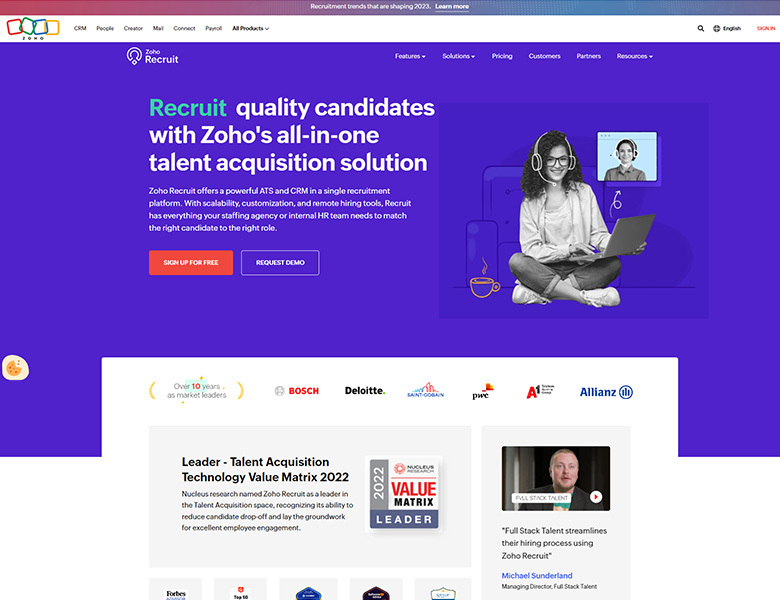 Zoho Recruit
CareerAddict rating: 4.6
Zoho's cloud-based talent acquisition solution, Zoho Recruit, combines an applicant tracking system and a candidate relationship manager in one platform. It lets you instantly share your available roles to more than 75 job boards and your socials, keep track of where your candidates are at in the hiring cycle, and use automation tools to move them along your hiring funnel.
By allowing you to sift through your own talent database based on location, skills and more filters, as well as send custom or pre-made assessments, Zoho Recruit helps you identify the best of the best in your talent pool.
Besides its browser version, Zoho Recruit is available on iPhone and Android devices in app form.
11. Linguix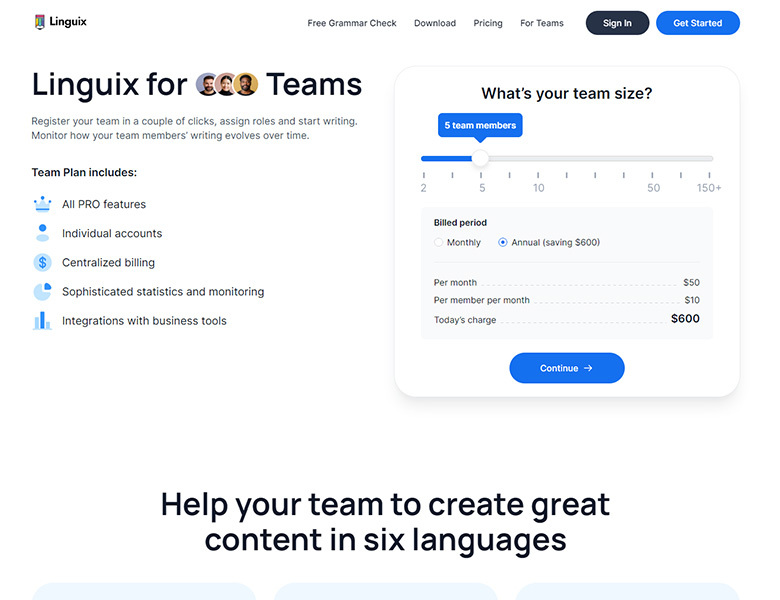 Linguix
CareerAddict rating: 4.6
Linguix is an AI-powered writing assistant that can help your team write copy in six languages. It has automatic language detection, comes up with various sentence rewrites depending on the tone you want to achieve, and can make suggestions while you're writing. This ensures polished, engaging, result-driven copy every time. No more grammatical errors and low-quality content that harms your employer brand and diminishes your chances of attracting great talent!
Over time, Linguix can reduce the time your team spends typing emails and social media posts by 90%, as well as improve their communication skills through quality scores and feedback.
10. Ceipal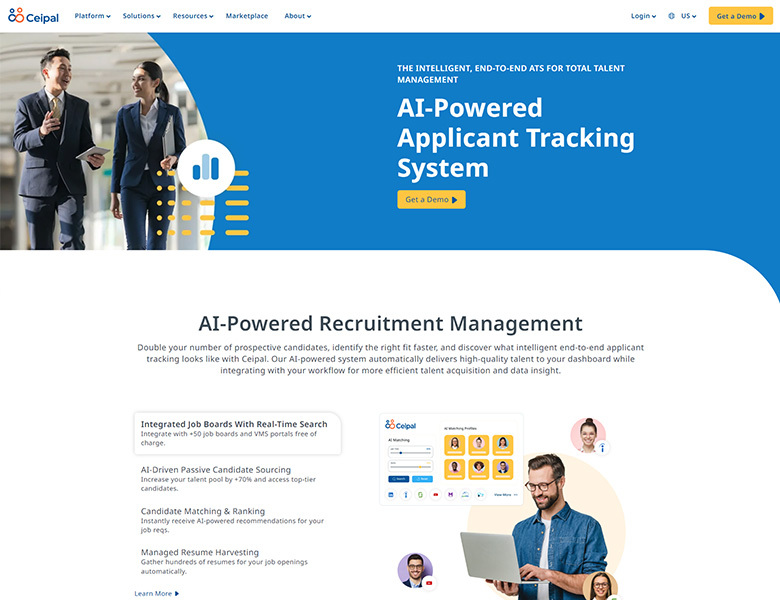 Ceipal
CareerAddict rating: 4.6
Ceipal is an AI-powered, end-to-end applicant tracking system that lets you identify the most suitable candidates for your listings quickly and effortlessly. The ATS brings high-quality talent to your dashboard, increasing your pool by 70%, and comes up with matches and recommendations based on your criteria instantaneously. Integration partners also let you reach your candidates by text, voicemail or video for enhanced communication.
Ceipal's one-click job postings to job boards and social media channels, coupled with its AI-powered candidate analytics, mean enhanced results in less time.
9. PeopleRecruit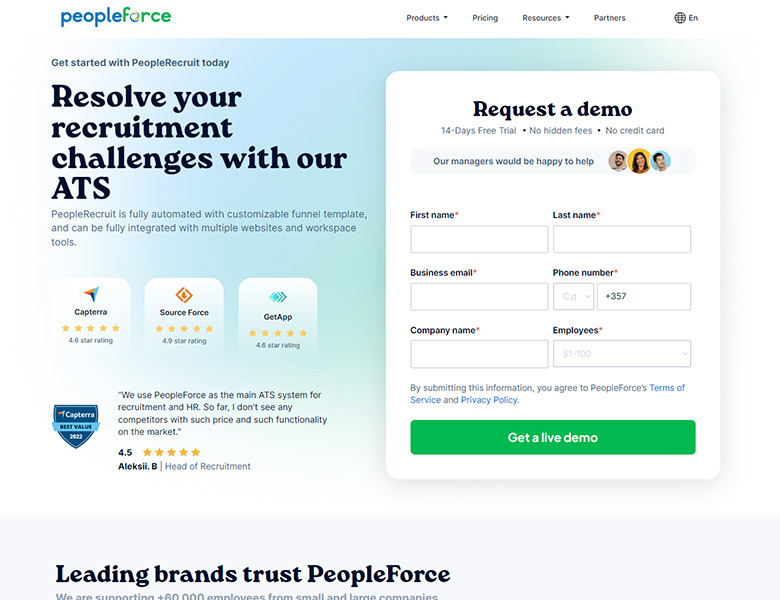 PeopleRecruit
CareerAddict rating: 4.6
PeopleRecruit can be fully integrated with other websites and tools, and compiles all your crucial recruiting information like résumés and candidate ratings in one place. It's trusted by both small and big companies around the world, including BMW and Rakuten.
The ATS sends you instant updates as candidates move through your recruitment funnel, synchronizes interviews with your calendar, and shortens the job acceptance process with e-signature capabilities.
Thanks to HR analytics, you can predict recruitment patterns and plan for them, generate reports on interviews and hires, and rate your candidates based on skill set and performance.
8. Freshteam
Freshteam
CareerAddict rating: 4.6
Freshteam provides a centralized solution to growing businesses' HR activities. It lets HR managers streamline, track and optimize their efforts, and eliminate delays due to human error and miscommunication.
More specifically, the Freshteam HR software lets you source candidates from various job sites, get discovered via a branded career site, build a strong talent pool, automate manual processes, and give candidates the ability to schedule their own interviews.
And when you do onboard a new team member, the software also lets you go paperless in the process. It does so by sending new joiners editable welcome kits and checklists, and adding automated follow-ups to your schedule for a seamless experience.
7. Teamtailor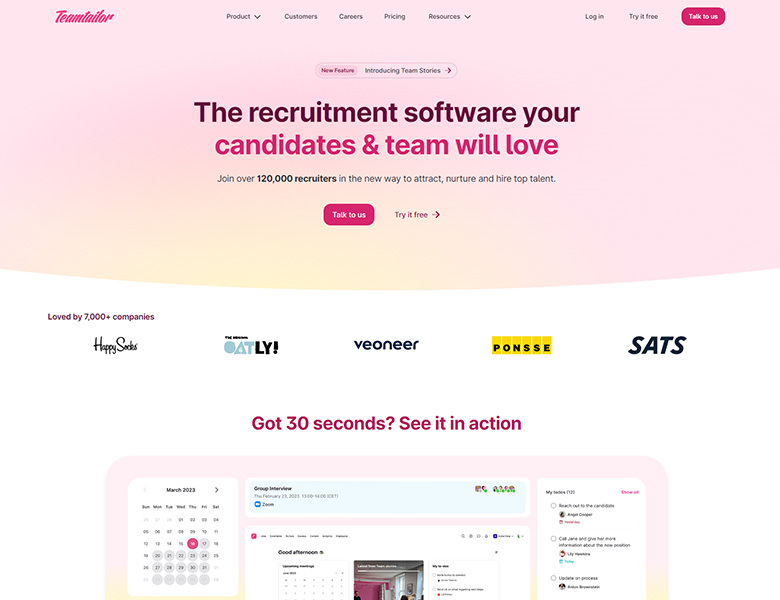 Teamtailor
CareerAddict rating: 4.6
Teamtailor makes your hiring process faster and more effective by helping you grow a structured talent pool and successfully connect with candidates. Its career pages are optimized for all devices so candidates can easily apply through their phones. Plus, Teamtailor can translate them for you.
One interesting feature the platform offers is something called Team Stories, which entails giving candidates a glimpse of what working at your company looks like through short videos. Adding some personality into the mix can certainly help you stand out from the competition and win your applicants' preference. Just make sure that what you put out there is genuine!
6. Workable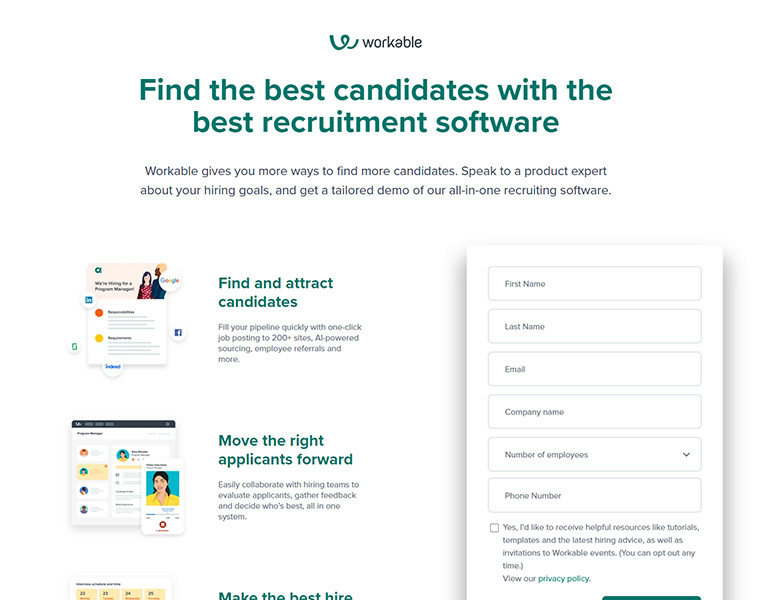 Workable
CareerAddict rating: 4.6
Workable is an all-in-one software that helps recruiters and hiring managers find more candidates with one-click job posting and AI-powered sourcing. And it's not just available on desktop; there are iOS and Android apps, too, so that your team can keep an eye on progress from anywhere.
Workable offers interview kits and scorecards, interview self-scheduling, customizable pipelines, third-party integration, and background check capability, to name some of its features.
So far, more than 27,000 companies have used it to recruit a total of 1.5 million people.
5. Datapeople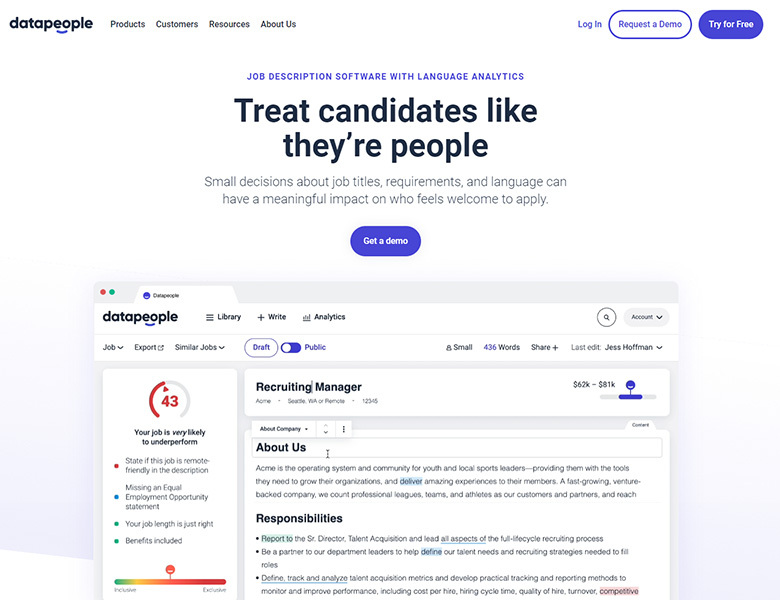 Datapeople
CareerAddict rating: 4.8
Datapeople's Language Analytics can be your path to higher quality candidates, lower recruitment costs, and more diversity within your team. It all starts with optimizing your job descriptions.
Used by companies like BuzzFeed, EA and Upwork, Datapeople harnesses data from millions of job outcomes and provides bias guidance to help you fill your roles faster. With prompts like "Make this phrase less formal" and "Set clear and appropriate job requirements", the language tool allows for enhanced inclusivity. As a result, it can land you up to four times the organic candidates per post and move up to twice as many candidates to the interview stage.
4. Manatal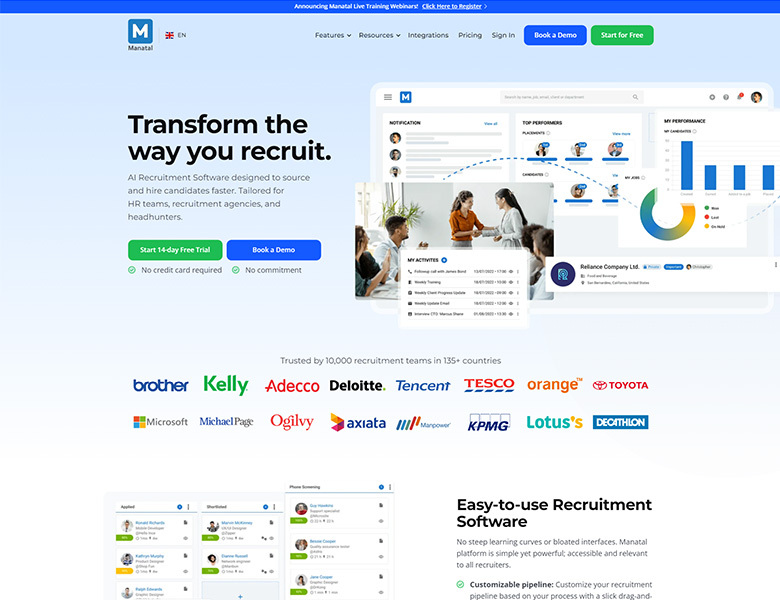 Manatal
CareerAddict rating: 4.8
Manatal is an AI-powered recruitment software designed to help HR teams and recruitment agencies hire the best candidates faster. As of 2023, the tool has been trusted by more than 10,000 teams in 135 countries, including ones at Microsoft, Tesco and KPMG.
Its interface is simple and accessible, with drag-and-drop pipelines and Kanban boards for quick overviews on progress. For more added convenience, Manatal lets you share your job listings on more than 2,500 free and premium boards and manage your advertisements from a single platform.
3. Monday.com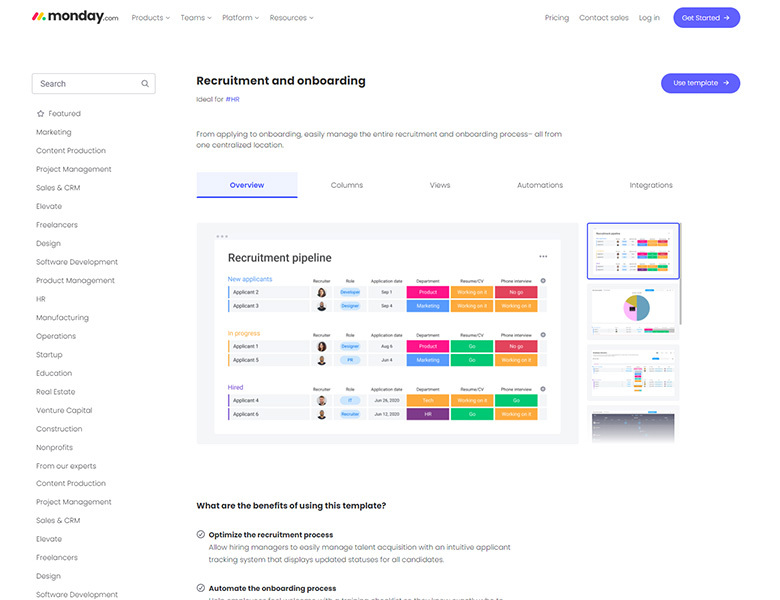 Monday.com
CareerAddict rating: 4.8
You might know Monday.com as a customizable platform that lets users create their own work management tools and applications. But although it's commonly used in project management, the platform can also be utilized in a company's human resource efforts!
Using the Recruitment and onboarding process template, you can create a board from scratch to track what stage in the recruitment process each applicant is at. Depending on what your pipeline looks like, you can add various "status" columns and tick each of them off, such as "CV", "phone interview" and "references", to note that each step was completed in a satisfactory manner.
2. 100hires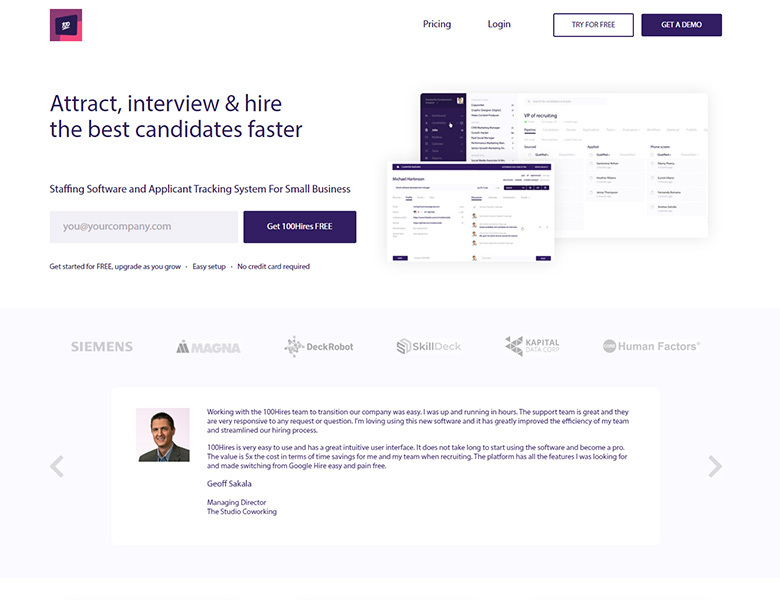 100hires
CareerAddict rating: 4.8
100hires is a staffing software and applicant tracking system ideal for small businesses. It has a straightforward interface that allows teams with less bandwidth to quickly identify suitable candidates and arrange interviews with them.
Its features include bulk email sends, pipeline Kanban boards, candidate comparison and evaluation, and automatic posting to integrated job boards.
100hires offers four plans to choose from according to your team size and needs. Educational institutions and non-profits can benefit from special pricing.
1. Breezy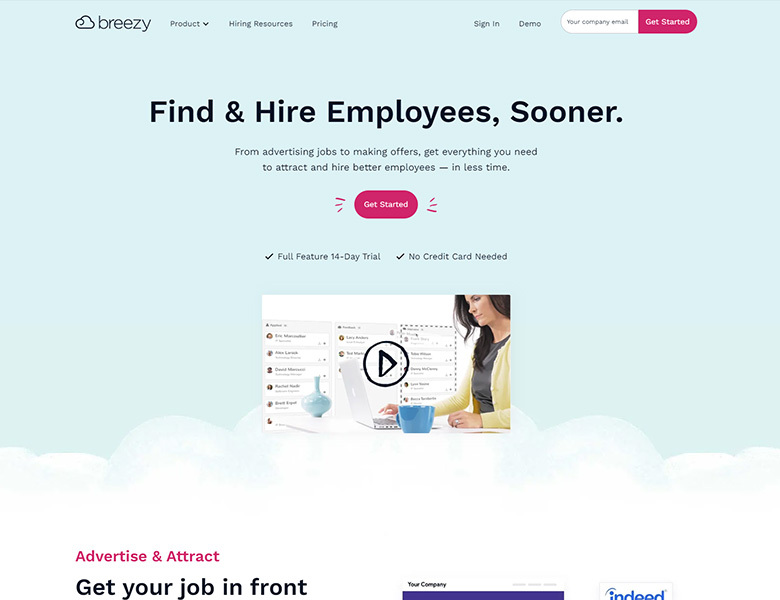 Breezy
CareerAddict rating: 4.8
Getting your job advertisement in front of thousands of jobseekers doesn't need to be difficult or time-consuming. In fact, there's an easy-breezy way to do it.
Breezy advertises your job openings on more than 50 job sites, including niche job boards, at the push of a button. In addition, it allows you to build an eye-catching career site in less than a minute and monitor the performance of your job posts. Breezy also lets you create a well-structured employee referral program to enable your team to bring in top-quality hires.
Finally, the platform makes it easy to run background checks and offers templates and built-in e-signatures so you can get your offers in front of your favorite candidates and have them join in no time.
How to choose the best tools
To know which hiring software is right for you, you must first know your team. Here are some things to keep in mind and discuss with your colleagues before you make your choice.
1. Identify your most time-consuming tasks
You must know the needs of your hiring team to get value for what you've paid for. Have a conversation with your colleagues and look at any time trackers you use to see what parts of the hiring process take longest. Then pick the tool that provides a solution.
2. Consider the size of your company
Before narrowing down your list of recruitment software to a few potential choices, it's important to think about how many people will be using the tool now and in the foreseeable future. Consider whether scalability is something you'll need, otherwise don't pay to access features that don't match your needs.
3. Think about your budget
Different teams have different pain points when it comes to recruiting. Some might struggle with attracting candidates while others might be at a loss as to how to schedule dozens of interviews more efficiently. Identify your priorities and pick the software that's most cost-efficient and suitable.
4. Demo different tools for free
Many recruiting tools offer you the option to sample for free before purchasing. Have your team try different ones and see how intuitive each platform is, and how much support you can access. The last thing you want is to subscribe and then realize lots of extra training is needed, costing you more precious time.
5. Think about how much support you'll need
How big and experienced is your hiring team? How familiar are you with automating tasks? Would an all-in-one platform confuse matters more than a platform with fewer features?
Some of the software mentioned give you access to support with very little response time. Consider how important this is for your team when picking a tool.
Key takeaways
Artificial intelligence has become advanced enough to read, write and see. It can even interpret human emotions! Though there's something a little uncanny about its limitlessness, it's also incredible how much time and energy it can save us.
To summarize:
Recruitment software allows you to display consistency and professionalism in your online presence, job advertisements, and communication with candidates.
By allowing you to organize and streamline your hiring efforts, as well as automate tedious tasks, recruitment software saves you time and money.
Some recruitment tools, like text analysis tools, provide feedback in real time and allow your colleagues to grow and improve their skills.
No two teams' needs are the same. Consider where your colleagues could use some extra help, and invest in a tool that would make life easier for everyone.
What hiring tool or tools have you used before? Share your experiences with us in a comment!
Methodology: To compile this list, we looked at different types of recruitment software, from all-in-one platforms to specialized tools such as text analyzers. Then, we awarded points (from 1 to 5, with 5 being the highest possible score) for each platform's cost efficiency, number of features, integration capabilities, free trial availability, and quality of customer support for users. Finally, we calculated an average for each platform and arranged them from lower to higher scores.
Originally published on October 21, 2019.