In a country that is iconic for its exuberant luxury, including high-end Milanese fashion, traditional cuisine and Tuscan wine, it's perhaps not surprising that Italy is also home to some of the world's wealthiest people.
Many of the names on this list have had to work hard to reach the top, though. As you will see, these billionaires and business tycoons come from all types of backgrounds, having found success in industries as diverse as confectionery, eyewear and designer goods.
So, if you're wondering who has amassed the biggest fortune, then read on — here are the 10 richest Italians according to Forbes.
10. Giuseppe De'Longhi and family
Net worth: $3.9 billion
Forbes rank: #721
Caffeine aficionados will probably be familiar with De'Longhi coffee machines, of which Giuseppe — president of parent company De'Longhi SpA — is in charge.
Although the company, founded in Treviso in 1902, originally made its fortune producing heaters, air conditioners and home appliances, it is in 1990 that they became a household name producing the high-quality coffee machines with which the family name is now synonymous.
Under De'Lognhi's charge, the company has struck successful distribution and manufacturing deals with other market giants, such as Kenwood and Braun, while the family line looks safe; son Fabio is the company's current CEO.
9. Luca Garavoglia
Net worth: $4.1 billion
Forbes rank: #679
If Garavoglia's name doesn't ring any bells for you, the name of the group he heads will: Gruppo Campari. That's the number one supplier of premium spirits in Italy and the sixth largest in the world, with a portfolio that's been expanded over the years to include Aperol, SKYY vodka, Wild Turkey, and Appleton, to name a few.
Garavoglia has served as chairman of Gruppo Campari since 1994. At the time, this passing over of the reins was met with bitterness by his eldest sister, Maddalena, who sued her family for "ousting" her from the group. Maddalena was compensated with a hefty €100 million ($109 million) in 2006. In the meantime, Luca also inherited his mother's 51% share of the Campari Group upon her death in 2016.
8. Miuccia Prada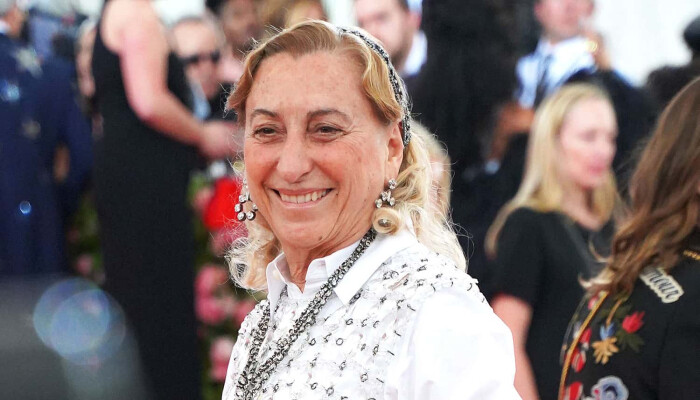 The Daily Front Row
Net worth: $5.4 billion
Forbes rank: #486
Miuccia Bianchi Prada is a businesswoman and world-renowned fashion designer. She's the head designer of the well-known brand Prada, as well as the founder of a subsidiary clothing company called Miu Miu.
She is the youngest granddaughter of Mario Prada, and took over the luxury brand in 1978. Since then, she's also acquired other high-profile brands like Jil Sander and Helmut Lang. In 2002, meanwhile, she opened her own contemporary art museum.
Prada was surrounded by controversy in 2014 when she was put under investigation by Milan prosecutors due to alleged tax avoidance, which resulted in her paying over €400 million ($437 million) in 2016.
7. Patrizio Bertelli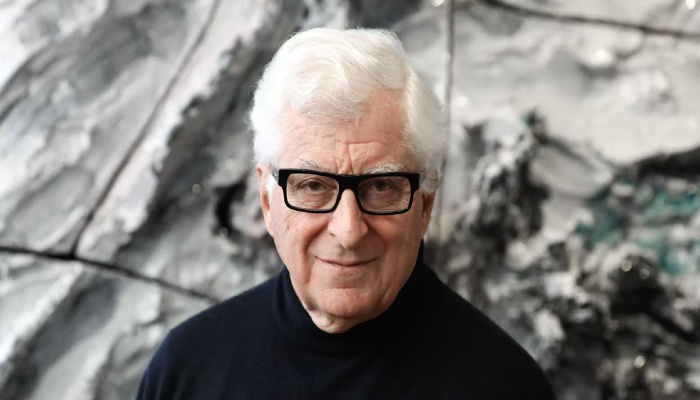 The Independent
Net worth: $5.4 billion
Forbes rank: #486
Patrizio Bertelli, Prada's husband and former co-CEO of Prada, began his career at the age of 21. That's when he created the leather goods company Sir Robert, which became the base of his entrepreneurial growth. He met Prada in the 1970s, and what started as a professional relationship soon blossomed into a romantic one, as they later married.
Bertelli created a new business model within Prada by bringing all internal processes together so they could have full control of the production line and quality standards, which led to rapid expansion of the company through the 1980s and 1990s.
Bertelli was also involved in the 2014 tax controversy.
6. Sergio Stevanato and family
Net worth: $5.5 billion
Forbes rank: #466
A Venice-born businessman and receiver of the Cavaliere del Lavoro (Order of Merit for Labor), Sergio Stevanato is chairman emeritus of Stevanato Group, a multinational company founded by his father. He is also the president of a financial company called SFEM, and the owner of Tenuta Stella winery, located in Italy's famous Collio wine region.
The family's Group, now run by Sergio's sons, Franco and Marco, has come a long way since its beginnings as a glassware manufacturer in 1949. It has evolved into the world's biggest, privately-owned producer of primary packaging for the pharmaceutical industry. The company's revenue for fiscal 2022 was €983.7 million ($1.07 billion).
5. Piero Ferrari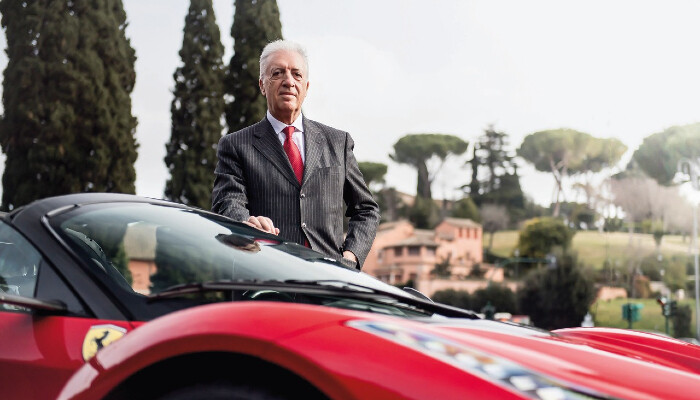 Ferrari
Net worth: $5.5 billion
Forbes rank: #466
Piero Lardi Ferrari, the second and only living heir of Enzo Ferrari, owns a 10% share of the Ferrari company and serves as its vice chairman.
He began his career as an informal translator for his father but was officially hired in the early 1970s as a technical supervisor. In 1974, he moved to the Formula One team as a co-organizer, where he assisted the sporting directors.
Ferrari is also the chairman of HPE COXA, which he founded in 1998. The aim of this venture was to create high-end engineering services and high-precision manufacturing of niche prototypes.
4. Massimiliana Landini Aleotti and family
Starsgab
Net worth: $6.7 billion
Forbes rank: #365
As the widow of pharmaceuticals magnate Alberto Aleotti, Massimiliana Aleotti — along with their children Lucia and Alberto Giovanni — inherited control of the influential Menarini Group in 2014, while she retains overall ownership.
The family has not been without controversy, though. Lucia and Alberto Giovanni were convicted of tax fraud and money laundering in 2016, receiving prison sentences of 10 and 7.5 years. However, in December 2018, the Court of Appeal in Florence overturned this verdict, clearing the siblings of any wrongdoing.
3. Silvio Berlusconi and family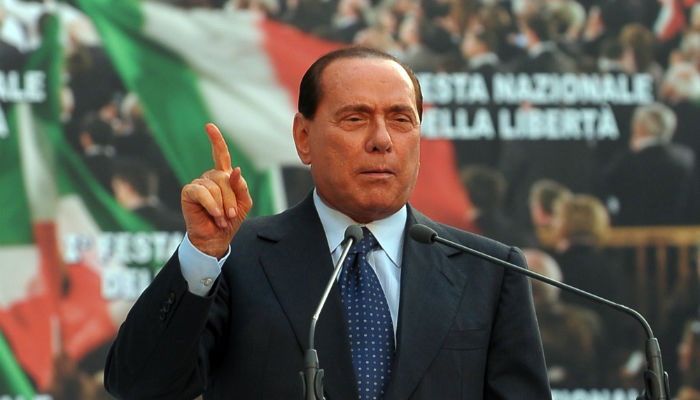 miqu77 / Depositphotos.com
Net worth: $6.8 billion
Forbes rank: #352
One of the most controversial and enigmatic characters in Italian and European politics, Silvio Berlusconi made his fortune through his media conglomerate Fininvest, before serving the first of his three terms as Prime Minister of Italy in 1994. Since then, "Il Cavaliere" (or "The Knight") has been embroiled in numerous blackmail, corruption and tax fraud scandals, culminating in a (later rescinded) court order banning him from running for political office in 2014.
Despite ongoing accusations of a conflict of interest between his media and political careers, Berlusconi — in conjunction with his family — still retains control over his vast media empire. In 2017, meanwhile, he sold the AC Milan football club (of which he had retained ownership for 31 years) to a Chinese investment group for €740 million ($762 million).
2. Giorgio Armani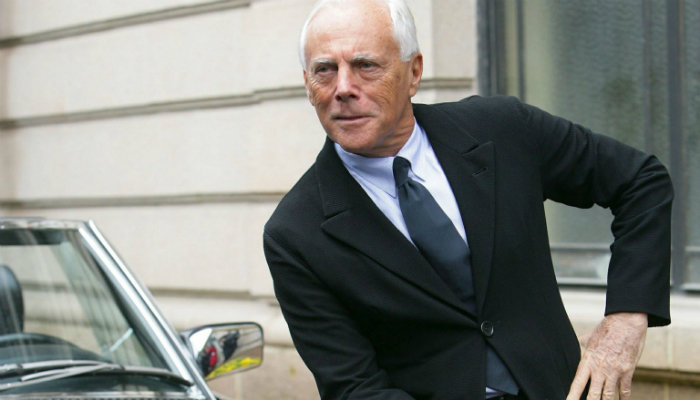 Business Insider
Net worth: $11.1 billion
Forbes rank: #157
Although his name is now a global byword for luxury and exuberance, Giorgio Armani's early years couldn't have been more different. Born into a working-class family, the fashion mogul spent time at medical school as well as in the army, before finding work as a window dresser in a Milan department store in 1957.
After building his reputation as a designer in the 1960s and 1970s, Armani finally founded his legendary eponymous label in 1975, turning it into a global powerhouse that now features 270 stores in 31 countries. Since 2005, the brand has also diversified into luxury hotels, including a flagship hotel at the Burj Khalifa in Dubai.
The King of Fashion, meanwhile, shows no signs of slowing down. He is still responsible for the day-to-day running of the company and is yet to name a successor for when he eventually steps down.
1. Giovanni Ferrero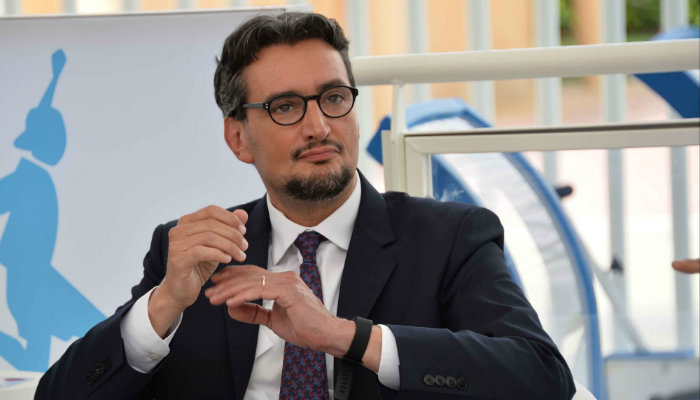 The Wall Street Journal
Net worth: $38.9 billion
Forbes rank: #30
Built entirely upon a secret cocoa-hazelnut recipe called Pasta Gianduja (or as the rest of the world now calls it: Nutella), the Ferrero empire is a global multibillion-dollar venture that is currently headed up by Giovanni Ferrero, the grandson of company founder Pietro.
Notoriously weary of industrial espionage (media are banned from entering the company's production plants), Ferrero also produces the Kinder range of products, as well as Tic Tac mints. Under Ferrero's astute leadership, the company has since added several Nestlé brands, as well as numerous confectionery brands in the North American market, to this impressive portfolio.
Ferrero, who claims the top spot on our list, is currently the richest person in Italy. His personal wealth is close to a mind-boggling $40 billion! However, a quick look at Forbes' Real Time Billionaires List tells us that Ferrero's fortunes pale in comparison to those of the richest men alive. Bernard Arnault, for example, who is the most well-off person in the world, has a net worth of $199 billion.
Final thoughts
While many of the people on this list gained their significant wealth through the familial connections, there are also some who became a billionaire by working their way up to the top with hard work and determination, which goes to show that if you put the work in, you'll reap the rewards.
If you've got the entrepreneurial spirit in you, it's worth taking inspiration from this list and seeing how you can adapt their strategies to benefit you. You never know: you could one day make a list just like this one and end up being a self-made billionaire!
Which of these Italian billionaires do you aspire to be? Let us know in the comments section below.
Originally published on January 26, 2015. Updated by Electra Michaelidou and Hayley Ramsey.