This article contains affiliate links (marked with an asterisk). If you use these links to buy something, we may earn a commission.
---
We generally only associate branding with big, long-established companies like Amazon and Google. However, even if you're just starting out as a freelancer or selling your first handmade product, branding is equally important.
It's crucial, therefore, to devote time to thinking things over: your alias or brand name, the color palette of your logo, the look and feel of your website, the tone of voice you'll use to address your audience…
In this article, we'll talk about the importance of personal branding in career success and share tips for creating an instantly recognizable presence on the market. Let's dive in!
What is personal branding?
Personal branding can be likened to a fingerprint. It's your unique identity on the market, designed to set you apart from your competitors, and it consists of several components. These range from your brand name and your business card to your website and more.
But unlike a fingerprint, which you can't choose, personal branding allows you to pick how you want others to perceive you. It helps inform your prospective customers' or employers' perception and opinion of you — and of what you can offer.
Why is personal branding important?
Every professional can benefit from personal branding. Here are five ways in which a strong personal branding strategy can be of value:
You advertise yourself: Branding highlights all your best features and communicates them across various different channels, attracting new opportunities.
You grow your network: A polished, instantly recognizable image will attract attention and invite strangers to connect with you.
You earn trust: Sharing valuable content and displaying a professional front will set you apart as a leader in your field.
You can get noticed by the media: As you build a name for yourself, people and publications will start seeking out your advice and sharing your message.
You can build a large following: If you become well known enough, you'll keep finding new clients and be able to monetize the content you share online.
Personal branding essentials
As mentioned, personal branding has multiple components. Let's look at these in more detail and discuss why each is important.
Logo
Every respectable business has a logo, and for good reason: it's the foundation of their brand identity and it separates them from the competition. That's exactly what you want to do, so creating a logo for yourself should be a top priority.
Even a simple text-based logo (in a legible font) will do the trick. In fact, most big brands (like Google, eBay and Gucci) choose this approach over an abstract logo, as they're cleaner and more memorable.
If you don't know your way around Photoshop, then you should consider engaging a professional graphic designer — a quick Google search returns thousands of results, or you can directly hire someone through online marketplaces like Fiverr.
Website
If you're in a creative profession, you'll need a portfolio to showcase your work. You can create a dedicated section on your website for this or center your website's entire approach around your work.
But websites can be useful whatever your field. You might be an Excel whizz, for example, and use your website to sell courses, or an experienced consultant listing your services online.
As SEO consultant Jess Joyce accurately remarks: "Social networks will come and go […] but what won't go away is your own website, and ensuring that you buy your own domain, it will always be yours."
Photo
A professional headshot will take away the mystery of who you are and help build your trustworthiness, credibility and approachability. The best way to achieve this is with a plain background, good lighting and a smile!
A word of advice from Chris Hunter, the director of customer relations at ServiceTitan, for putting yourself out there: "Always be friendly, but never fake."
Résumé
As a jobseeker, a well-structured résumé can be the most powerful tool in your arsenal. To ensure yours complements the image you're looking to create, use the same colors and fonts as you've done on your website, logo or business card.
Using a customizable template is one of the easiest ways to prepare a professional résumé. If you need help polishing it off, there are writers and designers who specialize in résumé creation who can give you a hand, too.
LinkedIn profile
LinkedIn is a great place to connect with people, grow an audience and find opportunities that work for you. Writing a concise description for yourself, posting regularly and sharing links to your portfolio can be a great way to boost your visibility.
But in order to "sell yourself" online, you must first consider what your strong points are — and this can be tricky for people who are just entering the market. If you can relate to this, Jon Hill, chairman and CEO at The Energists, suggests the following: "It's helpful to ask your professors, managers, coworkers and fellow graduates how they would describe you."
Social media
Social media platforms allow you to find an audience and establish an ongoing conversation with them. Of course, your social media presence needs to have the same esthetic and give off the same impression as your logo or website does.
As with résumés, there are templates you can use to create uniform posts across your social profiles.
WARNING
Keep your professional and personal lives separate. Mixing business with pleasure can harm your brand more than do it good. After all, potential employers and clients will take you less seriously if they come across a photo of you from a drunken night out on the profile you're using to promote your professional image.
Business card
A business card that's consistent with your branding can be a crucial component to successful networking and finding new clients. As with every element of your branding, your card needs to carry the same logo, colors and fonts, and concisely communicate what you do and how you can be contacted.
Tips for developing your personal brand
You may be wondering "Where do I begin?" and "How will I know if I'm doing this right?"
Well, in this section, we're going to give some answers to these questions!
1. Identify your target audience
As Bernice Chao, author of The Visibility Mindset*, says: "To separate yourself from everyone else, you need to have a unique value proposition that sets you apart from others."
So, ask yourself: "What are my strengths, and what type of person could they attract?" Then, through personal branding, you can capture and maintain your ideal buyer's attention.
When you're about to start building your online presence, consider what your future audience will want to see. What do they find interesting? What age group do they belong to? What are their needs? Then you can build your brand's look and feel around that.
2. Do your research
Once you've painted a clearer mental image of your audience, it's time to start looking at similar brands or freelancers in your field. Familiarize yourself with the competition and draw inspiration from the experts you admire. Also take notes about the stuff you don't like so you know what to avoid.
Analyzing your competitors and staying up to date with the latest trends and advancements can increase your visibility and help you nail your personal branding.
3. Create a theme
From the email address you use (no [email protected], please!) to the social media posts you share, everything about your personal brand needs to convey the same message about you: that you're knowledgeable, professional and trustworthy.
Creating a brand has a lot to do with setting expectations and delivering on them. So, experiment with different formulas, see what type of content your audience engages most with, and follow a pattern to connect with them as best as possible.
4. Be consistent
One of the keys to successful personal branding is consistency.
If you use a certain font in your résumé, then you should use the same one on your website. If you at some point change your logo, make sure to update it across all your marketing materials.
If you're not consistent, you'll only end up creating two (or more!) vastly different brands, which will confuse potential employers, clients and contacts into thinking they're following two (or, again, more!) different people. This can hinder the credibility and authority you're trying to build.
5. Publish compelling content
If you want to stay relevant in your field and build a loyal following, the best thing you can do is to frequently create content. Take someone like Cher or Céline Dion, for example: if they suddenly stopped producing new music, they would risk being forgotten by the masses.
Aim to dedicate some time each day to sharing or posting something on social media, publishing an SEO-optimized article for your blog and engaging with other people's content. This is your opportunity to share your expertise and start a conversation with your target audience, so make sure to grab it!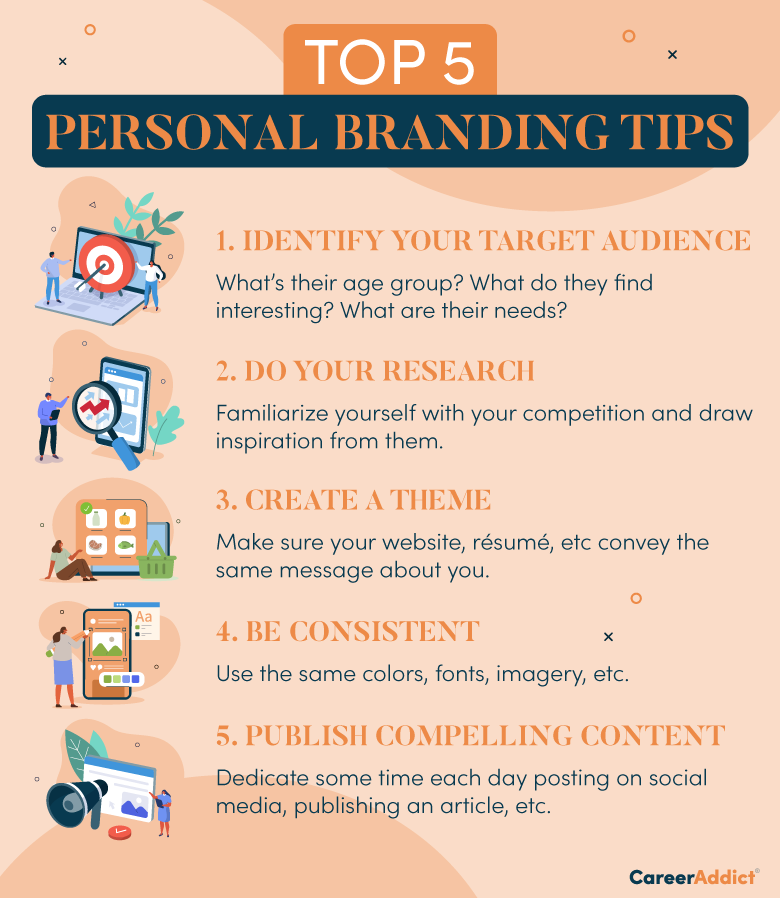 Personal branding examples
Building a personal brand requires planning and preparation. Having good examples to look at, however, can make the process easier. So, here are three creators of strong personal brands you could get inspiration from!
1. Natura Ceramica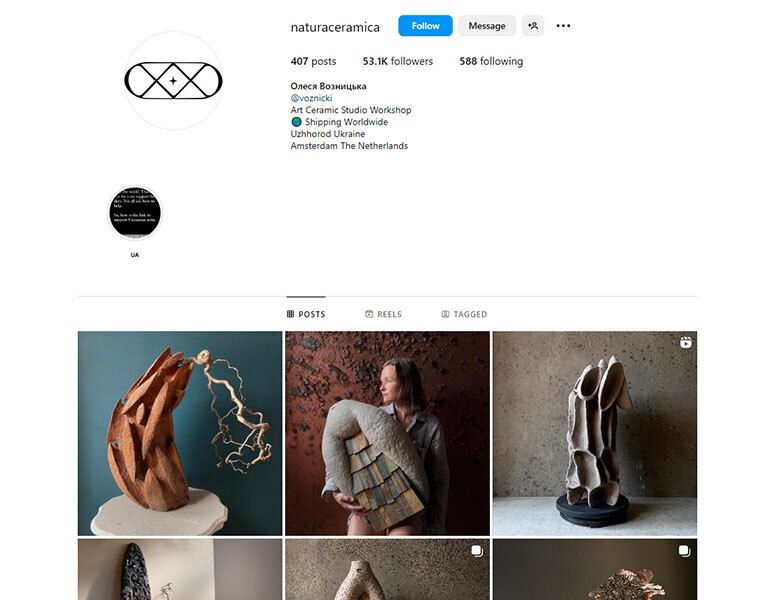 Natura Ceramica via Instagram
Natura Ceramica was created by two ceramicists, Andriy and Olesya Voznicki, whose work is characterized by earthy colors and organic shapes and textures. Right away, you can see how that's reflected in the name they've picked for their brand.
Their Instagram profile shows consistency both in the photography as well as how often they post. The lighting and composition in the images showcase their creations in an enticing way every time. The account also interacts with the comments they get, which is a great way to build and maintain trust with their audience.
Overall, a striking profile that you can draw lots of inspiration from!
2. Dr Gabor Maté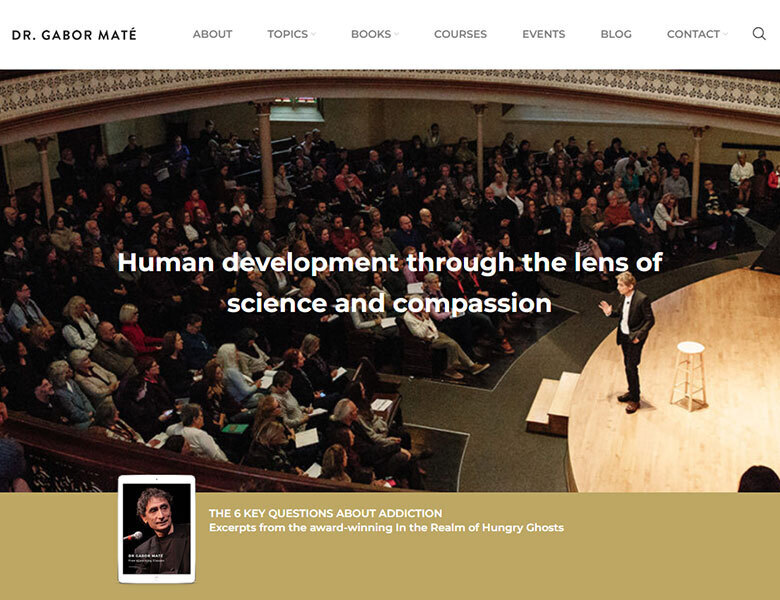 Dr Gabor Maté
Dr Gabor Maté is a physician and author with an interest in childhood development, trauma and addictions. Visiting his website, the first thing you see is a message (which can be thought of as a personal brand statement). It says: "Human development through the lens of science and compassion."
Beneath that is a section on the psychotherapeutic method the physician has developed, called "compassionate inquiry". This backs up his opening statement and provides an introduction to his approach.
The images on the website reinforce the idea of Dr Maté's humanity — and his expertise. There's a photograph of him speaking in front of a full auditorium, as well as pictures of him in ordinary, non-flashy outfits and settings.
The website is clean and easy to navigate, and creates the image of a man you can trust.
3. Ali Abdaal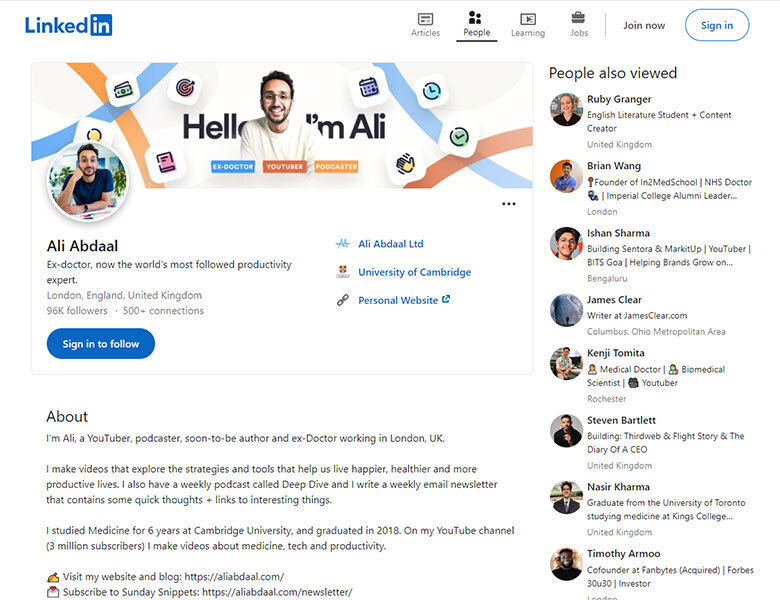 Ali Abdaal via Linkedin
Visiting Ali Abdaal's LinkedIn profile, you're greeted by this description: "Ex-doctor, now the world's most followed productivity expert."
The completeness and conciseness of Abdaal's LinkedIn profile is worth mimicking. He's got his contact information, academic background and a link to his website right at the top. He's got a friendly-looking profile photo and a cover image that lets you know he's on YouTube and does podcasts. And, finally, he's got a featured post that takes you to his newsletter subscription form. All this before you've even scrolled down!
By establishing himself as a thought leader in tech and productivity, and inviting visitors to interact with various links off the bat, he quickly earns his visitors' trust.
Key takeaways
There are countless brands out there: an estimated 500,000 to be specific. And there are thousands of freelancers and creators that don't fall under the "brand" category but still offer their services locally or globally, utilizing the internet. That's why personal branding is important: it allows you to differentiate yourself from the rest!
To summarize, here's what you need to remember from this article:
Personal branding is your unique identity. When it's well thought-out, it can communicate the expertise you bring to the table to your potential clients at a glance.
Creating a personal brand look requires careful thought. Keep an open mind and ask for feedback instead of sabotaging yourself with a rigid "I know best" approach.
Consistency is everything. Once you've developed your personal brand, you need to stick to it like a T-shirt clinging to the body on a humid afternoon.
Though you may not have a lot of money aside when you're getting started, it's worth investing in your personal branding. Do hire a professional for your logo or website if you can't do it yourself; it will bring value back to you.
We hope you've found our personal branding tips useful! Can you think of any more tips? Leave a comment and let us know.
Originally published on August 25, 2017. Contains contributions by Chris Leitch.