If you're looking to get your head in the clouds and spend time on some glamorous executive jets, then becoming a private flight attendant could be an excellent career choice for you.  Similar in remit to their commercial airline counterparts, private flight attendants need to offer exemplary service as well as be flexible to cope with (sometimes) very demanding guests and flight schedules.
Being a private jet flight attendant might be a dream job and give you the opportunity to see the world, but you also need to be aware of the complexity of the role. This article takes you over everything you'll need to know about this job, as well as the steps you can take to get started.
What private flight attendants do
Private flight attendants work on private jets: some of the most exclusive and luxurious aircraft in the world. Their role is similar to that of commercial flight attendants, but whereas the latter need to deal with offering a good level of service for hundreds of passengers at a time, private flight attendants need to offer personalized, perfect customer service to only a handful of passengers on each flight. These passengers will be high-net-worth individuals, sportspersons, celebrities, businesspersons and other people who will expect only the best whenever they travel.
They will need to prepare the aircraft for their passengers, getting meals ready in the gallery, ensuring the aircraft is clean and preparing any personalized requests. In-flight, they'll look after passengers by serving meals and drinks, updating them on the flight status, and acting as in-flight concierge, supporting with any other requests and, in many cases, consulting with ground crew on arrival arrangements.
Private flight attendants might have more to do on the ground than regular flight attendants. For example, they might need to prepare for their passengers through researching personal tastes or arranging amenities, as well as supporting passengers with boarding and liaising with pilots and ground crew.
Generally, their day-to-day duties and responsibilities include:
Preparing the aircraft for passengers, in terms of cleanliness, food and beverage, VIP amenities, and welcome experience.
Informing passengers of safety procedures and performing pre-fight safety checks and in-flight cabin cross checks.
Serving meals and drinks throughout the flight, including plated food service, pouring wine and creating bespoke cocktails.
Looking after passengers in terms of other requirements, ensuring a five-star level of customer service and acting as a personal concierge for requests.
Directing passengers and liaising with the flight crew in case of emergencies.
Helping passengers disembark, managing luggage and communicating with ground crew and other services such as chauffeurs and passport control.
What the job is like
Becoming a private flight attendant will be a dream job for many, offering the opportunity to travel for a living and be a part of a very glamorous industry. This is all true, but it's important to be aware of the realities of being a private flight attendant as well. This section takes you through the work environment, hours, hazards and overall job satisfaction of being a private flight attendant.
Work environment
Private flight attendants' main place of work will be on private jets: smaller passenger aircraft built for only a handful of guests at once. The environment is luxurious for the passengers but it will be cramped to work in, so they need to make the most of this limited space to offer a five-star service to the passengers. They will also spend a lot of time in training courses and in private jet terminals, supporting ground crew in welcoming passengers.
Private jets don't have as long a range as some larger passenger aircraft, which means that the shifts and airtime of private flight attendants aren't always as long. Having said this, the number of cabin crew is usually less, and there's a higher expectation placed on service standards, so the work is often extremely hard and tiring.
Work hours
Private flight attendants will often be contracted to a certain private charter aircraft, specific jobs or even an individual who owns their own jet; therefore, working patterns might be varied and imbalanced (for example, you might work 90 flight hours in one month, and only 10 the next).
They rarely work over 95 hours a month, but these might be concentrated into a short period of time and with long periods away from home (hotel accommodation will usually be provided if you're stopping over in a destination). In addition to flight time, private attendants need to spend a lot of time on the ground preparing for trips, attending training and supporting ground crew with hospitality duties.
Occupational hazards
Being any kind of flight attendant is a very safe job, with some common occupational hazards that aren't too different from other jobs in travel. There's a risk of items in the cabin moving around and falling if there's turbulence, and some heavy lifting is involved as well. One of the most common hazards will be burnout, due to the long hours and the "always on", demanding nature of the job.
Job satisfaction
Private flight attendants are generally very happy, largely due to the opportunities for travel, meeting interesting people, earning an above-average salary, and forging long-lasting relationships at work.
Detractors from private flight attendants' job satisfaction include a demanding and stressful environment created through the need to offer exceptional guest service for prolonged periods of time, as well long hours and limited rest breaks.
Job market
Career outlook for private flight attendants is looking very strong. In general, the demand for cabin crew is increasing, thanks in part to a swiftly recovering job market following layoffs and restructures because of the COVID-19 pandemic. All aviation subsectors are recovering strongly, but private travel is doing particularly well, and private flight attendants are in short supply.
The US Bureau of Labor Statistics expects the flight attendant job market to grow by 18,100 roles every year up to 2031, at a growth rate of 20.8%.  This is over four times faster than the national average occupational job growth.
Salary
On average, private flight attendants earn a yearly salary of $62,280 in the US, based on the latest BLS data. Earnings can fluctuate, though, as flight attendants can earn overtime or bonuses based on extra shifts or hours worked. Private attendants can also often earn a higher base salary than their commercial counterparts.
Salaries depend on a wide variety of factors, including employer and level of experience. For example, those who are just starting out in the field generally make about $37,020 a year, while top earners command salaries of about $81,400. Likewise, earnings depend on location, with Connecticut being the top-paying state at $111,500.
Here's a quick rundown of private flight attendant salaries across the US: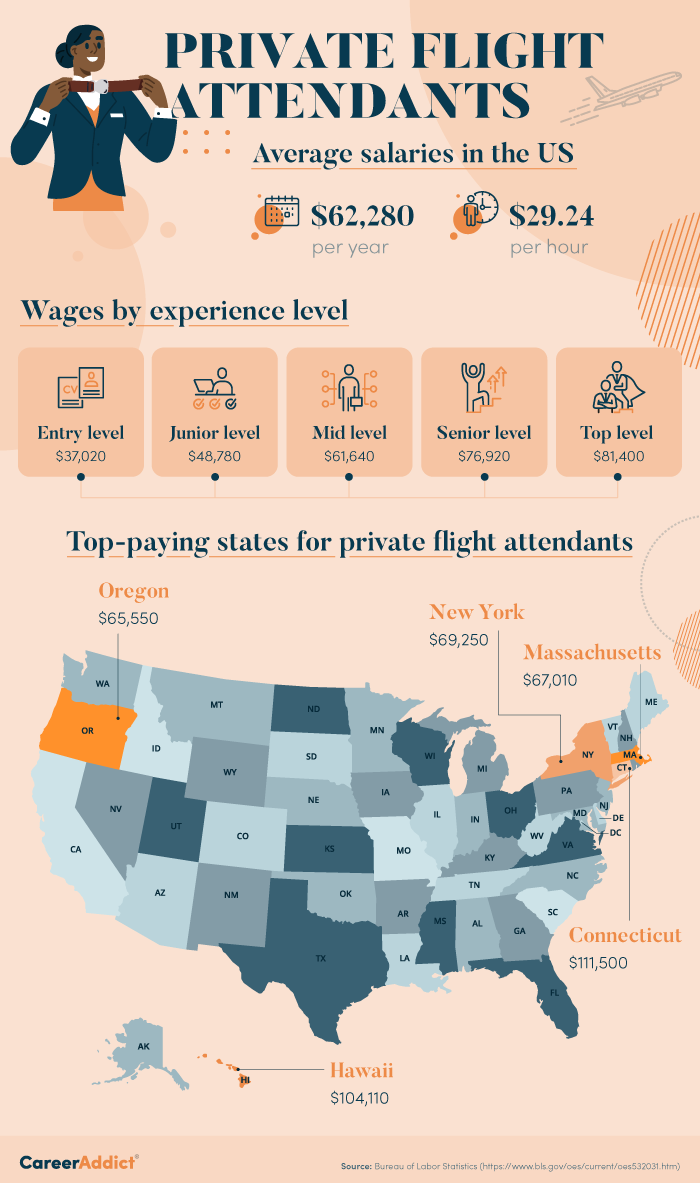 Private flight attendant salaries
Essential skills and qualities
Being a private flight attendant requires you to use a mixture of hard and soft skills to ensure a brilliant guest experience, including:
Customer service skills: This will be important to anticipate guest needs, and ensure they want for nothing while onboard the aircraft.
Communication skills: Private flight attendants must be friendly and professional, while also ensuring they can clearly communicate what to do in case of emergency or other reasons where assertiveness is important.
Problem-solving skills: Private flight attendants will be expected to handle any manner of guest requests and be able to engage resources and knowledge to make it happen.
Resilience: Unfortunately, the reality is that many passengers onboard private jets will be overly demanding or sometimes rude. Whereas they should never tolerate abuse, private flight attendants will need to remain calm in these situations, as well as deal with the other demands of frequent, tiring travel.
Organizational skills: The role of private flight attendant is busy and involves juggling many different balls at once.
Language skills: Having knowledge of a second or third language (preferably ones relevant to your most frequent customers) is essential to making all passengers feel at home while onboard the private jet.
Steps to become a private flight attendant
So, if you've read this far and feel that becoming a private flight attendant is the perfect job for you, then read on to discover how to put your ambitions into practice!
Step 1: Determine if it's the right career for you
If your interests match what is required to be a private flight attendant, then this is a great start to finding alignment with the role. For example, if you love helping people and have a passion for jobs that lead to traveling, then what better career could there be?
If you're unsure what types of career paths might be good for you, though, take our six-part career test over at CareerHunter to find out which careers best match your interest, personality, motivations and aptitudes.
Step 2: Finish high school
Flight attendants don't necessarily need to have advanced educational qualifications, but having a high school diploma will certainly help. Given that one of the preferred routes to becoming a private flight attendant is to start your career working as cabin crew for an airline, some companies will prefer a bachelor's degree.
The best subjects to focus on at school or beyond will be English, foreign languages and business studies. If you have the chance to take an elective module in customer service, then this will help you a lot as well.
Step 3: Complete the required technical training
Private flight attendants will most commonly start their career in an academy ran by airlines.  These academies offer traineeships or training courses that include classroom sessions covering the basics of cabin crew work, as well as the safety and first-aid elements of the job, and the fundamentals of great customer service. Over time, the academy will fine-tune this knowledge, and some will then allow you to experience working onboard an aircraft before you graduate by earning a Certificate of Demonstrated Proficiency.
Whether or not you pursue the academy route, you'll need to complete your training to the right standard demanded by airlines. Flight attendants need to have a thorough understanding of airline safety procedures, first aid, security awareness and customer service.
Step 4: Land your first commercial cabin crew role
After completing your flight attendant training, you can then start to confidently apply for jobs. You'll need to ensure you meet basic requirements such as having a valid passport, passing security vetting and meeting minimum height parameters.
Most private aircraft companies will be looking for extensive cabin crew experience when undertaking selection processes, so you'll need to start in commercial airlines, working in economy class cabins. With experience comes career development and the opportunity to work with business- and first-class passengers, who will demand a higher level of service. Here, the role will require much higher attention to detail, and this will be good experience that will get you ready for private jet work.
Step 5: Apply for private flight attendant opportunities
Once you gain experience as a commercial flight attendant looking after passengers in business or first class, you would have acquired the knowledge needed to demonstrate to private jet employers that you understand the aviation industry and, crucially, how to look after high-paying and demanding guests.
You can apply for advertised roles, but you might find that, given the demand for private flight attendants, you can also send résumés directly to charters, HR teams and recruitment agents, and get a good response.
Final thoughts
The glamorous world of private jets is in constant need for flight attendants that understand the industry as well as know how to provide an exceptional passenger experience for some of the most demanding clients.
If you think this world is for you, then ensure you understand the realities of the role, as well as that you're prepared for a long training period and the need to gain many years of experience to get a foot in the door. Once you do, though, get ready for a challenging but extremely exciting career that literally takes you all over the world!
Got a question? Let us know in the comments section below.
Originally published on October 19, 2017.