Every time you interview, your main purpose is to convince the employer to hire you. The job search is a sales process. The hiring manager (your future boss) is the "customer," and you are both the sales rep and the product. Why should they choose you over all the other "products" out there?
---
During the interview process, the hiring manager might ask you, "Why should we hire you?" Here are some tips for how you can effectively answer this tough interview question and stand out from other job candidates:
Focus On What You Can Do For The Employer
Bigstock
This question is actually a fantastic opportunity for you to summarize why you'd be a great hire.
Always focus your answer on what benefits you bring, what problems you can solve, and what solutions you can provide. Never, ever say that they should hire you because you need the job or because you really want it—or anything remotely related to your reasons for wanting the job. This is your chance to connect the dots and help the employer see why you're the best person for the job.
Think about things you know the hiring manager (interviewer) is looking for—skill sets, background, character traits, personal qualities, education, experience, or anything else that will make you successful in this role. Relate your answer to these things.
Give An Example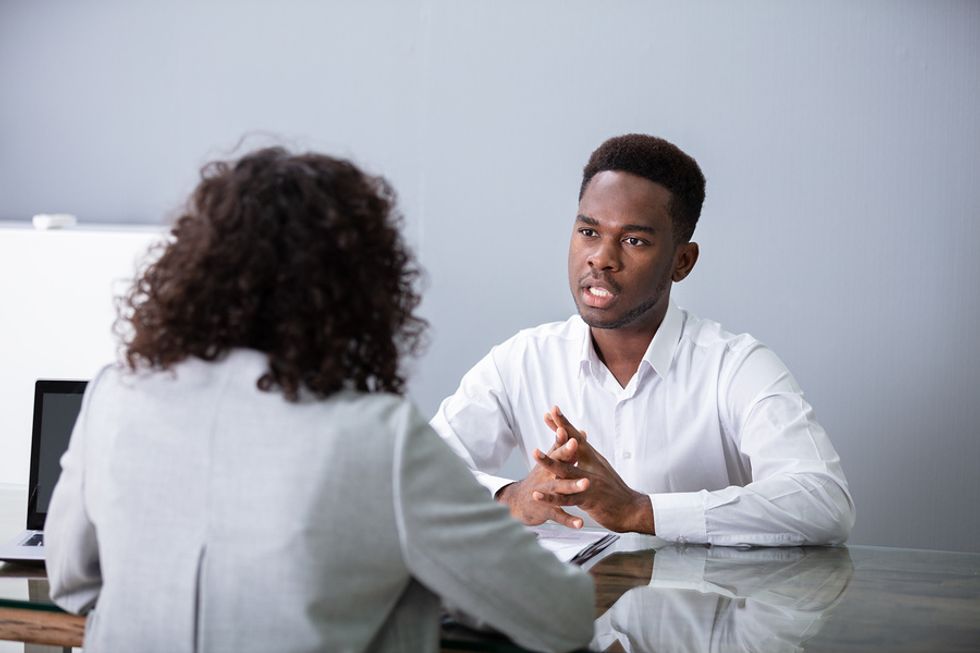 Bigstock
Explain how you meet the employer's needs and give an example to support your answer.
Your answer should be framed like this: "You should hire me because you've said you want someone with A, B, and C. I fit all of your requirements. I have A (say what that is), B (maybe give an example), and C (elaborate further)."
This will help you stand out from the other candidates and it gives the employer a reason to hire you.
Keep The Job Description (And Your Skills!) In Mind
Typically, this question will come toward the end of the interview, so you can refer to what you've already talked about, or mention something new that you know they'd be interested in. If it comes in the beginning, use the job description and your research to answer:
Will this job require long hours? Mention your work ethic.
Will this job need someone with great communication skills? Give an example of yours.
Will this job need someone who can learn on the fly? Tell them how you're going to get up to speed quickly and how you've learned and adapted before.
Does this job need someone with a particular background? Mention yours.
Do you have the skill set they want? Talk about your skill set and how you have been successful with it.
Give them examples of what you have achieved in the past. If you haven't done this job before, talk about similar things you've done or qualities you have that will make you successful in this new role.
It's never easy to answer "Why should we hire you?" in a job interview. However, if you do these three things, you'll be able to articulate your skills, experience, and qualifications with ease. And you'll impress the hiring manager in the process!
Need more help with your job search?
Become a member to learn how to land a job and UNLEASH your true potential to get what you want from work!
This article was originally published at an earlier date.
From Your Site Articles
Related Articles Around the Web