Fixed hours, good pay, competitive pension plans, career advancement — there are many reasons people choose federal employment over work in the private sector. While the global economy continues to tremble, a sense of stability takes on paramount importance for workers.
If you're ready for a change in your career that will grant you higher security, you can begin the process by creating a federal résumé. In this article, we'll help you get started, perfect your résumé, and improve your chances of landing the role. Here's everything you need to know about federal résumés.
What's a federal résumé?
A federal résumé is a document you submit when applying to federal jobs, along with a cover letter and supporting documentation (if required). While its purpose is similar to a conventional résumé, in that it fills in hiring managers on your skills and work experience, its structure is a little different.
Federal résumés are longer than conventional résumés, spanning four to six pages. This is because they must include additional information, such as citizenship and veterans' preference. The standard sections need to be written out in detail as well.
What to include
When applying for jobs in the federal government, you want your résumé to be as thorough as possible. These are the sections you must include:
Header
At the very top of your résumé, you'll need to add your contact information and a few more details. These include:
Your full name
Phone number
Email address
Postal address
Citizenship
Highest GS grade
Veterans' preference
Disability
Security clearance
Summary
If written carefully, résumé summaries can be powerful. So, we recommend that you give this section some extra thought. Think of this paragraph as a pitch, your chance to make an impression and convince the recruiter that you're a perfect fit for the role.
To achieve this, highlight your most significant assets, mentioning:
Your current job title
Years of experience
Areas of expertise
Measurable achievements
Most relevant skills
Education
Before you write about your educational background, read the qualifications section on the job announcement once more. Some jobs will require you to hold a degree or have completed specific coursework, which you must mention. And, if you've graduated from university, details on your high school education may not be needed.
Generally, you'll want to mention the highest academic level you've reached. Include:
The name and location of the institution
Dates of attendance
Type of degree
Major of study
Work experience
To fill in this section, list your previous work experiences in reverse-chronological order. Each job description you add should include the following:
Company name and location
Job title
Dates of employment
Number of hours worked per week
Responsibilities
Manager's name and contact information
List the positions you held in the last 10 years and go over your duties in detail. Incorporating keywords from the job description into your sentences can highlight how suitable you are for the position.
Training
While this section won't apply to everyone, you should include it in your résumé if you've completed any training courses that can enhance your application.
When listing the specialist training courses you've attended, mention both their title and year of attendance.
Skills
The next thing you need to do is add some skills to your résumé. As you might know, a skills section can be divided into two categories: soft skills and technical skills. Though the first comprises desirable abilities like time management and problem solving, you'll want to focus more on the latter.
While self-management skills are sought after, reserve more space for technical skills in your federal résumé. Great skills to include are things like proficiency in using specific tools, software, or programming languages.
Certificates and licenses
You should only worry about this section if you hold certificates or licenses that are relevant to the job.
For some jobs, like teaching, nursing, and surveying, licensure is non-negotiable. As always, double-check the job description to ensure you meet all the criteria.
Awards, honors and special accomplishments
When applying or interviewing for a job, it's good to be a little modest — and we do emphasize "a little"! Though you don't want to come across as arrogant, you must also avoid ending up on the other end of the spectrum.
If you've received any awards or honors, make sure to add a dedicated section on your résumé. And, if you've had any of your work published, you'll want to mention that here, too.
Writing tips
Writing isn't everyone's strongest point. And, even if you do have a way with words, federal résumé writing is a little… particular. Let's look at some of the rules below:
1. Tailor your résumé to the listing
It doesn't matter what job you're applying for, you have to tailor your résumé to the job description. Incorporating key words or phrases from the listing into your sentences shows the recruiter you've carefully read their requirements. This demonstrates professionalism! It also highlights how your skillset matches those requirements.
2. Be descriptive
Federal agencies require a more thorough outlining of your work history than employers in the private sector do. As your federal résumé can be several pages long, you'll want to go all out in terms of describing your experiences.
No shortcuts should be taken here; not even in the form of abbreviations! That's what the US Department of Labor recommends. As per their website, you should always spell out acronyms and avoid complicated jargon.
3. Quantify your achievements
Since you don't have to worry about space limitations, including metrics in your federal résumé should come naturally.
Like with any job application, you'll want to support the accomplishments you mention with figures. Referring to specific timeframes, dollar amounts, and percentages is an excellent way to quantify your achievements.
4. Avoid including sensitive information
If you've looked at résumé examples, you'll have seen that some of them include headshots. Though in some countries it's acceptable to do so, US résumés shouldn't include photos — unless you're applying for an acting gig. This is due to strict anti-discrimination laws.
The same goes for personal information, like your age and ethnic origin. Don't include these in your résumé; and if an employer asks you to disclose this information, be sure to call them out.
5. Proofread everything twice
Technology has become so advanced that AI-powered systems can write their own essays. Though we're not suggesting that a bot writes your résumé, smart word processing can help eliminate errors in your writing.
As word processors get more intuitive, syntactical and grammatical errors are easier than ever to pinpoint. Once you've run a spellcheck, get a real person to proofread your résumé, too.
Federal résumé example
It can be helpful to refer to an example when creating your résumé. Take a look at the one we've put together: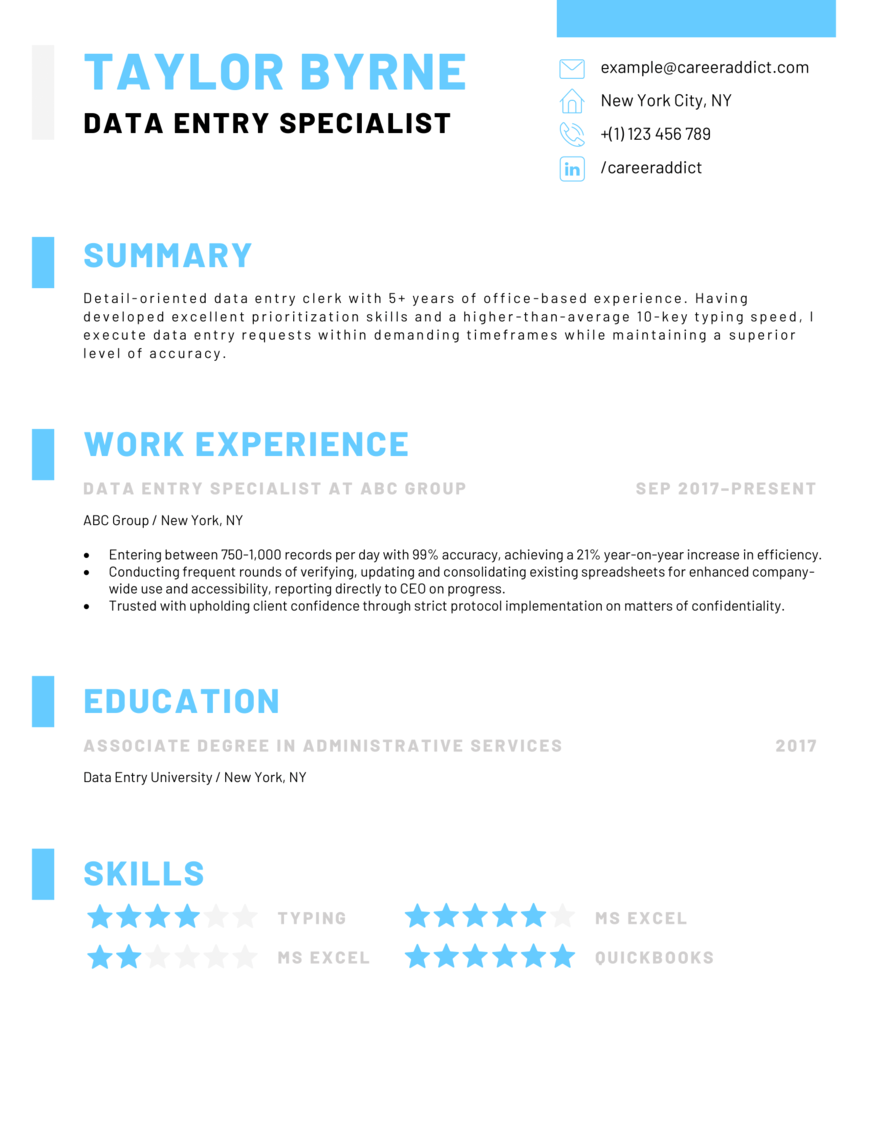 Key takeaways
Whether you're looking to get your first job or rethinking your career choices, starting a new chapter can be challenging. To minimize stress, start the application process early and take as much time as you need when finalizing your résumé.
Before you go, there's one last point we'd like to make. Always look through your public social media posts before applying for a new role — the last thing you want is your application ruined by a rogue Facebook photo of you doing a keg stand at your sister's wedding.
To summarize:
Federal résumés should be more detailed than conventional ones, spanning four to six pages
Incorporating keywords from the job listing is a good way to customize your résumé for the position
Headshots, links, and sensitive personal information, like marital status, don't belong on federal résumés
Do you have any résumé writing tips of your own? Let us know in the comments section.