As one of our most dominant senses, vision plays a major role in how we experience life. It's no coincidence that countless sayings, such as "apple of my eye", "windows to the soul," and "seeing is believing" have to do with these two little organs through which we perceive the world. They not only take in enormous amounts of information, they are also capable of revealing volumes, too — and we're not just talking about emotions here.
Eye problems can be an indicator of poor overall health, signaling medical professionals to check for hyperthyroidism, diabetes, high cholesterol, or even problems with the nervous system. How interesting is that?
If, like us, you think eyes are fascinating, you may be considering a career in opticianry. In this article, we'll be looking at what the profession entails, what the work environment and job market are like, and what steps you need to take to become an optician.
What opticians do
Opticians, optometrists, and ophthalmologists: though these three professions are related, not everyone is familiar with the differences between them. So, let's quickly go over them!
Unlike ophthalmologists, who are medical doctors, and optometrists, who hold doctorates in optometry, opticians can't perform eye examinations or prescribe treatments. Though they still belong in the category of eye care professionals, opticians are responsible for providing eyeglasses and contact lenses to their clients following prescriptions given out by ophthalmologists and optometrists.
In a bit more detail, opticians:
Process prescriptions
Take measurements of their clients' faces to ensure glasses fit well
Advise their clients when selecting frames or lens treatments
Send work orders to ophthalmic lab technicians
Repair and adjust frames
Perform business tasks like maintaining inventory and keeping a record of sales and client prescriptions
What the job is like
In the following section, we'll describe what an average day in the life of an optician looks like. Read on to learn about their typical working hours, the environment they work in, the occupational hazards they may face, and what levels of job satisfaction they report.
Work environment
In the majority of cases, opticians find employment in optometrists' offices. This, of course, makes perfect sense, as the optometrist is usually your first port of call when you suspect a change in your eyesight. In some instances, you may also find opticians working in the same spaces as physicians or other medical professionals.
Outside the office environment, opticians also find employment in a retail setting, working in stores that sell eyewear and other visual aids. As you've probably seen, these shops can exist both as standalone establishments or within larger department stores.
In addition, a very small percentage of opticians in the US are registered as self-employed, working in private offices or optical stores of their own.
Work hours
Opticians who work alongside optometrists or physicians can usually be found at the office during standard working hours, five days a week. Though part-time opportunities do exist, most opticians work full time.
Things are a little different for opticians who find employment in stores, however; evening and weekend shifts are often required of these professionals. Though this may sound unappealing to some, working shifts can be desirable to others, as it can allow for more autonomy and flexibility.
Occupational hazards
As with most professionals that come into close contact with multiple clients each day, opticians have an increased risk of becoming exposed to various viral and bacterial infections. Opticians may also be at risk of injury due to the use of specialized tools, such as frame heaters and pliers, or exposure to chemicals, like sterilizing agents.
In addition, opticians often work very long hours. A 2022 survey by the General Optical Council showed that 57% of optometrists and opticians reported working beyond their hours. That's a noteworthy increase from the 40% that was recorded the year before. Overtime for full-time employees and an irregular schedule for shift workers can lead to stress, fatigue, and eventually burnout if not handled carefully.
Job satisfaction
According to US News and World Report, a career in opticianry ranks above average compared to other professions in terms of the upward mobility and flexibility it provides. The first of the two terms refers to the rate at which workers can progress to new, better-paying roles, while the second refers to the alternative work schedules and work-life balance it offers. The website also ranks opticians' stress levels as average, which, for today's overly stressed workers, can actually be considered a breath of fresh air.
The General Optical Council survey supports these statements. Of the 4,102 optometrists and dispensing opticians who responded to the questionnaire, 62% said they were satisfied with their job over the last 12 months.
Job market
According to the Bureau of Labor Statistics (BLS), of the 74,800 opticians in employment in 2021, 40% worked in optometrists' offices, 24% worked in health and personal care stores, 13% worked in physicians' offices, and 1% were self-employed.
Between 2021 and 2031, employment of opticians has been projected to grow by 4%, about as fast as the average for all occupations. This roughly works out to 6,700 openings becoming available every year over the decade.
One thing is certain: as the human lifespan increases, so does the need for eye care services. It is currently estimated that one in three adults over the age of 55 is experiencing problems, such as cataract and glaucoma, in at least one eye.
And it's not just aging populations around the world that will contribute to opticians' services remaining in demand. As more and more people use computers, smartphones, and tablets daily, computer vision syndrome is causing many to turn to their local eye care professional for relief.
Salary
On average, opticians in the US earn $43,060 each year. If you're curious about opticians on the opposite ends of the salary spectrum, the lowest 10% earns below $28,910 a year, while the highest 10% earns over $60,280.
So, which states reward their opticians the best? Connecticut comes in at first place with an annual mean wage of $66,540. That's followed by New Jersey ($62,300), Massachusetts ($59,840), New York ($56,640), and Alaska ($55,900).
Interestingly, though, it's the states on the East Coast (and Alaska!) that pay their opticians the better wages, the most employment opportunities are actually offered in the state of California, where nearly 9,000 opticians worked in 2021.
Here's a rundown of the salary prospects for opticians in the US: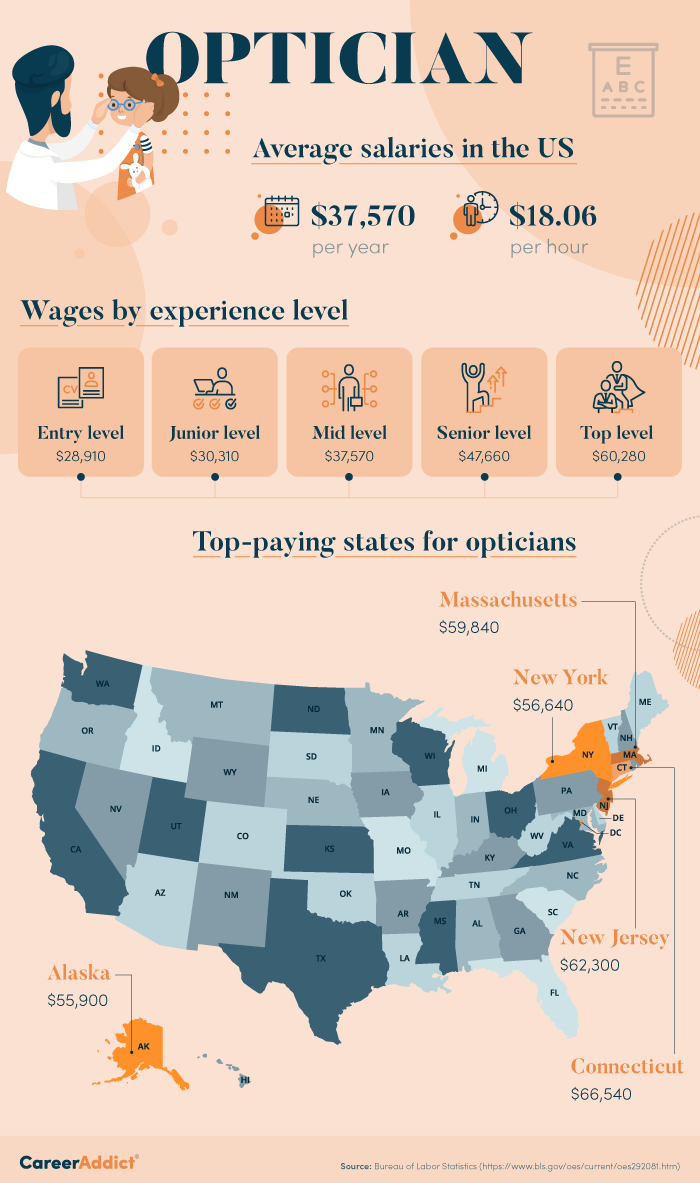 Essential skills and qualities
Every profession requires a unique blend of skills and personal qualities. Since becoming an optician involves daily interactions with clients and colleagues, working with specialized tools and equipment, and taking care of sales and business tasks, succeeding in this profession requires a good mix of technical and soft skills.
More specifically, to become a successful optician you'll need:
Excellent communication skills: Active listening and verbal communication ability are required to interpret clients' needs and provide the most suitable solution.
A caring approach: Aside from good communication skills, demonstrating a genuine interest in improving people's quality of life is necessary to build trust with clients.
Good organizational skills: Tracking sales, monitoring inventory, and keeping a record of client prescriptions are all part of the job.
Great sales skills: Opticians need to demonstrate product expertise and the ability to make decisions based on the client's needs and stylistic preferences.
Willingness to keep learning: Following emerging fashion trends and staying up to date with new technological advancements, methods, and equipment is a must.
Dexterity: This is a job that requires the delicate handling and manipulating of eyewear. Ability to work with your hands is, therefore, needed.
Steps to become an optician
So far in this article, we've talked about what opticians' responsibilities consist of, what skills they need to have, what their work environment and job outlook are like, and how much they earn. If, knowing the details, the idea of pursuing this profession seems exciting to you, read on to find out what steps you can take to become an optician.
Step 1: Determine if it's the right career for you
Having a hunch that a job could be right for you is a great starting point. Before pursuing a degree or qualification, however, you may want to take a career or aptitude test to make an evidence-based decision.
A reliable test, created by psychologists and career experts, can analyze your skillset and personality and recommend jobs you would thrive in. For example, CareerHunter, our own career-matching platform, can match you against an extensive list of different types of career paths (250 jobs in total).
Once you have your results, you'll know whether it's worth pursuing this career and can follow the next steps to get you there.
Step 2: Pursue a certificate or associate degree
If you've got your high school diploma or GED, you may be able to enter the profession right away and receive-on-the-job training. However, you can dramatically increase your chances of landing the role by first pursuing a certificate program or associate degree at a community college or technical training institution. If you do this at a school that's accredited by the Commission on Opticianry Accreditation, in a year or two you'll be fully equipped to enter an entry-level position in the field and stand out from the competition.
Step 3: Sit the ABO-NCLE exam
Earning the American Board of Opticianry & National Contact Lens Examiners (ABO-NCLE) certification can greatly increase your job prospects. Depending on the professional's level, different ABO-NCLE certifications may be awarded. These certifications are considered valid for three years and include the "basic", "advanced", and "master in ophthalmic optics" designations.
While no experience is required to sit the "basic" certification exam, those who complete an apprenticeship beforehand and gain experience can greatly increase their chances of passing the test.
Step 4: Get your license
Many US states require opticians to hold a license in order to practice. These requirements, however, can vary. In some cases, opticians may need to earn their ABO-NCLE certifications in order to qualify for licensure. In others, passing state-administered certification exams may be necessary; this typically includes written and practical exams.
If you're unfamiliar with the requirements, check your local opticianry licensing board for specific state requirements.
Step 5: Keep your license valid
In most cases, according to the BLS, opticians are expected to renew their state licensing every 1 to 3 years. To keep their certifications valid, opticians must fulfill continuing education requirements.
Final thoughts
A career in opticianry, or ophthalmic dispensing as it's sometimes referred to, offers job security, good pay, and ongoing career development as it requires opticians to attend training programs throughout their career. If lifelong learning resonates with you and you also get a sense of accomplishment out of helping others, then you could find this profession particularly rewarding.
Whether you're a recent high school graduate piecing together your future or an experienced professional looking for a career change, becoming an optician won't require years and years of studying and preparation. Instead, a two-year accredited associate degree or apprenticeship will help you build the mixture of interpersonal, technical, and business skills that will help you achieve your career goals.
Are you interested in becoming an optician? What about this career interests you? Let us know in the comments below!