Lifeguards look after the safety of those who are enjoying swimming pools and beaches. The role primarily involves helping people who get into trouble in water, but there are plenty of other parts to the job as well.
Being a lifeguard is an incredibly responsible profession, and one that requires a lot of training and skill. It can be a fun role too, getting you out into the open and spending time on beaches and helping visitors with advice or other questions.
If you're thinking that becoming a professional lifeguard could be a great role for you, then read on to discover more about the profession, as well as the steps on how to get started in this career.
What lifeguards do
Lifeguards are based either in recreation organizations that include a swimming pool and any other aquatic facility, or on beaches. There are quite a few responsibilities shared by both kinds of lifeguard, but the two types also have distinct differences in terms of the tasks that need to be done.
Beach-based lifeguards are responsible for the safety of all beachgoers, not just the ones who venture into the water. They rescue people who get into trouble at sea, help people stay in safe beach zones, administer first aid, and warn visitors about dangers such as extreme weather or jellyfish. Because of the large area beaches cover, these lifeguards need to be especially observant and spot hazards from far away.
Lifeguards based at swimming pools typically have a smaller area to look after, but might have different roles to fulfill. Some lifeguards, as well as looking after people who get into difficulties in the water, might offer swimming lessons, assist with pool maintenance, check temperatures and handle pool chemicals.
Here are some of the most common duties of a lifeguard:
Conduct risk assessments of where they are working and proactively look out for dangers.
Assist people who get into difficulty in the water, through swimming out to rescue them and bringing them to dry land.
Administer first aid to anyone who needs it.
Liaise with emergency services where needed.
Maintain the patrol area, whether it's a swimming pool or a beach zone.
Train and coach visitors in safe practices at the beach or at the swimming pool.
What the job is like
When we think of lifeguards, it's easy to conjure up images of Baywatch's Pamela Anderson and David Hasselhoff living it up in California. Whereas being a lifeguard will potentially enable you to work on your tan, it's a tough job with lots of responsibility. This section takes you through what to expect if you work as a lifeguard.
Work environment
Lifeguards can work both outdoors and indoors. Wherever they work, they'll be responsible for a certain area, whether it's a swimming pool (or a collection of pools) or a beach. They can work alone but, for safety reasons, it's usually more common for them to work with others. Lifeguards will spend most of their time sitting on platforms or elevated seats observing their patrol area.
Some outdoor lifeguards might be allocated transportation, such as a bike, jeep or quad bike, that will allow them to patrol a larger area. The role might involve a lot of waiting around but, ultimately, having no one to rescue isn't a bad thing! They will wear bathing suits or shorts but will also be provided with warmer clothes in case of cold weather, such as a sweatsuit.
Work hours
Lifeguards will work in shifts and be expected to be on duty for the duration of a swimming pool's opening hours. This might be from 9 to 5, or similar, but some pools will open early or close late.
Beach lifeguards will cover similar hours (signs will indicate to the public what times lifeguards will be on duty) but will likely have staggered shifts to avoid prolonged exposure to the sun or cold weather.
Occupational hazards
Being a lifeguard is not a dangerous job, but there are plenty of hazards they need to be aware of.
For outdoor lifeguards, in particular, prolonged exposure to the sun is a major risk, but employers will provide sunscreen. For indoor lifeguards, meanwhile, there will be slip hazards, as well as some risk handling pool cleaning chemicals.
Rescuing people from water might involve putting themselves in danger; therefore, lifeguards need to be aware of the hazards that any body of water can create, and carefully assess the risk of the rescue. They will also need to be generally very fit and well; otherwise, the practicalities of the role will prove challenging.
Job satisfaction
In general, lifeguards like their job. The role is said to offer a great environment in terms of enabling people to feel free through working in the great outdoors, meeting people and keeping fit.
Nevertheless, the lifeguard profession suffers from high staff turnover, mainly through the propensity of its younger workers to take on different jobs after some time, many roles being seasonal in nature (such as summer jobs), and moving between lifeguard jobs for variety.
The role is also known to pay below-average wages and has the perception of being a stop-gap job. Nevertheless, many lifeguards love the lifestyle and rightly view their profession as an incredible career!
Job market
Being a lifeguard is an in-demand role. The leisure industry is growing rapidly, especially since the COVID-19 pandemic started to abate. Swimming pools are reopening, and beach destinations are enjoying a much-needed boom.
According to the United States Bureau of Labor Statistics, an additional 19,900 lifeguard roles are expected to be created between now and 2031. This equates to a 16% increase, much faster than the national average occupational growth of 5%.
Salary
The mean average salary for a lifeguard is $27,320 per year (or $13.14 per hour). This is below the national average salary of $58,260. The role can be quite seasonal, and salaries are, therefore, paid prorated according to how much coverage is needed.
Generally, salaries start at $19,180 a year, while top-earning lifeguards make about $36,540 a year. Salaries also vary depending on location. For example, lifeguards in the District of Columbia are the highest-paid, earning an average $53,050 a year. This is followed by the states of Hawaii ($47,360), Alaska ($38,660), California ($35,890) and New York ($33,810).
Here's a rundown of lifeguard salaries across the US: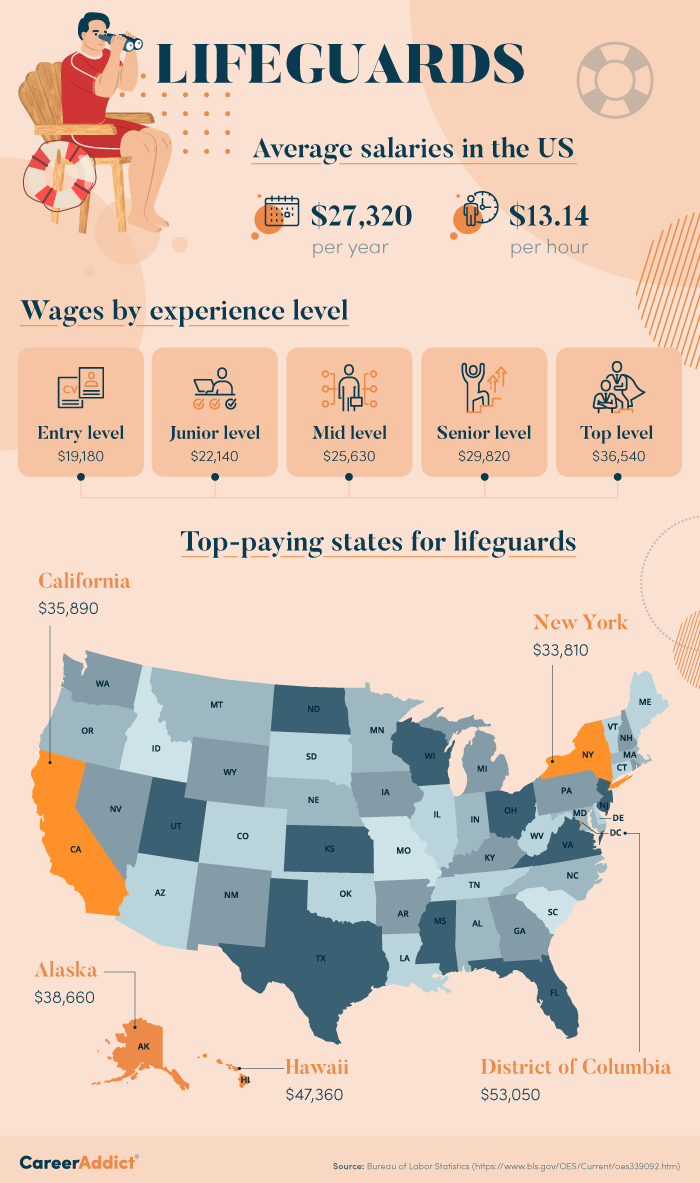 Lifeguards salary infographic
Essential skills and qualities
Being a lifeguard is a responsible job that requires the finetuning of certain skills to help people in aquatic environments and, in some cases, save lives. Here are the top six skills and attributes needed for this profession:
Physical fitness: The role not only requires strength in terms of running and swimming, but also stamina when it comes to sitting for long periods of time in the sun and remaining alert.
Swimming skills: Lifeguards need to be strong swimmers and able to tread water for long periods of time. They must be able to swiftly reach those in trouble and be able to get them back to shore.
First aid skills: Lifeguards must be aware of all first aid policies and standards, be trained in administering first aid to those who need it, and articulate to paramedics what has happened.
Cool-headedness: Lifeguards will be confronted by very stressful and upsetting situations, and they must have the resilience to handle these challenges calmly and to the right standard.
Communication skills: Lifeguards must have a firm, clear and direct communication style that is used to ensure people can hear and understand their instructions. They must also be able to direct bystanders and emergency services, too.
Concentration skills: Lifeguards have to spend long hours sitting at their station and, if they are at the beach, remain outside in all kinds of weather. They must be able to remain alert, despite these long periods of inactivity, and spot dangers immediately.
Steps to become a lifeguard
If you have gotten this far and feel energized and excited at the thought of becoming a lifeguard, then it's time to start thinking about how to go about it. Being a lifeguard doesn't necessarily require much in the way of education, but it does require specific knowledge and skills to perform the job safely and legally. All in all, becoming a lifeguard takes around three months, but sometimes longer.
Step 1: Determine if it's the right career for you
Being a lifeguard is a tough job, and you need to give serious thought as to whether the role is the one for you. The best place to start here is to consider whether the job is aligned to your interests. If you enjoy swimming, keeping fit, and spending time outside and with people, then being a lifeguard could be a great fit for you. Also, think about whether the skills outlined above are aligned to those that you are good at and enjoy using. This will also indicate a good career fit.
If you're still unsure as to what the right career might look like for you, then take our career test over at CareerHunter to discover whether you should really pursue a career as a lifeguard or something else entirely.
Step 2: Learn to swim
Perhaps the most important step to becoming a lifeguard is to learn how to swim and be proficient at this skill. Lifeguards need to be completely comfortable in the water and be able to swim different swimming styles and strokes, but also able to swim while carrying someone who might be fully dressed and unable to propel themselves. Beach lifeguards must also be familiar with the water hazards that come with swimming at sea, such as currents, tides and marine life.
Step 3: Focus on the right education and training
Although there are no specific educational requirements for becoming a lifeguard, core high school subjects such as languages, mathematics and sciences will always be useful, as well as physical education or sports.
Lifeguards must be trained in a variety of different skills and tools, such as advanced swimming techniques, first aid (including CPR) and using an automated external defibrillator. They must also be trained in rescue techniques such as "prevent and respond" approaches.
All these skills can be taught through informal lifeguard courses or via formal lifeguarding certifications.
Step 4: Become certified
Becoming certified is essential for any lifeguard to get a job. There are a handful of certification programs for lifeguards in the US, run by organizations like the American Lifeguard Association. The ALA's Lifeguarding Certification covers much of the training listed above, as well as a program of strenuous water safety activity to assess your general fitness for the role. The course is blended learning, offering a mix of practical activities and examinations.
The American Red Cross lifeguarding program also offers full courses that are recognized by employers.
You must be 15 years or older to work as a lifeguard at swimming pools, and 16 years or older to work as a lifeguard at beaches. There are also minimum swimming capabilities too, such as being able to swim 300 yards continuously, using a variety of strokes. Accreditations need to be retaken when your certification expires, usually after two years.
Step 5: Apply for jobs and progress your career
Once you've become certified, you can start to apply for lifeguard jobs! Plenty of organizations are on the lookout for lifeguards, such as private and public swimming pools, hotels and resorts, leisure and recreation centers, and government organizations in charge of beaches. As you become more experienced, you can apply for lifeguard instructor courses and positions, too.
Final thoughts
Being a lifeguard is an amazing role that will get you out and about in the public, as well as be responsible for their safety at swimming pools and beaches. It's a social job, but is a lot tougher than many people realize, as well as being a career that requires plenty of concentration and fitness.
Becoming a lifeguard doesn't require much education, but you will need to undertake lots of training, keep fit and get certified. Once you've completed this, though, you'll have acquired the skills needed to save people's lives and will be able to take your first job and get fully stuck into this important profession.
Got any questions or want to share your own experiences as a lifeguard? Let us know in the comments section below.