If you're anything like me, you spend a mind-boggling amount of time watching the clock and willing it to count down the seconds to lunchtime faster. You adore food, and you're always on the lookout for new recipes to try.
To help, I've handpicked a selection of quick, light meal ideas, hearty lunch recipes and healthy post-lunch desserts for you to draw some food-spiration from. Adding some of these to your workweek can help you reach some of your goals faster, whether that's losing weight, boosting your mood or increasing your energy levels. Let's get into it!
1. Orzo salad with vegetables and feta
Ingredients
8oz dried orzo pasta
1½ cups cucumber, diced
1 cup cherry tomatoes, halved
1 cup chickpeas
¼ cup minced red onion
½ cup feta cheese, crumbled
¼ cup chopped fresh parsley
6 tbsp olive oil
1 tbsp lemon juice
1 tbsp red wine vinegar
1 tsp Dijon mustard
¼ tsp garlic powder
¼ tsp dried oregano
Salt and pepper to taste
Instructions
This Greek orzo salad is a tasty, cold lunch option that takes about 30 minutes to prepare. You start by cooking the orzo in salted water according to the instructions on the packet and then leaving it to cool.
You prepare the dressing in the meantime, whisking together the olive oil, mustard, lemon juice, vinegar, herbs and seasoning. Once the orzo is cool, you add it to a large bowl together with the rest of the ingredients (cucumber, tomatoes, chickpeas, onion, parsley and feta cheese).
At the end, you pour in your dressing and toss the pasta salad. Voilà!
2. Buffalo chicken wraps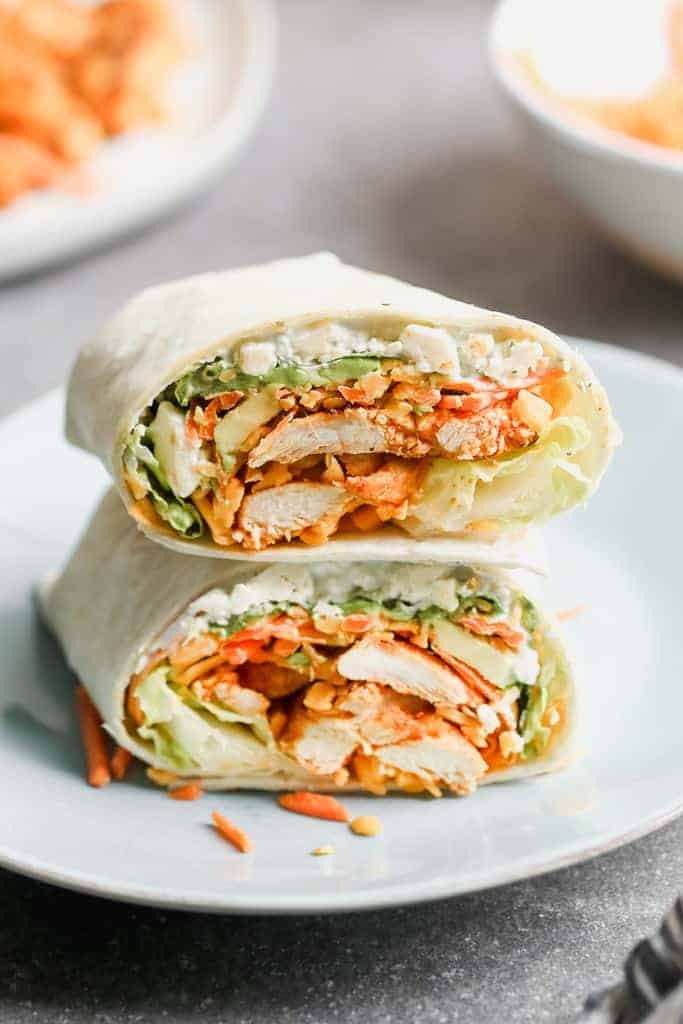 Tastes Better from Scratch
Ingredients
1lb boneless, skinless chicken breasts
2 tbsp olive oil
½ cup Frank's Hot Sauce
½ tsp paprika
½ tsp garlic powder
4 large flour tortillas
½ cup blue cheese or ranch dressing
2 cups Romaine lettuce, chopped
½ cup carrot, shredded
½ avocado, sliced
½ cup shredded cheddar cheese
Pinch of salt
Instructions
To make these Buffalo chicken wraps, start by slicing the chicken breasts into long, thin strips. Then, whisk together the olive oil, paprika, hot sauce, garlic powder and salt, and marinate the chicken in it for at least 10 minutes.
Cook the chicken strips in a non-stick skillet over medium-high heat. When done, spread thin layers of blue cheese or ranch dressing on the tortillas, and add the chicken on top, along with the lettuce, carrots, avocado and shredded cheddar.
3. Veggie olive wraps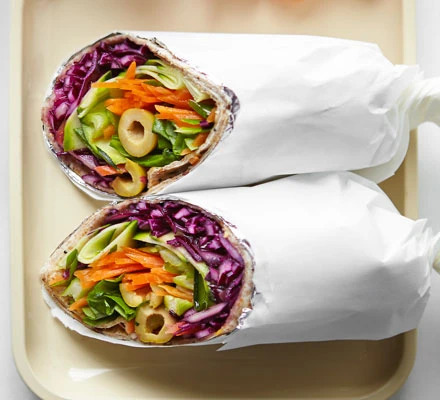 BBC Good Food
Ingredients
1 carrot, coarsely grated
80g red cabbage, finely shredded
2 spring onions, thinly sliced
1 zucchini, coarsely grated
Handful basil leaves
5 green olives, pitted and halved
½ tsp English mustard powder
2 tsp extra virgin rapeseed oil
1 tbsp cider vinegar
1 large, seeded tortilla
Instructions
For those of us working full time, easy recipes that save time are a godsend! These veggie olive wraps with mustard vinaigrette are not only quick and simple, they're also low-calorie and suitable for vegans.
This is how you make them: in a bowl, mix together all the ingredients (barring the tortilla, of course). Then, place the tortilla on a sheet of foil and start piling up the mixture on one side. Firmly roll up the tortilla and wrap the foil tightly around it, then cut in half when it's time to eat.
4. Chicken burrito protein bowl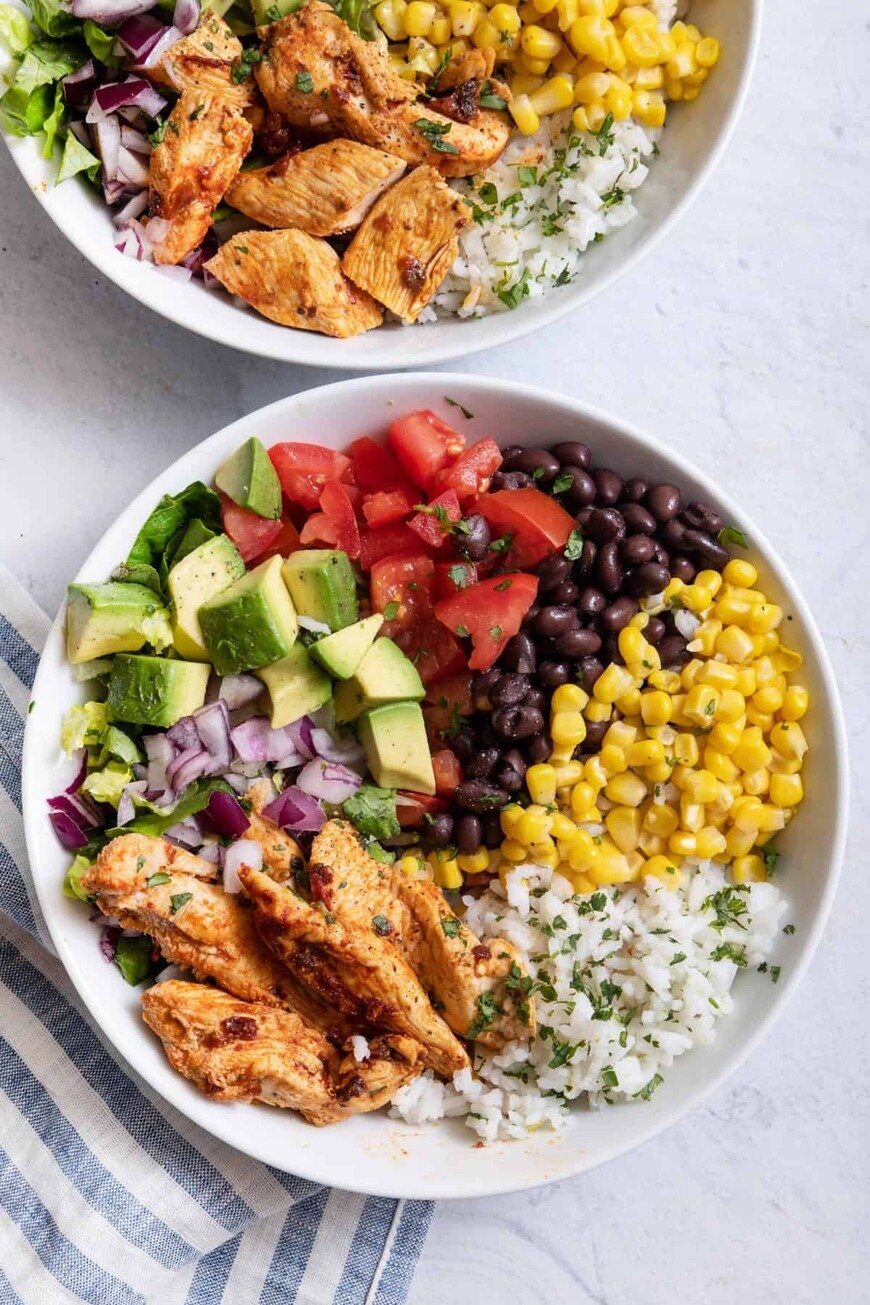 Feel Good Foodie
Ingredients
For the chicken:
¼ cup avocado oil
3 tbsp lime juice
3 chipotle chilis in adobo sauce, finely chopped
1½ tbsp adobo sauce
1½ tsp garlic powder
¾ tsp salt
1½lb chicken breast, cut into strips
For the rice:
1 cup long-grain white rice
1½ cups water
¼ tsp salt
Zest of 1 lime
2 tbsp fresh lime juice
¼ cup chopped cilantro
To assemble:
1 head romaine lettuce, chopped
1 cup diced tomatoes
1 avocado, chopped
1 cup frozen corn, thawed
1 15-oz can black beans
½ small red onion, chopped
Instructions
You can start making this chicken burrito protein bowl by stirring together the oil, lime juice, chopped chilies, adobo sauce, salt and garlic powder. Marinate the chicken in it for at least two hours and then cook in a large pan over medium-high heat.
Continue by adding rice and salt to a pot of water. Once boiling, reduce the heat, cover and simmer until the water is absorbed. Fluff the rice with a fork and toss in the cilantro, as well as the lime juice and zest, and additional salt if required.
Serve the rice and chicken in a bowl alongside the tomatoes, avocados, corn, red onion and beans.
5. Quick chicken hummus bowl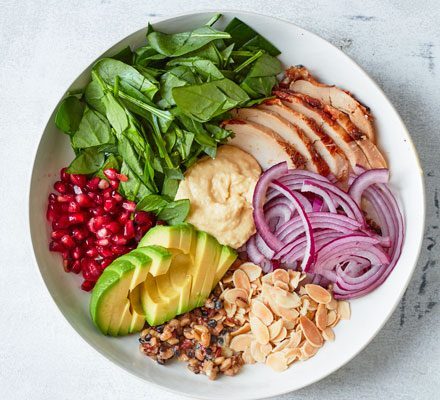 BBC Good Food
Ingredients
200g hummus
1 small lemon, zested and juiced
200g pouch cooked mixed grains
150g baby spinach, roughly chopped
1 small avocado, halved and sliced
1 cooked chicken breast, sliced
100g pomegranate seeds
½ red onion, finely sliced
2 tbsp toasted almonds
Instructions
The first step to preparing this quick chicken hummus bowl is to stir half the lemon juice, the lemon zest and enough water into two tablespoons of hummus to make a drizzly dressing. Then you separate the grains in the pouch by squeezing and dividing them into two bowls. Stir in the dressing, and top off with the spinach.
Squeeze the remaining lemon juice over the avocados and add them to the bowls. Then split the chicken, pomegranate seeds, onion, almonds and remaining hummus between the two bowls, and mix everything together before serving.
6. Chickpea salad sandwich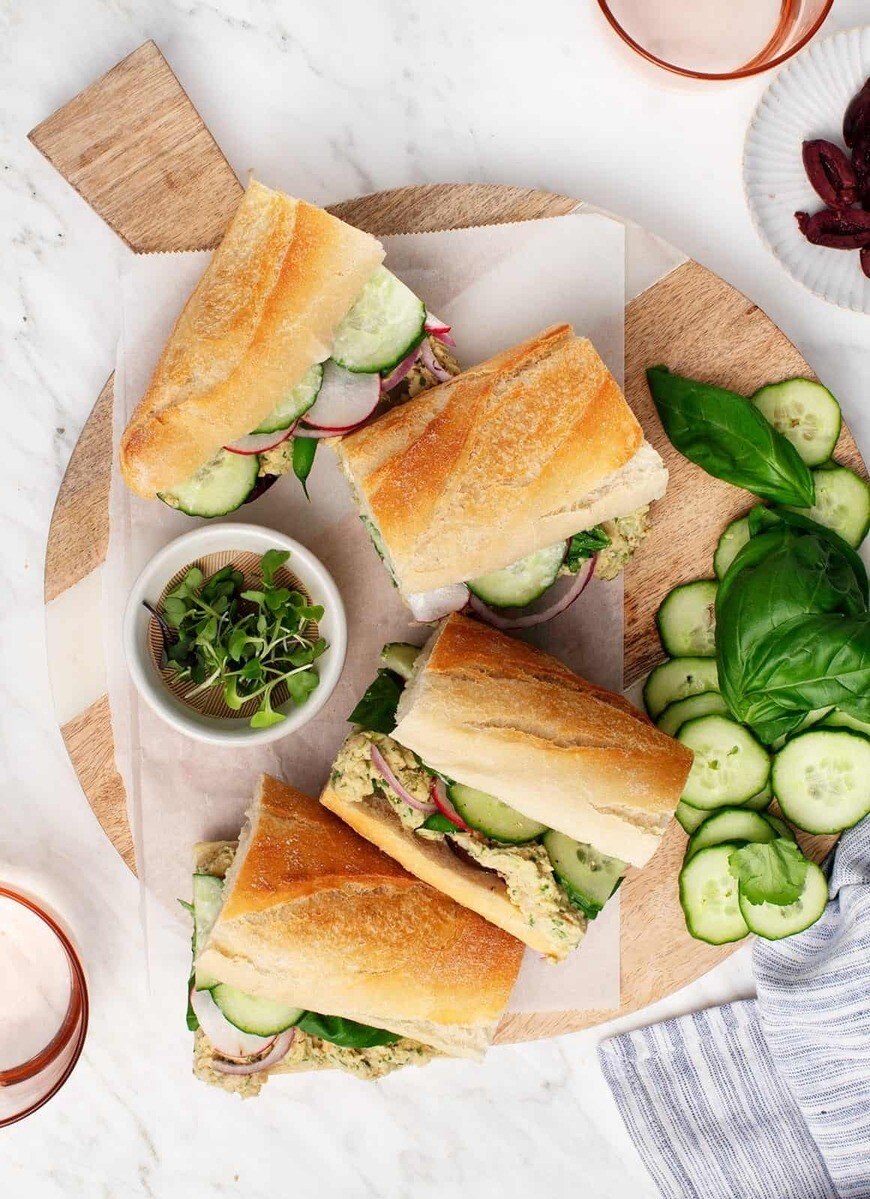 Love and Lemons
Ingredients
For the salad:
1½ cups cooked chickpeas
2 tbsp tahini
1 tsp Dijon mustard
½ garlic clove
1 tsp capers
1 green onion, chopped
2 tbsp cilantro, chopped
2 tbsp lemon juice
Salt and pepper
For the sandwiches:
Handful of thin, green beans, trimmed
1 soft baguette, halved
10 Kalamata olives, pitted and halved
Thinly sliced red onion
Vegan or regular mayo
1 cucumber, thinly sliced
1 radish, thinly sliced
8 fresh basil leaves
Salt and pepper
Instructions
High in fiber and protein, this chickpea salad sandwich is ideal for anyone looking to eat better and healthier at work.
Start by combining the tahini, chickpeas, mustard, garlic, capers, onions, cilantro, lemon juice, and salt and pepper in a food processor — do not puree. Then blanch the green beans by dropping them into boiling water for 90 seconds, scooping them out and dropping them into ice water. Once cool, cut into one-inch pieces.
Finally, assemble the sandwiches by spreading the salad on one side of the bread and mayo on the other. Add the green beans, red onion, cucumber, radish and basil, season to taste, and enjoy!
7. Chicken teriyaki stir fry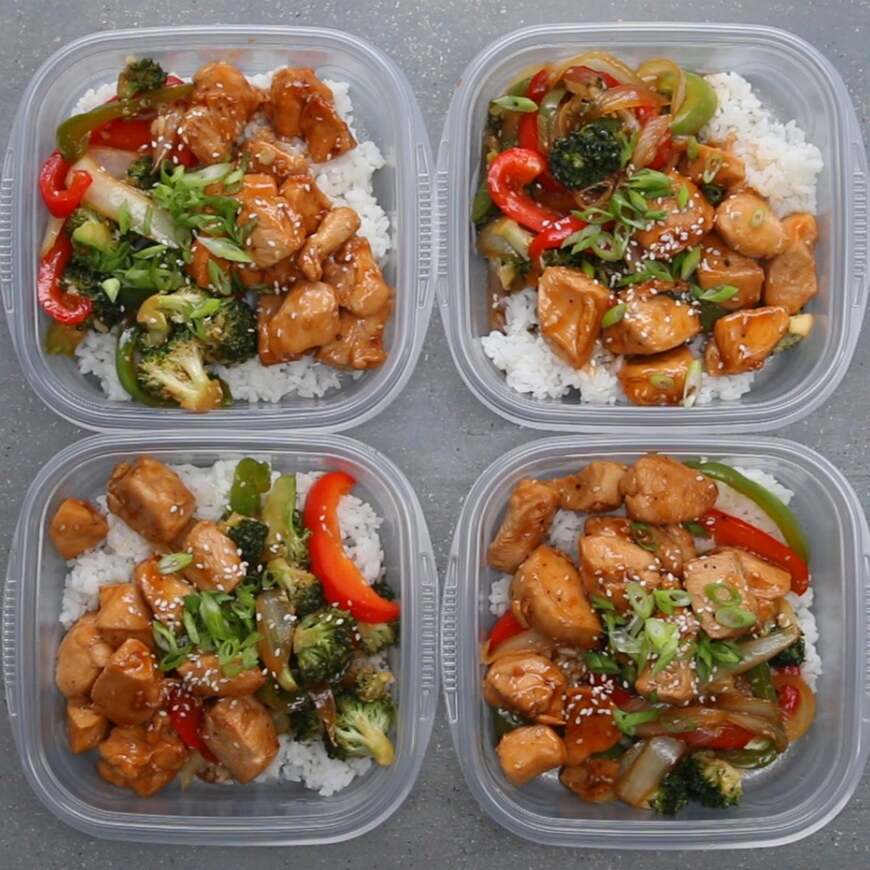 Tasty
Ingredients
3 chicken breasts, cubed
Salt and pepper
1 tsp garlic, crushed
½ cup soy sauce
⅓ cup honey
1½ tbsp sesame seeds
1 onion, sliced
2 small bell peppers, thinly sliced
2 cups broccoli
1 green onion, thinly sliced
White rice, cooked
Instructions
This freezable chicken teriyaki stir fry was one of the healthiest packed lunch ideas I came across. It's low in fat and high in protein, while the honey it contains can be a lifesaver when that second-half-of-the-day fatigue prepares to kick in. Its natural sugars will give you an energy boost!
Start by cooking the chicken over medium-high heat. When almost done, reduce the heat and stir in the garlic, soy sauce, honey and one tablespoon of sesame seeds. Remove the chicken from the pan, and add the vegetables to the sauce, covering the pan and cooking until they soften. At the end, remove the lid and stir until the sauce thickens.
Divide the rice, vegetables and chicken into four containers and serve with sesame seeds and green onion. Refrigerate and enjoy within four days!
8. Parma ham Mediterranean plate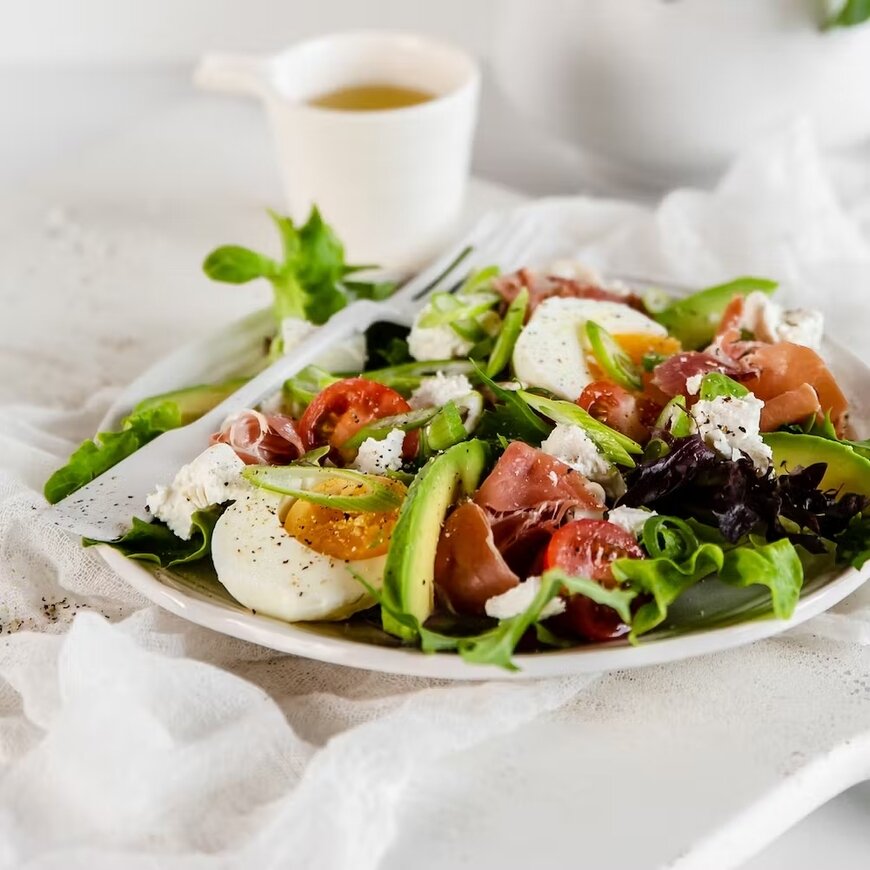 Diet Doctor
Ingredients
3oz prosciutto
4 tbsp mixed leafy greens
1 large egg, boiled
2oz avocados, sliced
2 cherry tomatoes, sliced in half
3 tbsp feta cheese, crumbled
2⅓ tbsp scallions, thinly sliced
1 tbsp olive oil
1 tsp lemon juice
Salt and pepper
Instructions
This keto Parma ham plate is rich and creamy, and guaranteed to keep you full for hours. All you need to do is add a layer of lettuce at the bottom of your bowl and top with the rest of the ingredients, drizzling with lemon juice and olive oil, and seasoning to taste. It's so quick and easy that you could even prepare it in the morning before work!
9. Easy one-pot pasta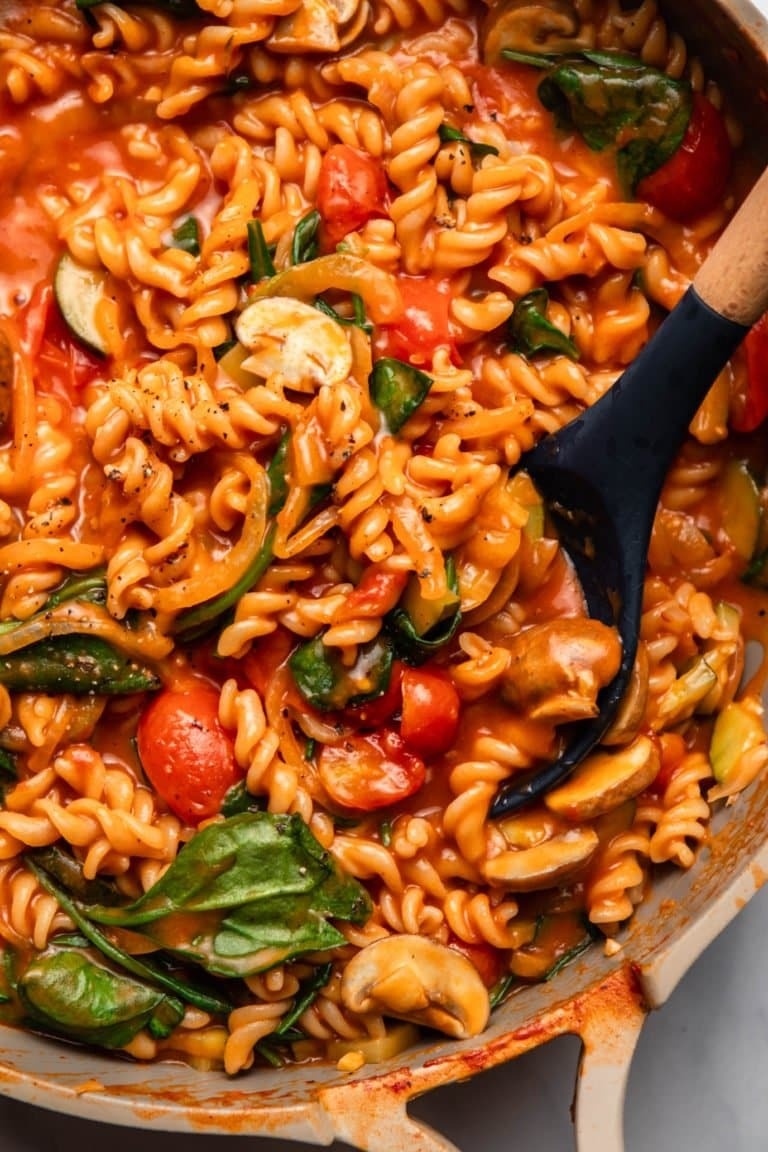 From My Bowl
Ingredients
8oz dry pasta
8oz cherry tomatoes, halved
2 garlic cloves, minced
½ yellow onion, thinly sliced
1 small zucchini, chopped and quartered
3oz cremini mushrooms, sliced
½ tsp red pepper flakes
½ tsp kosher salt
1¼ cups pasta sauce of choice
2½ cups water
3oz fresh spinach
Instructions
How does "easy one-pot pasta" sound after a long day at work? Pretty good, right? In just 20 minutes, you can prepare tonight's dinner and tomorrow's lunch.
Start by adding the pasta and the rest of your ingredients except the spinach to a large pot. Bring to boil over high heat and then reduce to medium-low heat, and cook until the pasta is ready. Stir frequently, as ingredients may stick to the bottom of the pot.
Once the heat is off, throw in the spinach and stir through. And you're done!
10. Vegetarian fajitas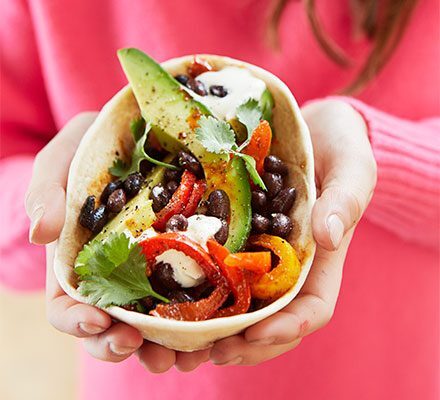 BBC Good Food
Ingredients
400g can black beans, drained
Small bunch coriander, finely chopped
4 large flour tortillas
1 avocado, sliced
2 tbsp sour cream
For the fajita mix:
1 red and 1 yellow pepper, cut into strips
1 tbsp oil
1 red onion, cut into thin wedges
1 garlic clove, crushed
½ tsp chili powder
½ tsp smoked paprika
½ tsp ground cumin
1 lime, juiced
Instructions
Vegetarian fajitas for tomorrow's lunch, anyone?
Start by finely chopping two or three strips from each color pepper for the fajita mix. Heat the oil in a frying pan, and fry the remaining pepper strips along with the onion until cooked. Let them cool a bit, and throw in the raw peppers, garlic and spices, and cook for a few minutes. Then add half the lime juice and season, and transfer to a dish without removing the juices from the pan.
Add the beans to the pan, plus the remaining lime juice and seasoning. Stir the beans around until warm, and add the coriander; then warm up the tortillas in the oven, and serve with the avocado and sour cream.
11. Quick and easy pasta salad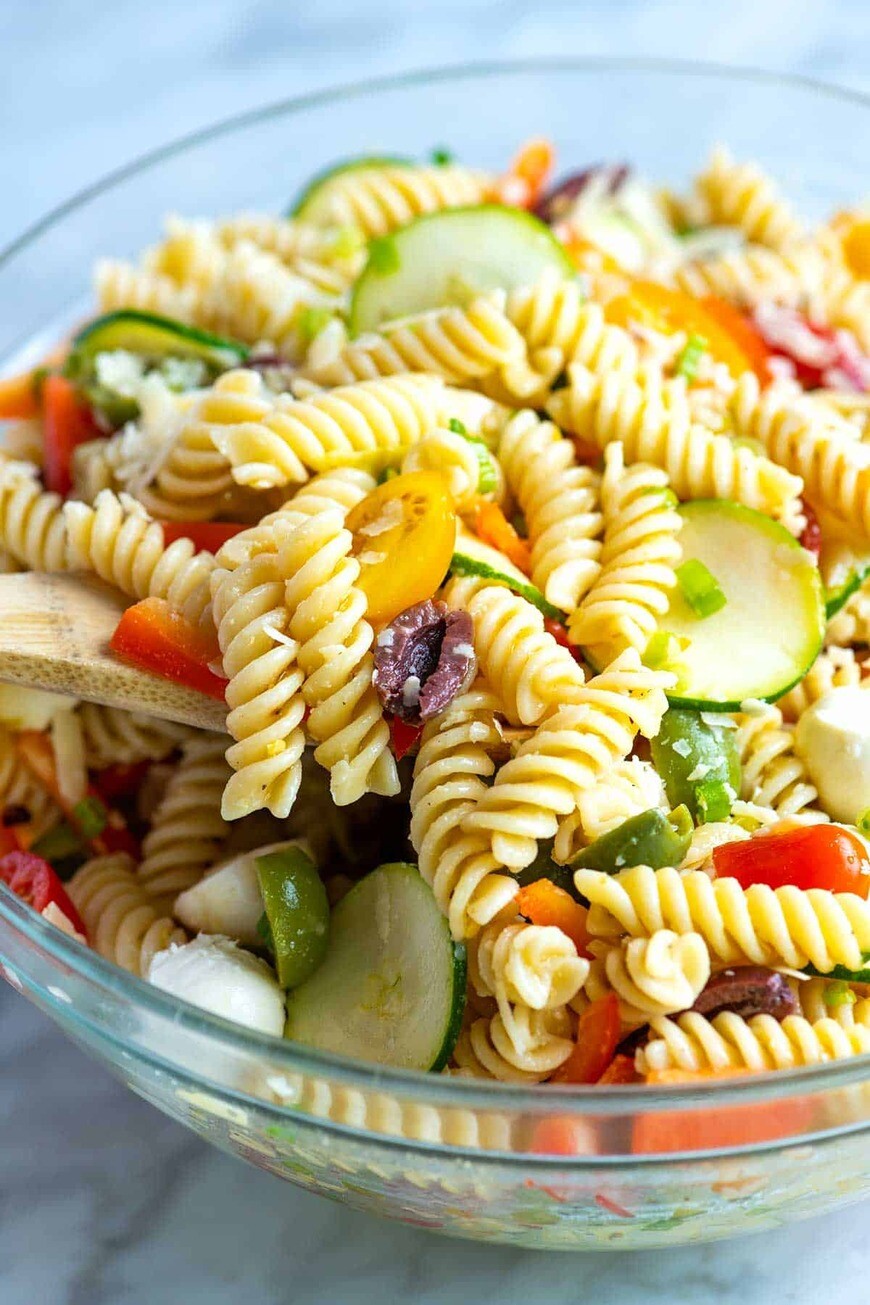 Inspired Taste
Ingredients
1lb dried pasta, like penne or farfalle
1 cup sliced bell pepper
1 cup thinly sliced zucchini
1 cup halved cherry tomatoes
⅓ cup thinly sliced scallions
¼ cup sliced pepperoncini peppers, optional
4oz halved mixed olives
2oz grated parmesan cheese
6oz fresh mozzarella balls, chopped
⅓ cup fresh parsley or basil, optional
For the dressing:
⅓ cup red or white wine vinegar
½ tsp fine sea salt
½ tsp ground black pepper
½ tsp dried oregano
2–3 tbsp juice from pepperoncini jar, optional
½ cup extra-virgin olive oil
Instructions
To make this quick and easy pasta salad, start by bringing a large pot of water to boil and adding in the pasta. Cook until tender, removing and rinsing with cold water at the end.
Meanwhile, prepare the dressing in a large bowl. Stir together the vinegar, oregano, pepperoncini juice (if using), olive oil, and salt and pepper until mixed well. Add the dressing and the rest of the ingredients to the pasta, and season to taste before serving.
12. Spicy mushroom and broccoli noodles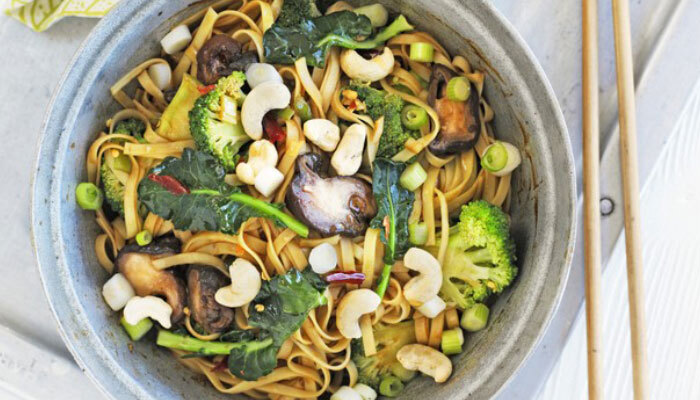 BBC Good Food
Ingredients
1 low-salt vegetable stock cube
2 nests medium egg noodles
1 small head broccoli, broken into florets
1 tbsp sesame oil, plus extra to serve
250g shiitake or chestnut mushrooms, thickly sliced
1 fat garlic clove, finely chopped
½ teaspoon chili flakes
4 spring onions, thinly sliced
2 tbsp hoisin sauce
Handful roasted cashew nuts
Instructions
These spicy mushroom and broccolini noodles are a healthy vegetarian choice you can prepare in 20 minutes.
Boil the noodles for two minutes, adding the stock cube to the water. Then add the broccoli, and boil for another two minutes. Put aside a cup of the stock, then drain the noodles and broccoli.
In a frying pan, add the sesame oil and stir-fry the mushrooms until they turn golden. Add the garlic, chili flakes and most of the spring onion, and cook for a minute before adding in the noodles and broccoli.
Add the hoisin sauce and three tablespoons of the stock into the pan, and toss everything together for one minute. Add the remaining spring onion and cashew nuts, and serve.
13. Pasta puttanesca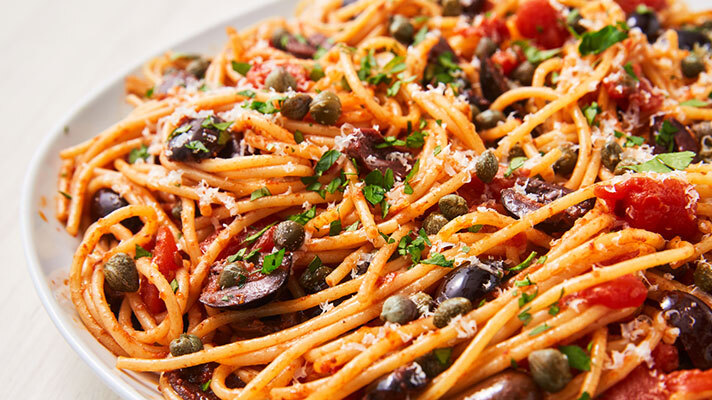 Delish
Ingredients
¼ cup extra-virgin olive oil
4 cloves garlic, smashed
4 anchovy fillets, chopped
1 28-oz can diced tomatoes
½ cup Kalamata olives, pitted
¼ cup capers
½ tsp crushed red pepper flakes
Kosher salt
1lb spaghetti
Grated parmesan for serving
Instructions
In the colder months of the year especially, we're more likely to crave comforting, filling foods to eat at work rather than sandwiches and pasta salads. With that in mind, I included this recipe for homemade pasta puttanesca.
Start by heating the oil in a skillet over medium heat. Add the garlic, and cook for one minute; then throw in the anchovies, and cook for another minute. Throw in the diced tomatoes, olives, capers and pepper flakes, bring to a boil, and then reduce the heat and simmer for 15 minutes.
Meanwhile, cook the pasta in salted water. At the end, drain the pasta and add in the sauce, and sprinkle with parmesan before serving.
14. Poke bowl with sriracha mayo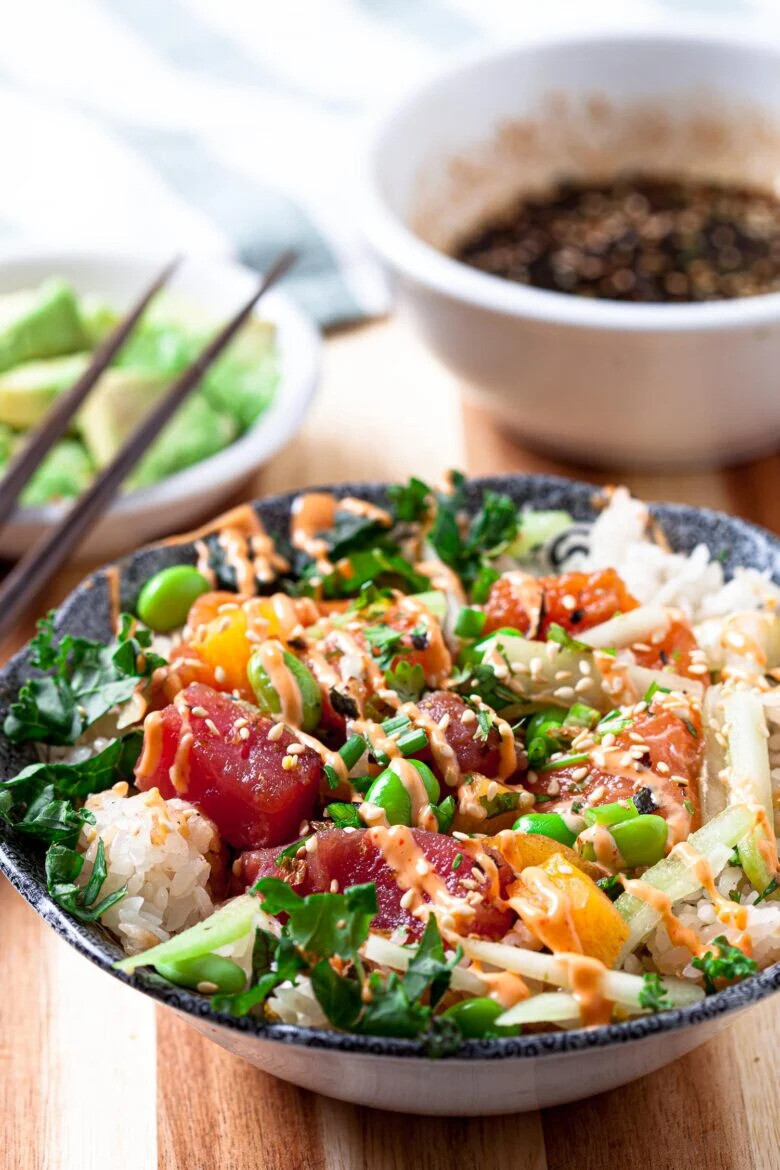 Chew Out Loud
Ingredients
For sriracha mayo:
3 tbsp mayo
1 tbsp sriracha hot sauce
For the sesame-soy sauce:
3 tbsp Tamari gluten-free soy sauce
1 tsp Asian rice wine vinegar
1 tsp Asian toasted sesame oil
1 tsp granulated sugar
¼ tsp ginger powder
¼ tsp wasabi paste
For the poke bowl:
2 cups shredded green leaf lettuce
2 cups sashimi-grade tuna or salmon
1 cucumber, seeded and sliced
1 mango, peeled and cubed
1 avocado, cubed
3 cups cooked rice
Garnishes:
Chopped cilantro
Green onions
Toasted sesame seeds
Furikake
Instructions
This poke bowl with sriracha mayo makes for a low-carb, gluten-free meal you can quickly prepare and take to work.
Combine together the sriracha sauce and mayo in a small bowl. Then, whisk together all the sesame-soy sauce ingredients, and add in the tuna or salmon, stirring until coated.
Divide the rice into four bowls. Then, layer the ingredients in this order: lettuce, tuna or salmon, cucumber, mango and avocado. Sprinkle the garnishes on top, and drizzle with the sriracha mayo.
15. Avocado chicken salad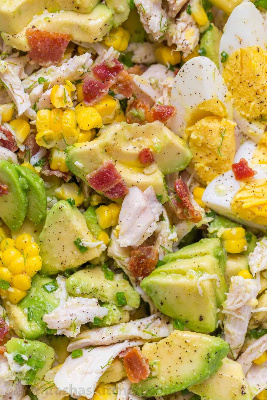 Natasha's Kitchen
Ingredients
2 large, cooked chicken breasts, shredded
2 large avocados
1 cup corn
6oz lean bacon, cooked and chopped
¼ cup chives, chopped
2 tbsp dill, chopped
For the dressing:
3 tbsp lemon juice
3 tbsp extra virgin olive oil
1 tsp sea salt
⅛ tsp black pepper
Instructions
This creamy and light avocado chicken salad can be enjoyed as a main course or used as filling in sandwiches, pittas or lettuce wraps. If you're pressed for time, you can even use rotisserie chicken, instead of cooking your own, to speed up the process. Turkey bacon can be used to cut down the fat, and if you want more protein, you can add two boiled eggs.
16. Taco spaghetti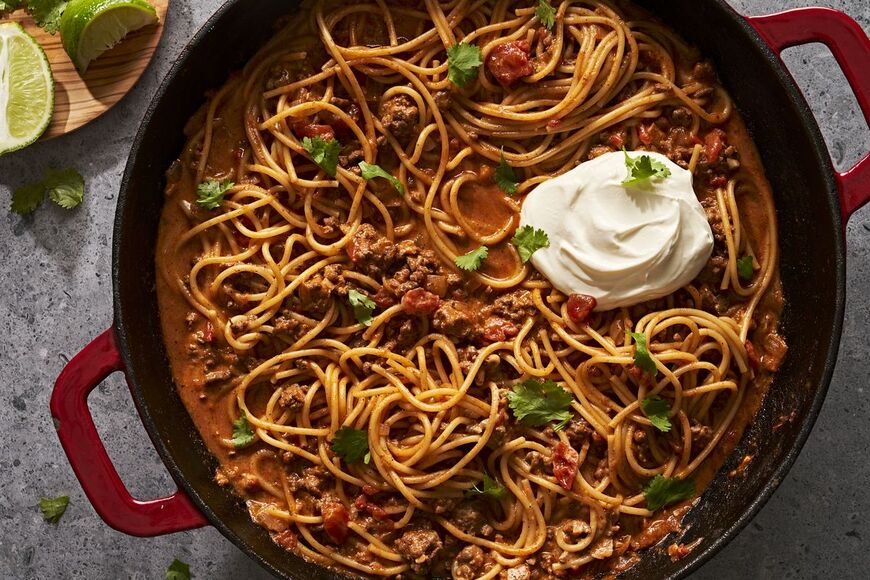 Delish
Ingredients
1lb 93% lean ground beef
1 small yellow onion, finely chopped
4 cloves garlic, finely chopped
4 cups water
1 14.5-oz can diced tomatoes
1 1-oz packet taco seasoning
8oz spaghetti
4oz American cheese, torn
1 cup sharp cheddar cheese, shredded
½ cup chopped fresh cilantro
Sour cream for serving (optional)
Instructions
To make taco spaghetti, start by cooking the ground beef, onion and garlic in a large pot over medium-high heat, stirring occasionally. Add water, tomatoes and taco seasoning once the beef has browned, then cover and bring to a boil.
Add the spaghetti to the sauce, reduce the heat to medium and cover, simmering until the pasta is ready. Once you've removed the pot from the heat, stir in the cheeses and cilantro. Serve with sour cream if using.
17. Beetroot hummus toasts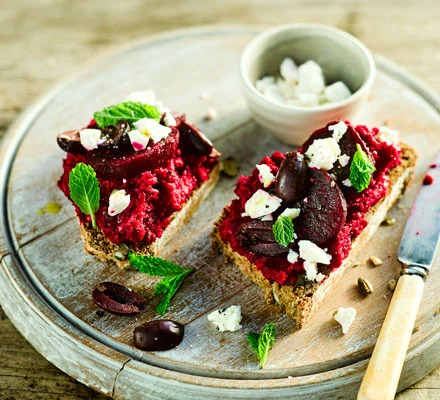 BBC Good Food
Ingredients
2 slices seeded wholemeal soda bread
210g can chickpeas
200g ready-cooked beetroot, sliced
1 tablespoon lemon juice
1 small garlic clove
1 teaspoon rapeseed oil
30g feta, crumbled
6 pitted Kalamata olives, halved
A few fresh mint leaves
Instructions
These beetroot hummus toasts with olives and mint take less than 15 minutes to make. You start by slicing the bread and toasting it. Then, you add the chickpeas, half the beetroot, lemon juice, garlic and oil to a blender, combining them to make hummus.
Spread the hummus onto the bread and top with the remaining beetroot, feta, olives and mint.
18. Halloumi and quinoa Fattoush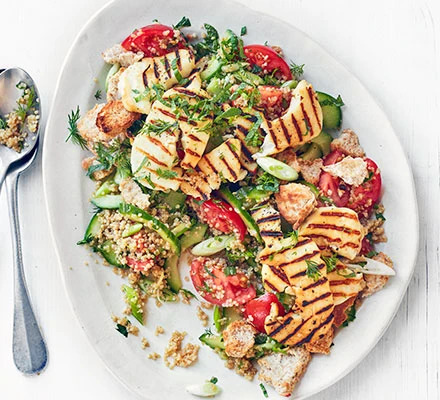 BBC Good Food
Ingredients
2 brown pittas, torn into pieces
5 tbsp olive oil
2 lemons, juiced
1 garlic clove, crushed
250g block halloumi, sliced
250g microwavable pouch quinoa
350g medium tomatoes, quartered
1 large cucumber, seeded and sliced
4 spring onions, sliced
½ small bunch mint, chopped
½ small bunch dill, chopped
Instructions
The first step in making this halloumi and quinoa Fattoush is heating up your grill. Toss the pitta pieces with one tablespoon of oil, and spread onto a baking sheet, grilling for three to four minutes until crisp.
Meanwhile, whisk together the rest of the oil, lemon juice and garlic, and season to form the dressing. Use a frying pan over high heat to cook the halloumi slices until lightly charred on both sides. Then, cook the quinoa following the packet instructions, leave to cool, and toss in the tomatoes, cucumber, onion, fresh herbs and dressing. Place the halloumi and pitta pieces on top, then serve.
19. Turkey cranberry wrap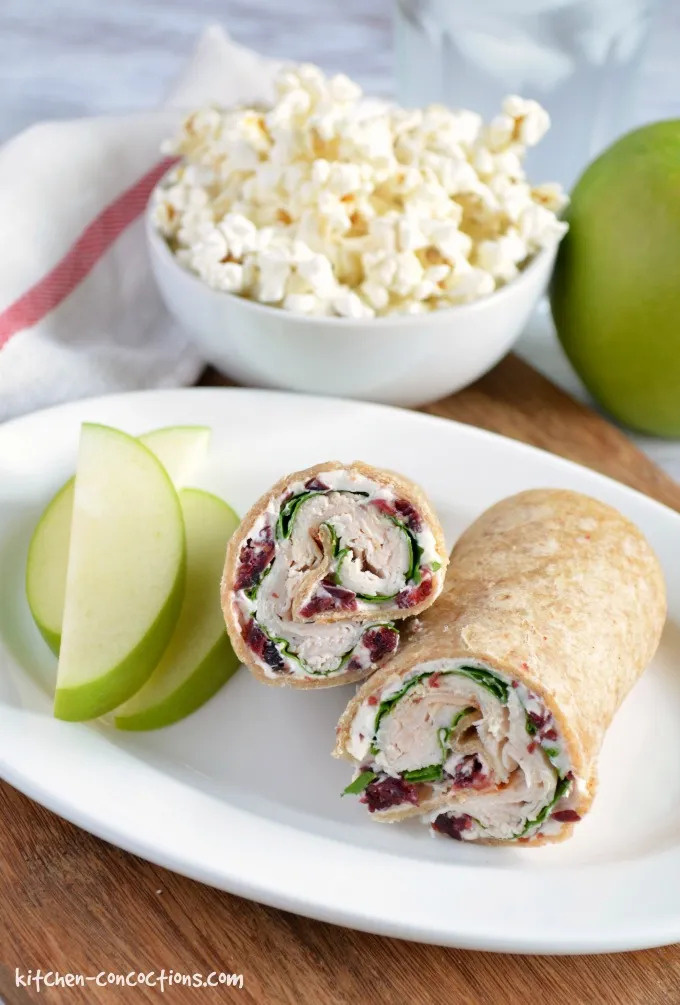 Kitchen Concoctions
Ingredients
2 tbsp dried cranberries, chopped
2 tbsp whipped cream cheese
1 large whole wheat tortilla
10 fresh spinach leaves
2–3 slices low-sodium turkey deli meat
Instructions
These turkey cranberry wraps can quickly become a workplace favorite. They're fast, easy and delicious!
Start by stirring together the cranberries and cream cheese. Then, spread the mixture over the tortilla. Top with the spinach leaves and sliced turkey and, finally, roll the tortilla tightly to secure the filling and slice in half before serving.
20. Croissants with smoked salmon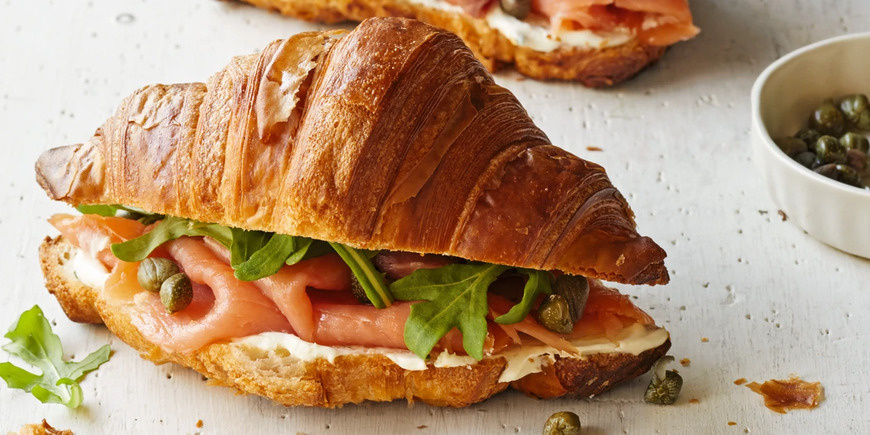 Today
Croissants with smoked salmon
Today
https://www.today.com/recipes/croissants-smoked-salmon-recipe-t274409
Ingredients
4 large fresh croissants
1 cup Italian mascarpone
1½ tablespoons whole milk
1½ tablespoons minced fresh chives
Kosher salt and ground black pepper
1½ tablespoons capers in brine, drained
½ pound thinly sliced smoked salmon
Very thinly sliced red onion (optional)
3 cups baby arugula
Instructions
Reheating fish in the office microwave isn't going to win you any brownie points with your colleagues. Instead, I found this recipe for croissants with smoked salmon you could prepare if you're a fan of seafood.
Preheat your oven to 350F. Bake the croissants for about eight minutes. Meanwhile, combine the mascarpone, milk, chives, a teaspoon of salt and half a teaspoon of pepper in a bowl.
Slice the croissants lengthwise, spreading the mascarpone mixture on top. Then, top with the salmon, capers, arugula and red onion, if using.
21. Veggie and hummus sandwich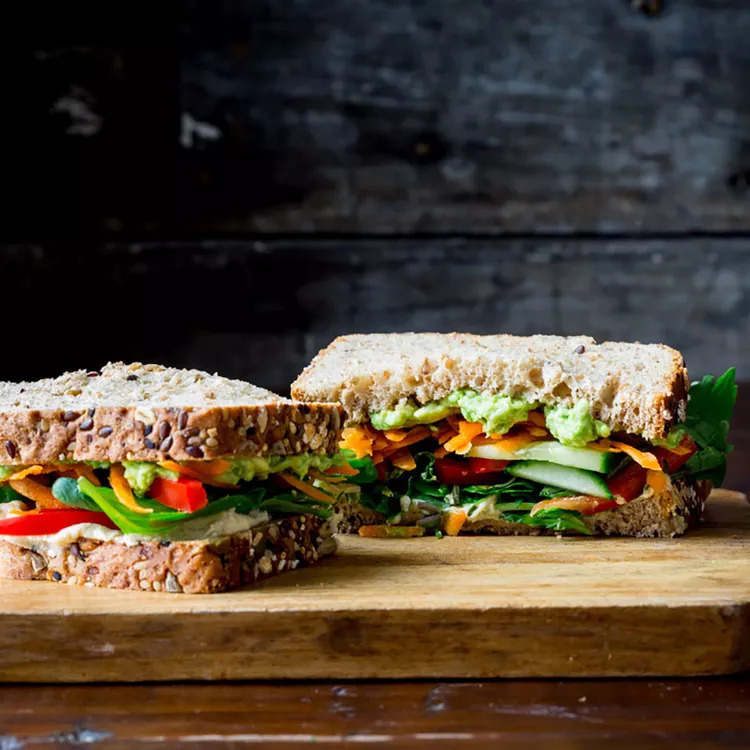 EatingWell
Ingredients
2 slices whole-grain bread
3 tbsp hummus
¼ avocado, mashed
½ cup mixed salad greens
¼ medium red bell pepper, sliced
¼ cup sliced cucumber
¼ cup shredded carrot
Instructions
This high-fiber veggie and hummus sandwich can quickly be prepared in the morning before you leave for work. It takes 10 minutes!
Spread hummus on one slice of bread and avocado on another. Then top the sandwich with greens, peppers, cucumbers and carrot, slice in half and serve.
22. Lentil Bolognese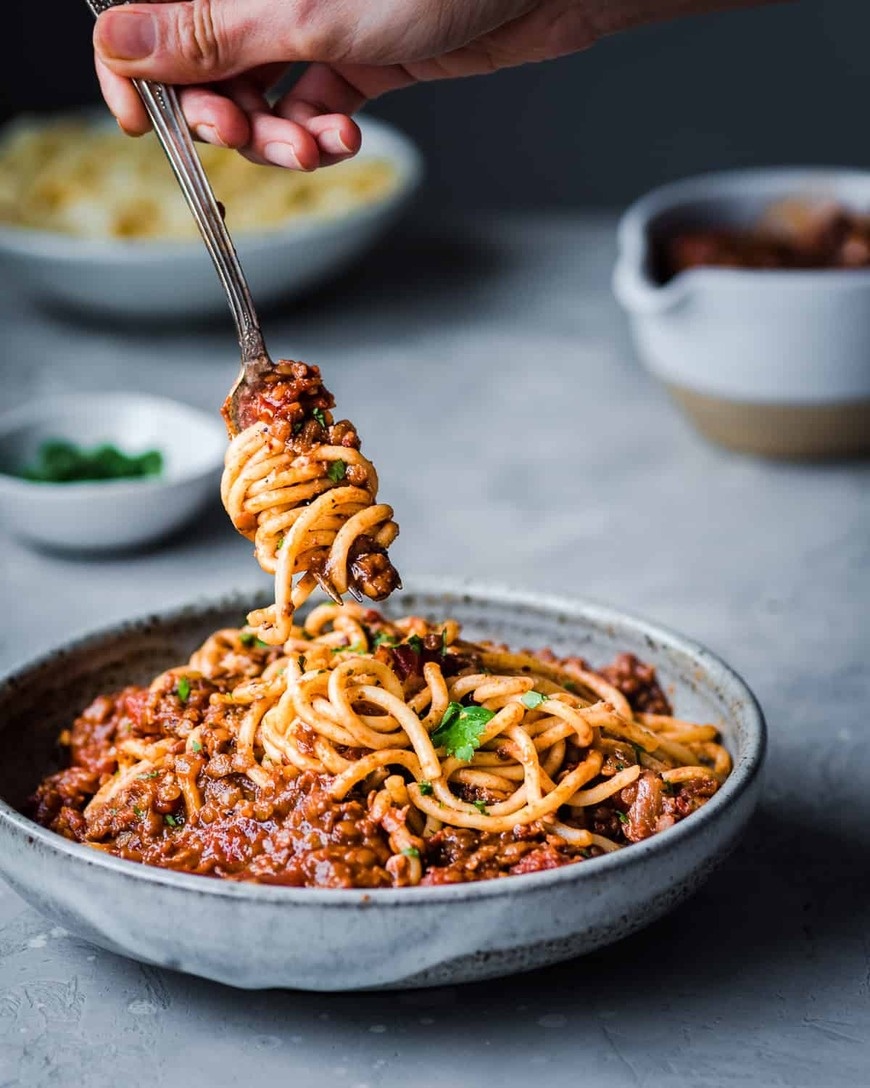 Rainbow Plant Life
Ingredients
1½ tablespoons olive oil
1 large onion, diced
4 garlic cloves, minced
1 tsp dried oregano
1 tsp dried thyme
1½ teaspoons kosher salt
Freshly ground black pepper
1 150g tube of tomato paste
3 cups vegetable broth
1 cup red lentils, soaked
¼ cup walnuts, crushed finely
1 410g can crushed tomatoes
400g pasta, such as tagliatelle or fettuccine
1 tbsp high-quality balsamic vinegar
Flat-leaf Italian parsley or fresh basil, chopped
Instructions
This lentil Bolognese is a healthier alternative to the original Bolognese, which can be high in calories, sodium and saturated fats.
Start by soaking the lentils for 30 minutes. In a deep pan over medium-high heat, add the olive oil, onions and a pinch of salt, and stir occasionally for 10–15 minutes. Add a few drops of water here and there to deglaze the pan.
Pour in the broth and tomato paste, then add the walnuts and lentils. When it comes to a boil, reduce to medium-low heat and simmer for 20 minutes. Add the crushed tomatoes, and simmer for another 20 minutes. Meanwhile, cook the pasta in a large pot with salted water.
Finish the sauce with the balsamic vinegar, combine with the pasta, and garnish with parsley or basil.
23. Frozen yogurt bark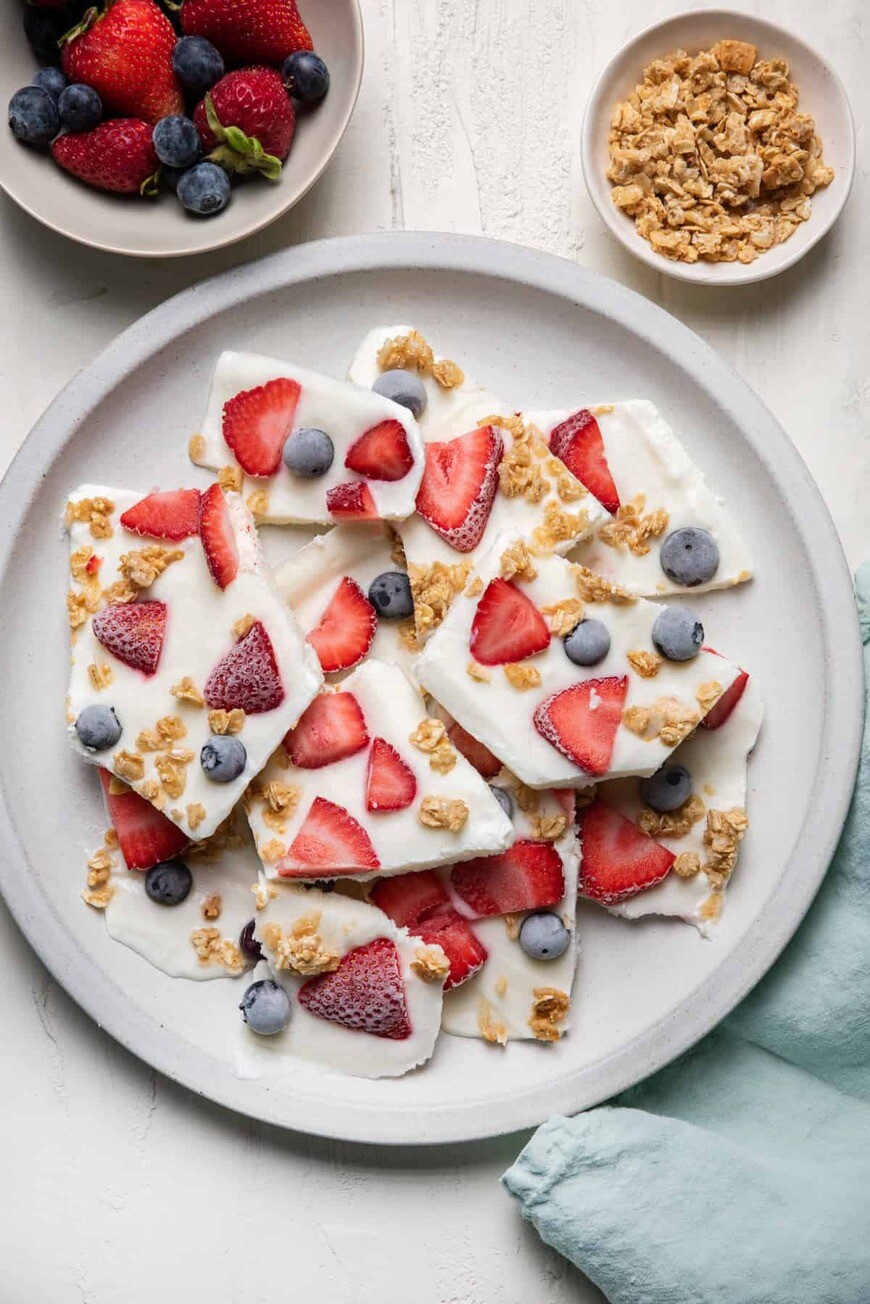 Feel Good Foodie
Ingredients
2 cups whole milk vanilla yogurt
½ cup diced strawberries
¼ cup blueberries
¼ cup granola
Instructions
I know this frozen yogurt bark treat is not quite "lunch", but it is healthy and it will keep you going on hot summer days. Plus, I promised at the beginning that I'd include some sweet recipes for those of you with a sweet tooth.
All you do to prepare this treat is line a baking dish with parchment paper and pour the yogurt in, spreading it evenly. Then, you top with strawberries, blueberries and granola and place it in the freezer for three hours. Finally, you cut into pieces and serve cold, placing any leftovers back in the freezer.
24. Easy flourless granola cookies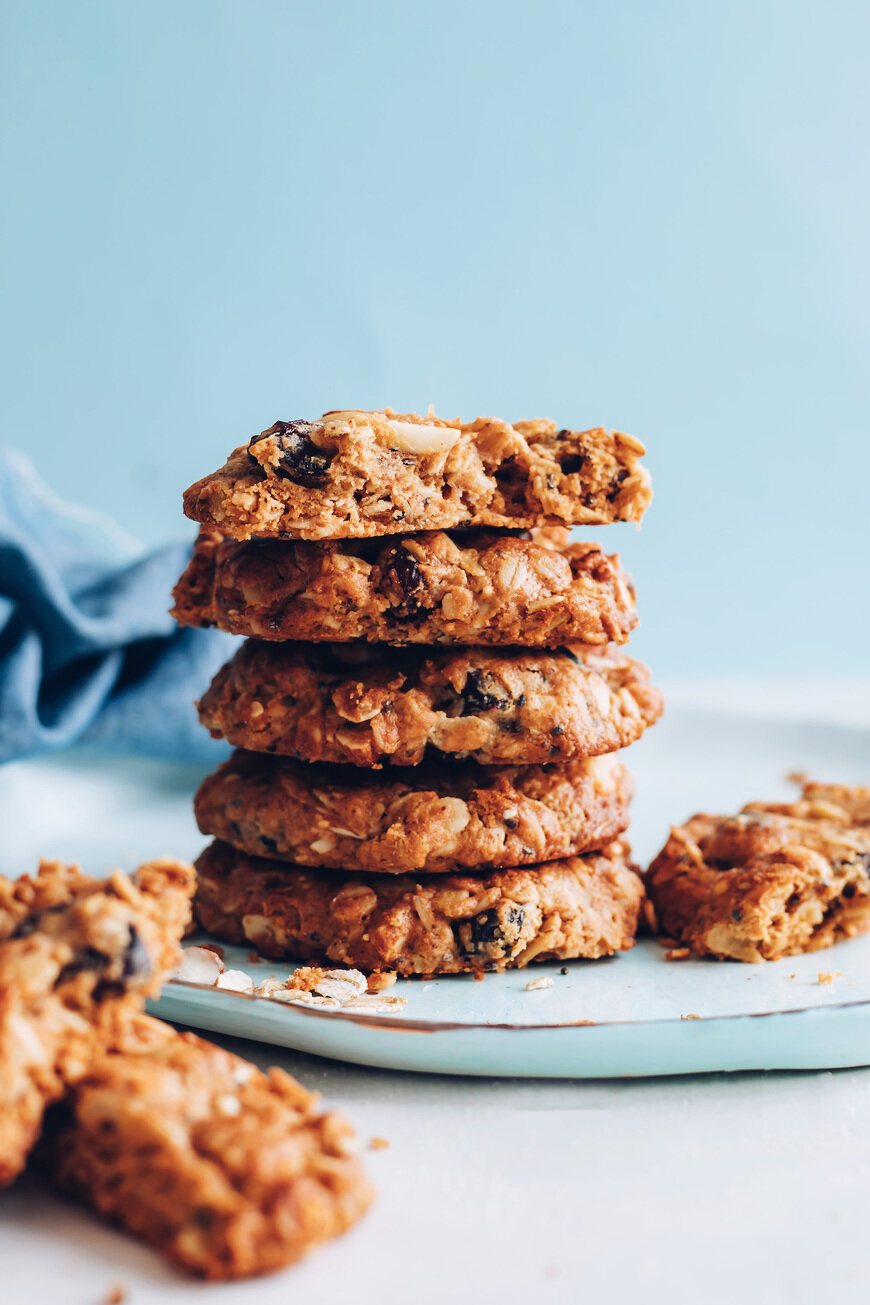 Minimalist Baker
Ingredients
¼ cup cashew butter
¼ cup almond butter
⅓ cup maple syrup
¼ tsp baking soda
½ tsp sea salt
1 tbsp coconut sugar
1 cup rolled oats
1 tbsp chia seeds
½ cup chopped nuts
⅓ cup dried fruit
Instructions
These easy flourless granola cookies are both gluten free and vegan, and only require 10 ingredients.
Preheat your oven to 350F and line a baking sheet with parchment paper. In a bowl, mix the nut butters with the maple syrup until thoroughly combined. Then, stir in the baking soda, salt and coconut sugar.
Next, add the oats, chia seeds, nuts and fruits into the mix, and stir well. Then scoop out the dough with a large spoon and press slightly in your hand to make a thick, flat cookie — a couple of inches in diameter.
Place the cookies on the baking sheet and bake for 12–15 minutes until the edges turn golden. Cool a little and enjoy!
25. Yogurt parfait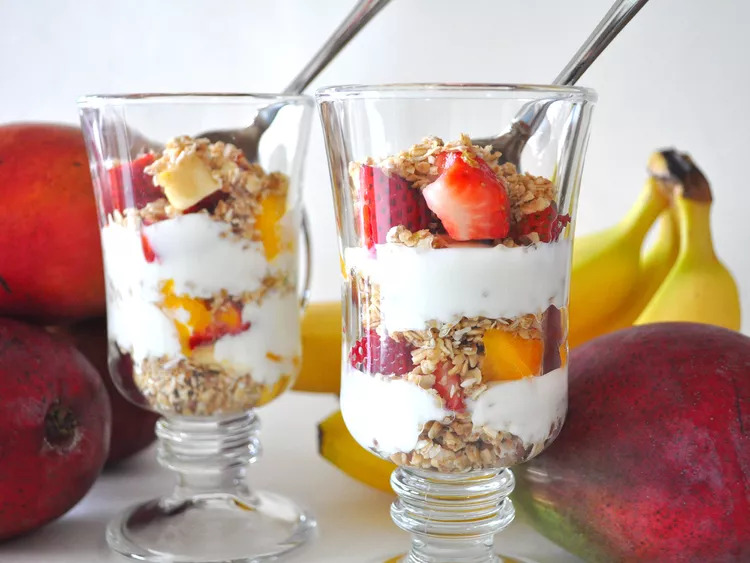 Allrecipes
Ingredients
2 cups vanilla yogurt
1 cup granola
Blackberries
Instructions
Healthy food is often associated with blandness. This yogurt parfait is proof that it shouldn't be, however!
This dessert is simple to make and can be tailored to your preferences by adding in your favorite fruits. All you need to do is form layers in a glass: first the yogurt, then the granola, then the blackberries, repeating until you reach the top.
Final thoughts
Although the 9-to-5 can be quite draining, making a habit out of meal prepping or cooking at least some days of the week can impact our health and mood (and bank account) in desirable ways.
According to the Financial Times, full-time workers in the US spend twice as much money each month when they're working in an office compared to when they're working from home. A quick calculation using the figures in the article shows that, even if an employee only buys breakfast and lunch half the days they go into work, they still spend over $2,950 a year. Ouch.
So, do tell: what are some of your go-to lunch ideas for work? Spill the beans in the comments section below.
Originally published on October 12, 2019.