Music producers are the glue that binds together the music industry. The role has many different responsibilities but, ultimately, the core mission is simple: to assist recording artists with their musical vision and direction. Being heavily involved in the conception and creation of music and the artists behind them, being a music producer is a dream role for many wanting to make it big in the music industry.
The music production industry is atypical and very competitive. This article discusses how to become a music producer, starting with what the job is like, what it pays, and finally, a step-by-step guide on how to get into this amazing career.
What music producers do
Music producers are a critical part of the entertainment industry, and can freelance, be hired by music artists for one-off projects, or have long-standing relationships with artists (in some cases, they might even be a part of the band as well!).
Their role isn't strictly focused on music, as producers might also work on music in movies or in the video gaming industry. Sometimes coming from their own experience as an artist, or in other cases specializing in the various technical aspects of music production, music producers support artists and bands in two main areas.
The first area is ensuring that the artists' music is recorded to the right standards and is professionally compiled. This will range from ensuring the correct facilities and equipment are available (such as arranging a professional recording studio) through to quality-focused post-production.
Music producers must also ensure that their artists' work is commercially viable. They might recommend that certain tracks are adapted for certain markets, and will assist with the artwork and commercial distribution of music, to do as much as they can to ensure its popularity in its target market.
Types of music producers
Because of the range of duties they perform, and the varying relationships they might have with the music artists they support, there are different types of music producers: 
Technical producer: Sometimes referred to as an "engineer", technical producers possess vast technical knowledge of music production, mixing and mastering music through reverb, compression, cutting, pitch and various other elements that transform raw music into what we hear and enjoy.
Creative producers: Creative producers will oversee the creative direction and be the "visionary" of the project. They might need to outsource technical or financial arrangements to other people.
Executive producers: Executive producers are more akin to directors, and will suggest to a production team edits, direction and amendments to music based on their own opinion and expertise. They might also be involved in financing music projects.
Commercial producers: These music producers will focus more on the marketing, sales and distribution of artists' music, as well as strategies to maximize the impact of these areas.
Remix producers: These will take already-produced digital audio and completely change them into something else. This is a common approach in electronic music production.
Some producers are also the artists themselves. A well-known example is Prince, who composed, produced, arranged and performed his own music.
Duties and responsibilities
Whatever the type of music producer, they all have certain core roles and responsibilities to fulfill:
Hire recording studio space or ensure the existing digital audio workstation is maintained and equipped with the right equipment, such as a cutting-edge sound mixer
Understand production budgets and allocate staff and resources accordingly
Set production schedules and adapt to artists' commitments and engagements
Keep up to date with music production trends and new equipment and techniques
Maintain good communication and relationships with artists and record companies during recording sessions to ensure they're happy with the production process
Ensure they can influence the project and guide artists in creative direction
What the job is like
Being a music producer is a competitive, creative and high-profile job and, therefore, subject to an intense workload. This section takes you through the music producer's work environment, work hours, occupational hazards and job satisfaction.
Work environment
Music producers most commonly work in recording studios and offices, where the pace of work will be brisk and many deadlines will need to be met. The environment is designed to get those creative juices flowing as well! With the advent of online production software, music producers can work from home, too.
The role can also be highly mobile, and you'll need to operate in many different sites across a certain city. The role will also require plenty of international travel. An important part of working as a music producer is relationship management. You'll be expected to attend dinners, drinks, lunches and award ceremonies to wine and dine existing clients and create new business.
Work hours
There really isn't a set pattern to working as a music producer. You'll be at the mercy of the record company or artists' deadlines, and this might mean long hours in recording studios, as well as the extra hours needed for client entertainment. Contracted music producers might stipulate 40-hour weeks, but the reality will probably see much longer working weeks over very atypical patterns.
Occupational hazards
The main occupational hazard for music producers is a risk of burnout or stress-related illness.  Seeing as the role is so heavily focused on artist management and can be very competitive, producers will need to do whatever it takes to keep their demanding clients happy. Aside from this, recording studios and live music performances can be quite loud, so some ear protection might be advisable to prevent any long-term hearing damage.
Job satisfaction
Overall, music producers are regarded to be a very happy bunch of people. For starters, the role is very creative and, therefore, energizing to many people for this reason. The average salary for a music producer (discussed shortly) is quite high, while the work can be very flexible and, to a certain degree, be able to fit around your personal life.
That said, the work hours can also be very long, and what is noted about the role is that you have to really love it to live it. You'll only be truly satisfied as a music producer if you love music and love working with artists. If this is the case, then you won't mind the long hours at all!
Job market
There will always be a need for music producers. With the entertainment industry expanding extremely fast, and artists having more ways to gain exposure and get their music out to market, music producers will always need to be available and will likely have a growing client base.
This positive outlook is, however, offset by the industry being difficult to get into, and financially challenging for those starting out. Overall, according to the Bureau of Labor Statistics, the industry is expected to grow as fast as the average job growth in the US, at 5%. This equates to an extra 300 music producer jobs every year.
Salary
When it comes to pay, music producers earn an average $65,080 a year (or $31.29 an hour), according to the BLS's Occupational Employment and Wages Statistics survey — almost 12% more than the US national average ($58,260 a year).
Wages can vary wildly, depending on if you're contracted or a freelancer, and what kind of genre or artist you work for. While music producers are most associated with A-list musicians, they also work with lesser-known acts, who will pay them much less.
This variance creates a wide salary range. Indeed, the top-paid producers generally make $123,800 a year, while those on the lower-end of the salary spectrum earn just $24,440 annually.
Meanwhile, producers in the District of Columbia command the highest average salaries across the entire US ($104,220 per year). This is followed by the states of Hawaii ($101,760), New Jersey ($100,910), Massachusetts ($77,770) and Georgia ($76,960).
Check out our infographic for a quick rundown of music producer earnings in the US: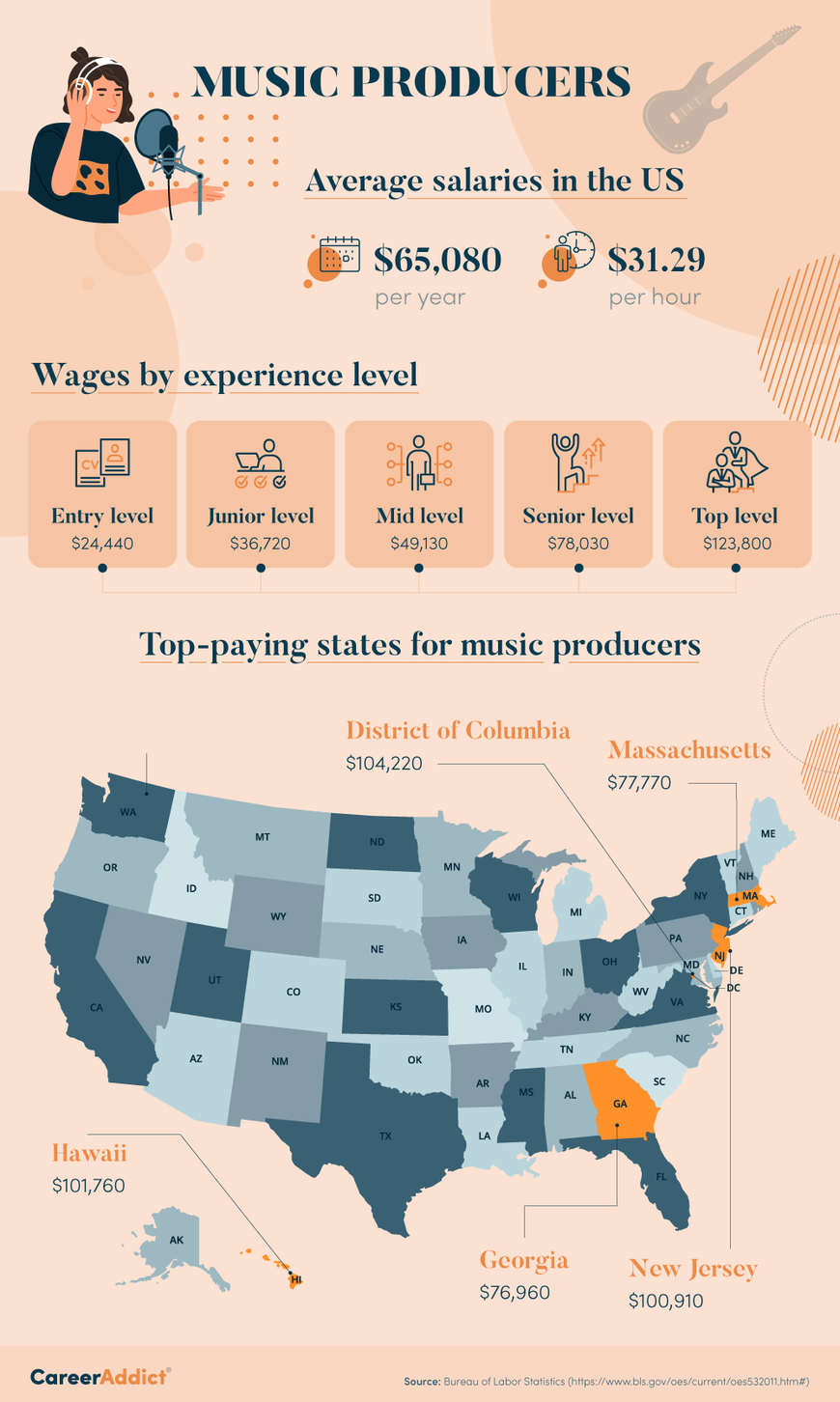 Essential skills and qualities
Becoming a music producer requires a few very specific professional skills and qualities, as well as combining them to ensure you're the best of the best at music production. These include:
Musical theory and practical knowledge
Understanding music basics is critical for success as a music producer. You'll need to have a grasp of the fundamentals of what makes great music, and maybe have a background that involves creating music so you can relate to what artists expect.
Music production
This is essential for you to gain credibility as a music producer. You'll need to be adept at music production and the recording process from start to finish, from knowing your way around the studio to working with mixing desks, recording equipment, fine tuning electronic music, adjusting and sampling lyrics, and online musical techniques.
Relationship management and networking
These skills will be essential for you when it comes to finding clients and showcasing what you can do. Looking after artists and giving them confidence that you have their best interests at heart is an important part of the job.
Communication
Being able to convey production ideas to musicians will be tricky, and you also need to balance their own ideas against your instinct and knowledge of what can and can't be done. Being able to professionally communicate is critical here.
Financial knowledge
You'll be entrusted with a production budget, and you'll therefore need to make good use of this, planning for the different elements of production and allocating resources in the best way possible.
Leadership
Being a music producer is rarely a one-person job. As you grow your client base and handle ever more demanding artists, you'll need to call upon the expertise of others (such as sound engineers or marketing coordinators), and maybe even delegate some tasks to a team. You, therefore, need to manage them effectively.
Steps to become a music producer
So, if you've read this far, you're looking for a career in music, and you believe that becoming a music producer is a good career for you, then here are five steps that you can follow to make it happen.
Step 1: Determine if it's the right career for you
In order to be truly happy in what you do, you'll need to have a passion or a deep interest in your job. Music producers will obviously need to have a passion for music and have an encyclopedic knowledge of the music industry. You must combine this with being able, and happy, to utilize the skills needed to be truly successful in this role.
If you don't know what kind of job you could do based on your interests and skills, then it might be worth taking a career test, like our six-part assessment over at CareerHunter, which maps out your interests and knowledge to various careers and gives you advice on how to break into these career pathways.
Step 2: Focus on the right subjects at school
Although being a music producer doesn't typically require any formal education, you might find it helpful to focus on certain subjects at school. Basic knowledge of the sciences and mathematics will always be useful, but also consider taking music classes or business studies, as these relate to music production.
If your first language isn't English, meanwhile, you might also want to take further classes in this subject too, seeing as the music industry is globalized and heavily focused on English-language music and artists.
Step 3: Gain industry experience
A vital first step into the music industry is to start working as soon as you can and build up your experience. Music production is very competitive and fast-paced, so production companies really need people who innately understand how the business works.
One of the best ways to get started is to seek unpaid work. It might not be strictly fair or glamorous, but many record labels and production companies offer a few weeks of unpaid work here and there.
While you're at school, or after you have finished, consider apprenticeships and internships in music production. These are also competitive, so ensure your résumé is up to date and really shows off who you are.
Step 4: Consider technical qualifications
Apprenticeships, internships and work experience programs will open your eyes to the world of music production, but to take your skills to the next level, it's a good idea to get in-depth technical experience in the various areas of the profession. Some companies might assist you with this directly but, otherwise, it might be good to look at what courses are out there.
Another consideration is that some leading music production software companies also offer their own accredited courses on how to use it. One of the most popular production suites, Ableton Live, offer certified training that will help you master this very useful production program.
Step 5: Build your network
As you begin working and building your skills, you'll need to start building a network of artists that will work with you. The best thing to do here is to start small and start cheap. If you're not contracted to a production company, then offer freelance discounted rates, and work with local musicians as a steppingstone to getting your name out there. Going forward, based on your talent and networking ability, the sky will be your limit!
Final thoughts
Being a music producer is a dream job for many people. You get to rub shoulders with incredibly talented people, use your technical production skills and creativity to enhance their work, and maybe even contribute to the next big thing in music!
The music production industry is very competitive, and you'll need to start at the very bottom and work very long hours to succeed. That said, if you have a passion for music, want to get into the entertainment industry and know your way around a mixing desk, then this job could be the perfect opportunity for you!
Got a question or want to share your own experience working as a music producer? Join the conversation below and let us know.