Whether you're applying for a Christmas or a summer job, you're going to need a résumé that helps you out from the sea of applications. Although the jobs are temporary, competition is incredibly stiff, so your résumé needs to capture the hiring manager's attention from the get-go — after all, you only have about 30 seconds to end up in the "yes" pile, so you need to make every second count.
If you're at a loss to writing your very own résumé, you've come to the right place!
Here, we'll walk you through all the steps you need to take to write the perfect résumé for a seasonal job, complete with a sample for inspiration!
What is a seasonal résumé?
A seasonal résumé is basically the same thing as a normal résumé, but with a special focus on seasonal jobs. It's essentially a short document (typically a page long) that emphasizes all the reasons you'd make a fantastic seasonal worker. Aside from showcasing the skills and experience most relevant to the job, it's also a way of saying that you're available right now and eager to get to work.
Since hiring managers looking for temporary employees work in tight timeframes, seasonal résumés need to be concise and tailored. The summary, skills and experiences listed should all point to the applicant's know-how and dependability. This is for two reasons: one, temporary workers aren't usually given much training due to time constraints. And two, a lack of commitment is one of the most common downsides of hiring seasonal workers. At a time when employee loyalty is low to begin with, proving that you're reliable is essential.
When to apply for seasonal jobs
When going after seasonal jobs, it's good to be proactive. If you have your eye on a specific company, for example, you could reach out before they've advertised any positions and ask when they'll start accepting applications for the holiday season. That way, you can take your time perfecting your résumé and submit your application ahead of most other candidates.
If there's no specific company (or companies) you'd like to work for, a good rule of the thumb is to start looking at job listings a few months in advance. For example, Christmas jobs are sometimes advertised as early as October. If, on the other hand, you'd like to work at a summer camp, you could be faced with an application deadline months before the job start date, in the middle of winter. Doing your research is important so you know what to expect.
Steps to writing a seasonal résumé 
With employers receiving hundreds of applications for a single job opening, you'll need to find the most concise way to illuminate the reasons you'd be a great fit. (Hint: bullet points are your friend!)
And, like in any job search, whether that's for seasonal work or a permanent, full-time role, your résumé needs to be carefully tailored. As over 50% of employers rely on recruiting software to save time, you'll have both humans and machines putting your résumé to the test. Let's look at what you can do to improve your odds!
Step 1: Choose the right format
Selecting the right format for your résumé is an essential part of the entire writing process.
For someone with little to no work experience under their belt, a skill-based résumé will be more applicable, because you can focus on highlighting your skills rather than on your experience. On the other hand, if you have a lengthy employment history, then a chronological résumé, which lists your experience in reverse-chronological order, is best.
So, before starting the writing process, do some research on the different résumé formats and identify which one best suits your specific skills, experience and overall career situation.
Step 2: Prepare the structure
After you've decided on the most appropriate format, you need to outline your résumé's structure. If you already have some work experience but are still at the early stages of your career, for example, you could separate your résumé into the following sections:
Header
Summary
Education
Work experience
Skills
Hobbies and interests
Languages
Once you have this structure in place, you can begin writing your résumé.
If you're still confused, here's what you need to include in each section:
Header
The résumé header should list your contact information. In some countries, you may need to include personal details, too — for example, , you'll will need to include your marital status if you're applying for jobs in the Middle East.
Generally speaking, here's what should go in the header section of your résumé:
Your name
Your professional title
Your location
Your phone number
Your email address
Your LinkedIn profile
Your website(if applicable)
Summary
The summary section, or career objective, acts as a personal introduction. Essentially, it's a short description of who you are as a professional and what you can offer potential employers. It should generally be between three and five lines long, and include only the essential information.
Don't waste this space with clichés like "seeking a position in a busy work environment". This is redundant, and hiring managers know that you're looking for a new position since you're applying for the role!
Education
List your education in reverse-chronological order, but don't go further back than high school. If you're currently a university student, you can just add your expected graduation date.
Within this section, be sure to include the following:
School/Institution name
Degree type and subject (eg: "BA in English Language and Literature")
Dates of study
Grades
Work experience
Within the experience section, you should list any and all relevant jobs that you've held in reverse-chronological order. Be sure to include your job title, place and location of work, as well as employment dates. Within each description, list the duties and responsibilities that you had, along with any notable achievements.
Skills
The skills section is the place where you can highlight all the transferable skills that you've acquired along the way, including at school or university, or from a previous job. Just make sure you align the skills with those that are needed for the job. For example, if you're applying for a job in retail, it's a good idea to mention your customer service and attention-to-detail skills.
Hobbies and interests
Including a hobbies section is completely optional but is usually recommended when you don't have a lot of work experience to show. You can use extracurricular activities to showcase any additional skills that you possess. It can also be a great way to showcase your personality and win the employer over.
Languages
This part is quite straightforward. List all the languages that you speak, along with your proficiency level for each one.
Step 3: Tailor your résumé
No matter the role, it's essential that you tailor your résumé to the job that you're applying for. If you don't, your chances of actually securing the role are very slim!
Say you have a lot of retail experience but are applying for a role within hospitality. Be sure to highlight your customer service skills, as well as any interests you have in cooking, baking or traveling. It will help you get past applicant tracking systems and one step closer to a job interview.
Step 4: Use the job description as a guide
If you've read the job description and decided that you have what it takes to do the job, then you're going to need to make sure your résumé does exactly the same: makes it look like you have what it takes to do well.
So, when you're writing your résumé, use the job description as a guide to ensure you're using the correct keywords and showcasing the skills that the hiring manager will be looking for. For example, if they say they want someone with a great attention to detail, use your résumé and cover letter to showcase how you used this skill to do well in a previous role.
Step 5: Highlight your transferable skills
If you don't have a lot of work experience, focus on highlighting your transferrable skills. For example, if you completed your dissertation in time, despite certain challenges, this shows that you're a great problem solver. It also shows that you have good organization skills and are capable of planning — something that the hiring manager will find desirable in a candidate.
Step 6: Don't lie
Although it's tempting to exaggerate your skills and experience to ensure that you get the role, don't do it! It really isn't worth it in the long run, and the employer will see straight through your lies during the interview process — or, worse, after you get the job!
By doing so, the employer will also lose trust in you, and you could risk losing your job or getting a bad reference. So, make sure that you always tell the truth and explain that you're willing to learn and enhance your skills.
Step 7: Proofread
A résumé full of typos and grammatical errors is going to place you firmly in the "no" pile, regardless whether you have the skills and experience to succeed. It shows that you're careless and that you lack an attention to detail — proving that you didn't put much effort into your application.
So, before you hit the "Send" button, be sure to triple-check your CV for grammar and spelling, as well as dates, statistics and everything else! Tools like Grammarly are particularly useful, or you could enlist the help of a friend — especially one who's good at writing!
Step 8: Attach a cover letter
Now that you've finished your résumé, it's time to focus on your cover letter, which is meant to support your application and enhance the content already included in your résumé.
While hiring managers don't directly ask for a cover letter in the job application, you should always assume that one is required. It's an additional chance of being able to highlight your skills and show why they should hire you over one of the other candidates.
That said, your cover letter doesn't need to be long — it should be between three and five characters long, detailing why you applied for the role, what skills you have, and a few examples of where these skills have helped you succeed in the past. You can finish off by listing the ways that you can be contacted to set up an interview.
Seasonal résumé example and template
If you're still a little confused on how your résumé should look, here's an example (created with one of our professionally designed and ATS-friendly templates) for your inspiration.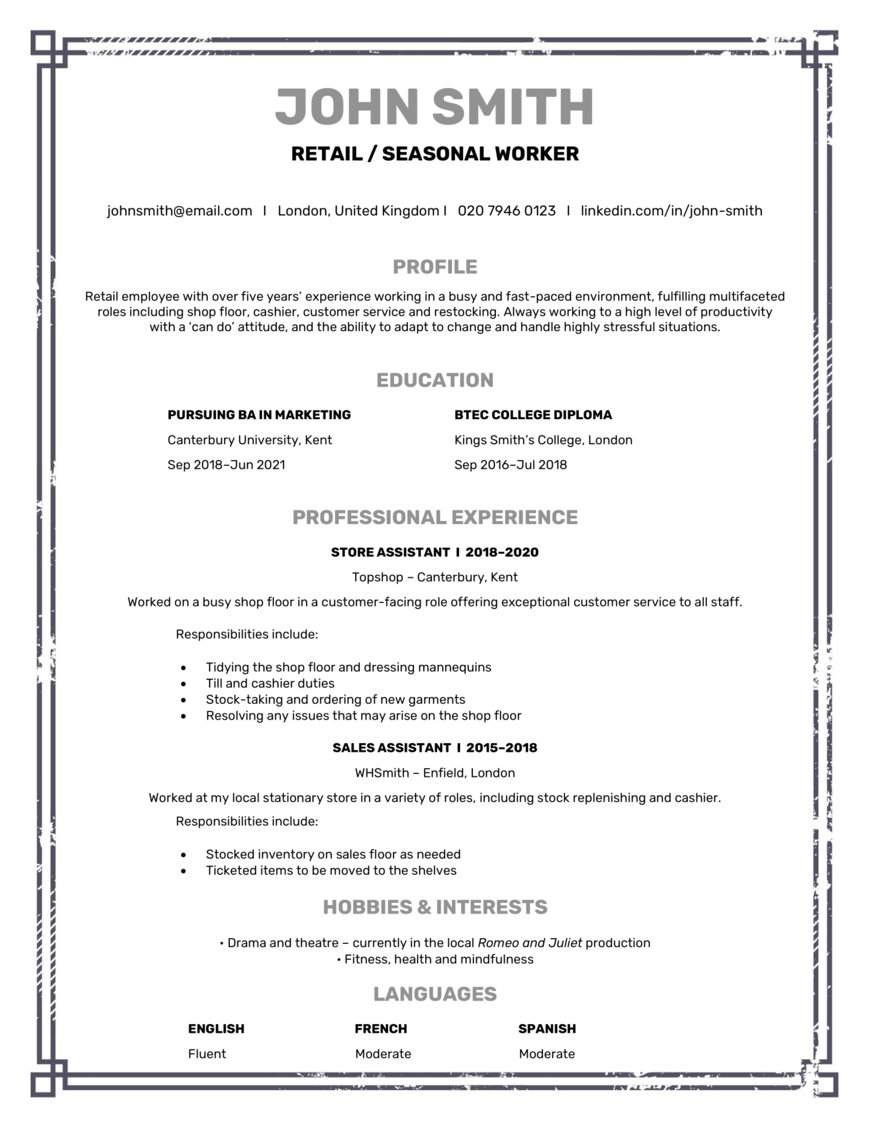 Free seasonal résumé template
Download our easily editable template and use it to start applying for seasonal jobs!
Key takeaways
So, there you have it: every part of your résumé for a seasonal job explained in detail to ensure that you create a job-winning document.
Here's a quick rundown of everything we learned about seasonal résumés:
Apply for jobs as soon as possible. Employers typically advertise seasonal positions months in advance.
Make sure your résumé is tailored to the job you're applying for, and use the job description as a guide to match your experience to the requirements.
Don't exaggerate on your résumé, and make sure to proofread it before submitting your application.
If you have any further questions regarding your seasonal résumé, meanwhile, jot down your thoughts in the comments section below and I'll get back to you with some advice.
Originally published on November 24, 2016. Updated by Electra Michaelidou.