When you dreamed of what you'd be when you were a young child, you probably didn't dream of becoming an Uber driver. It probably didn't even make the top 10 on your list of professions. But times are changing. Becoming a driver for Uber is an easy way to earn money — if you can drive, that is!
Uber drivers are essentially their own boss; they manage their own schedule, select their own route and get paid instantly for the job. Sounds good, right? Many people choose to work for the multibillion-dollar taxi app company as both a part-time gig to earn some extra cash and also as a full-time job.
In this article, we explain how to become an Uber driver, as well as what they do, their work environment and hours, the money they earn, and the skills and steps to take to get you there. So, let's get stuck in!
What Uber drivers do
Well, it might sound obvious, but Uber drivers do just that: drive!
Uber offers customers the power to go wherever they want with access to Uber taxis across 10,000 cities all over the world. So, if you decide to become an Uber driver, you'll be responsible for safely transporting customers from A to B.
As we mentioned earlier, drivers are their own boss, and they decide whether to accept a fare or reject it. They have the power, so to speak, to maximize their earnings by choosing the time period they're going to drive, such as at rush hour or during mealtimes, and by choosing how many fares they accept.
As a driver for Uber, your day-to-day duties will typically include:
Following a GPS system
Responding quickly
Making sure customers arrives safely at their destination
Providing excellent customer service
Tracking mileage
Organizing vehicle maintenance
Keeping track of expenses
Organizing workload
Rating clients using the Uber app
Maintaining a high rating on your driver profile
What the job is like
This isn't your normal run-of-the-mill job. Understandably, you won't be sitting behind a desk or standing at a counter. You'll be in the comfort of your own car! Here, we look at the working environment, the hours you can work, and the overall job satisfaction of Uber drivers.
Work environment
Is your car currently strewn with empty plastic bottles or trash? Well, that won't make you comfortable while you're working.
If you want to become an Uber driver, you need to keep your working environment clean and tidy — not just for your satisfaction, but for your customers' too. One of the biggest pros of your car being your office is that you have full control of the music choices and the temperature gauge. No more shivering in a cold office or sweltering in soaring temperatures!
As with any role, the job does come with some occupational hazards. Being behind the wheel, you're at risk of being in a car accident, and sitting for long periods isn't great for your health, either. So, bear these in mind when deciding if this is the right job for you.
Work hours
There are no set hours for Uber drivers. You're free to choose your own working hours, but it's advised you work during the busiest periods when people are most likely to need a taxi. For example, if you work between 4pm and 7pm, you're more likely to pick up fares from people leaving work. If you're more of a night owl, you could work around the time that the bars and nightclubs close.
You can choose to work on a full-time basis, or just work part-time to fit around your other commitments. It's completely up to you!
Job satisfaction
Due to the flexible hours, Uber drivers have good job satisfaction, with a rating of 3.7 out of 5 stars on PayScale. Other things that factored into the overall score included the company outlook (3.9 stars), appreciation (3.4 stars), learning and development (3.3 stars) and fair pay (3.1 stars).
Job market
The job market for taxi drivers is expected to grow around 12% between 2021 and 2031, according to the latest Bureau of Labor Statistics data, which is much faster than the US national average (10%).
Uber doesn't only hire once or twice a year, either. They're constantly hiring, and pretty much anyone can sign up if you meet their requirements, which we'll cover later.
Salary
How much an Uber driver earns per journey depends on the distance they're traveling to get the customer where they need to be. However, on average, research by the Economic Policy Institute shows that Uber drivers make around $11.77 per hour. That said, as you'd be self-employed, you'd also have to factor in and deduct social security and any medical insurance costs.
It's worth mentioning, though, that Uber also has something called "surge pricing" during busy periods, where customers (otherwise known as riders) have the option to pay an increased fee in order to get a taxi quicker. This obviously benefits them, as they get to where they're going quicker, but it also benefits you as the driver, as you'll earn an increased rate, too.
Salaries for taxi drivers, meanwhile, vary depending on location. According to the BLS, taxi drivers in Alaska command the highest salaries in the US at $44,230 per year. This is followed by drivers in New York ($41,600), Washington ($41,590), Massachusetts ($41,030) and the District of Columbia ($38,990).
Check out the infographic below for a quick rundown of taxi driver salaries in the US: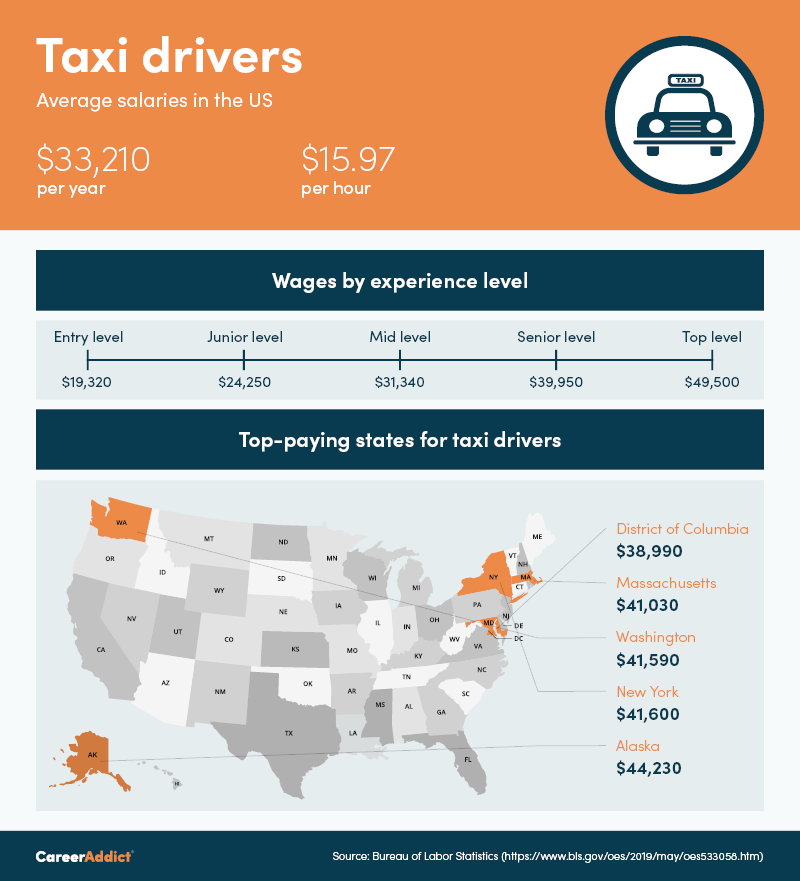 Essential skills and qualities
Driving for long periods and dealing with a large variety of characters can be challenging at times, so it's helpful to have a variety of different professional skills to help you deal with different situations you might face while on the road.
The skills and qualities you need to be a successful Uber driver include:
Steps to become an Uber driver
Whether you're interested in pursuing a career change or if you're looking for some part-time work while you study, here are the steps to take to become an Uber driver.
Step 1: Determine if it's the right job for you
Before you go down the route of signing up and beginning your journey (excuse the pun) with Uber, you need to find out if the job aligns with your personality, skills and interests.
Take some time to consider if being behind the wheel will keep your interest, or if your skills would be better suited elsewhere. If you're a big Formula 1 fan and love the idea of driving for hours, then great! If your skills lie elsewhere, though, then it might be worth seeing what else is out there for you.
If you're struggling to decide on a career path, you could take a career assessment like our six-part test over at CareerHunter, which takes into account your skills and interests to suggest careers that would be suitable and enjoyable for you.
Step 2: Meet the minimum requirements
As with any job, there are certain requirements that you'll need to meet before you can start. To qualify to be an Uber driver, you must:
Meet the minimum age to drive in your city
Have at least one year of licensed driving experience in the US (or three years if you are under 25)
Have a valid US driver's license
Have a 4-door vehicle in good working condition
Have no criminal record
Be drug-free
Have proof of residency in your city, state or province
Have proof of personal auto insurance if you want to drive your own car
Take a photo of yourself to serve as your ID — this must be a forward-facing photo of just yourself and must include your full face and shoulders with no sunglasses
If you ticked off all of the above, you can sign up to Uber! But signing up doesn't mean you can get straight out on the road.
Step 3: Pass the background checks
As we mentioned above, Uber runs extensive checks on their drivers for the safety of their riders. You'll have to consent to Uber running a background check, which is performed by a third-party background check provider. In order to do this, you'll need to provide proof of identity, which can be a passport or driving license.
Once you've submitted the required information, it's simply a case of waiting to hear if your checks have come back, which can take up to 10 days.
Step 4: Complete the training
Before you can begin driving for Uber, you need to complete the training provided. This will teach you how to use their app, including details on using their GPS system and other helpful things you'll need while you're on the road.
Step 5: Download the app
The Uber driver app is where the magic happens. When you've passed your checks and completed your training, you'll download the Uber app, and your driver status will be activated. From here, you simply need to enable driver mode, and you can begin accepting rider requests and start making money!
It's worth noting that the app has other useful tools to help you on the job. It has 24/7 incident support, an emergency assistance button that contacts the authorities if you need them, a "Follow My Ride" feature that allows family and friends to follow your route, GPS tracking, and phone anonymization so riders don't have access to your personal number.
Step 6: Start driving
Once you've completed all the above steps, you simply need to accept rider requests, and you could be on the road with your first customer within minutes. You'll get a client when you're the closest driver to them. Once a job comes through, your phone will ping, and you'll need to accept the job (you will receive their name and their current location). You'll not know their end location until the passenger has accepted the ride after finding out the wait time. It's really that easy to begin working with Uber.
Step 7: Develop your career
Although you can't advance immensely in this career, there are opportunities to earn more money by the type of vehicle you have. Uber has several different options, such as UberXL, UberBlack, UberSelect, UberPlus, UberSUV and UberLUX. These high-end services necessitate additional vehicle requirements to meet Uber's luxury vehicle standards and professional chauffeur services. If you're in it for the long haul, you can choose to invest in a luxurious car for a higher fee.
Final thoughts
There you have it! If you're wanting a flexible job that fits around your other commitments, this is a great career path to consider. Being an Uber driver offers you freedom to choose your own hours, see new places and meet new people.
A big part of the job is providing great customer service. The higher your rating in the app, the better for you! Try to boost your customer service skills, and you'll be well on your way to earning a decent income (and you might even earn some tips, too).
Got a question? Let us know in the comments section below.
Originally published on October 26, 2017. Contains contributions by Joanna Zambas.